Record-breaker Alonso says he played French GP 'like a chess game' on way to P6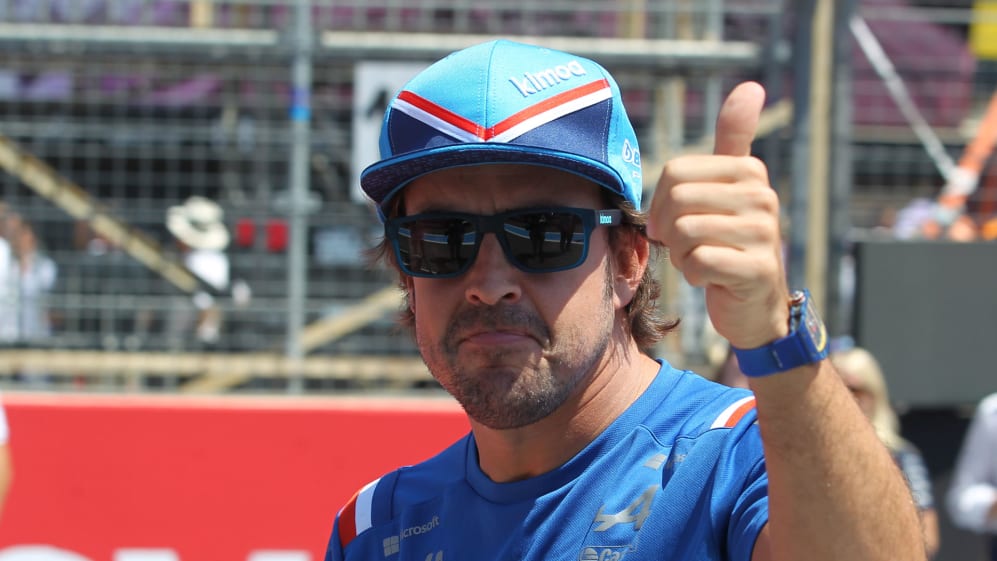 Sunday's French Grand Prix was a memorable one for Fernando Alonso: not only did he finish sixth at his Alpine team's home Grand Prix, but the Spaniard also broke the record for the most laps completed in Formula 1 history.
Alonso started the race in seventh but made one of his traditional fast getaways when the lights went out, jumping Lando Norris and George Russell to climb to fifth. And while he couldn't keep Russell behind for long, the Spaniard was able to come home sixth and comfortably clear of Norris, which he felt was the best he could have hoped for.
"I'm very happy!" said Alonso. "I think the start was mega, from seventh to fifth – some risky moves there, then good tyre management. I think P6 was the maximum today. The tyres were acting better than we expected, so we did have to manage but not as much as we thought. I am pleased with our race today. It was well-executed from our side, and we managed the pace and tyres well.
READ MORE: 6 Winners and 5 Losers from the French Grand Prix – Which drivers shone at a sunny Circuit Paul Ricard?
"We had to work through a lot of things in terms of the car balance this weekend, but we ended up finishing just behind the top-five positions, so a very solid race in the end and more points on the board for us.
"It shows that when we have a clean weekend like this one, then we can finish in the top-six positions," he added. "Hopefully we can keep up this level of consistency throughout the second half of the season and continue our momentum."
Alonso has now completed the most laps in Formula 1 history, overtaking his old rival Kimi Raikkonen's mark of 18,621 laps. And the Spaniard used all of his 19 seasons' worth of experience in the sport to out-fox his rivals, as he was heard on the radio inviting pressure from Norris, believing that the McLaren driver would use up his tyres in the process.
"I did 350 races, so I know what I'm doing!" joked Alonso. "It was fun. The start was crucial, probably, to get ahead of Lando. I think [McLaren] have very similar pace, but to be in front of them in the first couple of laps was enough to control the race and to control the pace.
"I think we played the race like a chess game; we tried to position the McLaren's close to us and try to have some clear air in front, so all in all… it was a good Sunday.
MONDAY MORNING DEBRIEF: How Leclerc's crash caused a domino effect that shaped Sainz's charge in France
"I wish I could challenge the Mercedes in front us or Checo [Sergio Perez] but that was not our league, so from there it was just to control [the McLarens] and if they get closer to us, they will damage the tyres, so it was not a concern at that moment. So, happy for that. Let's go in Budapest, another go."
Team mate Esteban Ocon, meanwhile, took a P8 finish, for his first ever points at his home race – and double delight for Alpine on home soil.