'Our sights are set on victory' – Russell wants more after terrific drive to third from P12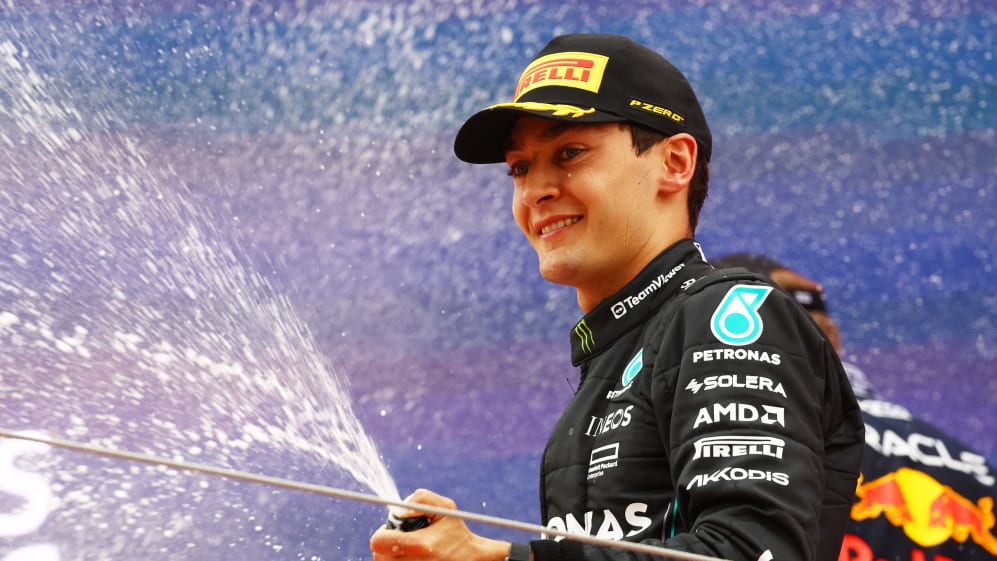 George Russell was able to put Saturday's qualifying woes firmly to bed during the Grand Prix in Barcelona, a strong start setting up his charge from 12th on the grid to third at the flag as the Mercedes man grabbed his first podium finish of the season.
He made an electric getaway on the softs, getting past the medium-clad Sergio Perez and Pierre Gasly before taking to the escape road to avoid contact with the Haas of Nico Hulkenberg. Although the stewards had a look at his start to see if he'd gained an advantage at any point by running wide, it was soon clear that he had taken those places on merit before heading off-track.
He did make one mistake early on, reporting that he could see some drops of rain on his visor. That caused all sorts of kerfuffle in the pit lane with engineers looking to the heavens to see if the rain had started to fall – only for Russell to soon admit that he might have jumped the gun.
READ MORE: 'We have to keep on working' – Verstappen vows not to ease off after fifth win of 2023 as he gets set for Mercedes challenge
"I had a bit of an issue when I started the race because I didn't put all my hair in my balaclava so I had hair dangling down and it was sort of flickering in front of my eyes, so that was annoying," he admitted with a wry smile.
"And then as I started to sweat, it was dripping down my hair and every time I was braking, it was jumping onto the visor on the inside. It took me about four laps to realise what was going on, when I wiped my visor, and the water didn't disappear. I put two and two together and worked it out."
Aside from making his engineer chuckle with relief at his report that it wasn't in fact rain after all, Russell also demanded some praise mid-way through the race after a daring move on Carlos Sainz's Ferrari that saw him take third on the track.
His engineer had called it "solid work," to which Russell retorted "only solid?" and was only satisfied when team boss Toto Wolff added in some more exuberant praise.
READ MORE: Hamilton hails 'really mega' progress for Mercedes after double podium in Spain
That Russell was in such jovial mood was down to how the car was performing, the upgrades package working well for both Mercedes drivers on Sunday as they were able to extend their first stints on the soft tyre with ease.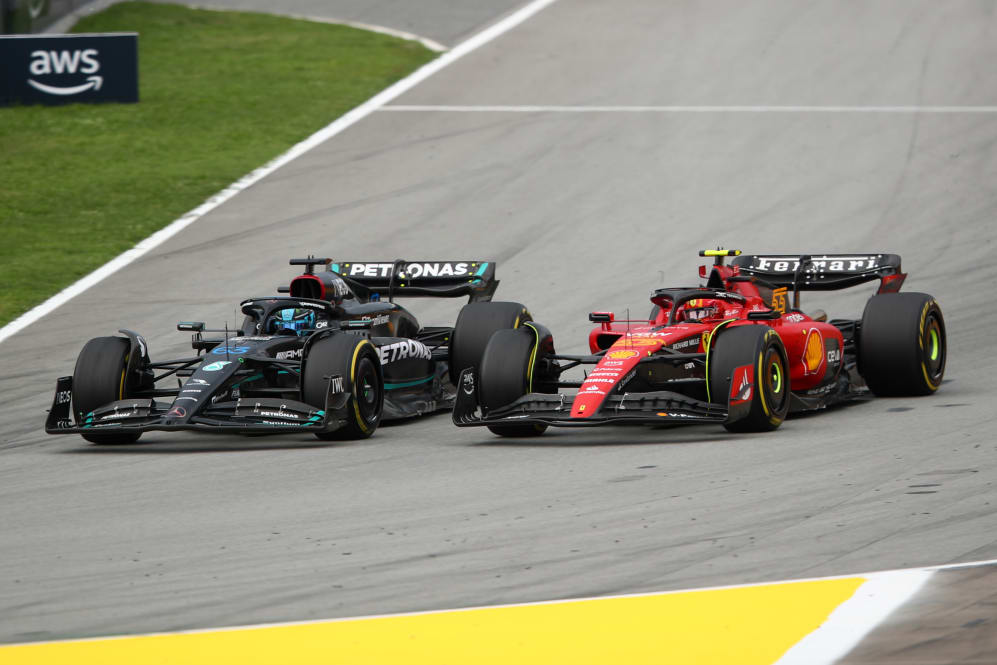 "We've always been strong in Barcelona but the upgrades worked as expected, which is really promising to see and thanks a huge amount to everybody who put so much effort into this because it's truly paying off," he added.
"I was very disappointed last night with the qualifying result but it's proof that you just need to keep on believing and today was a new day, new opportunities, went out there, ticked all the boxes, the car was fast, good overtakes and really enjoyable race."
READ MORE: 'I did my absolute best' says 'gutted' Sainz as he misses out on a home podium
After grabbing his first podium since his win in Brazil last year, and with Mercedes now comfortably second in the constructors' championship having displaced Aston Martin, Russell made it clear what the next target was for his team.
"I'm really happy with the progress we've made but at the same time we've got work to do, our sights are set on victory and we've got work to do to catch Max [Verstappen]."