Feature
PALMER: How Perez soaked up the pressure and proved his street smarts with sensational Singapore win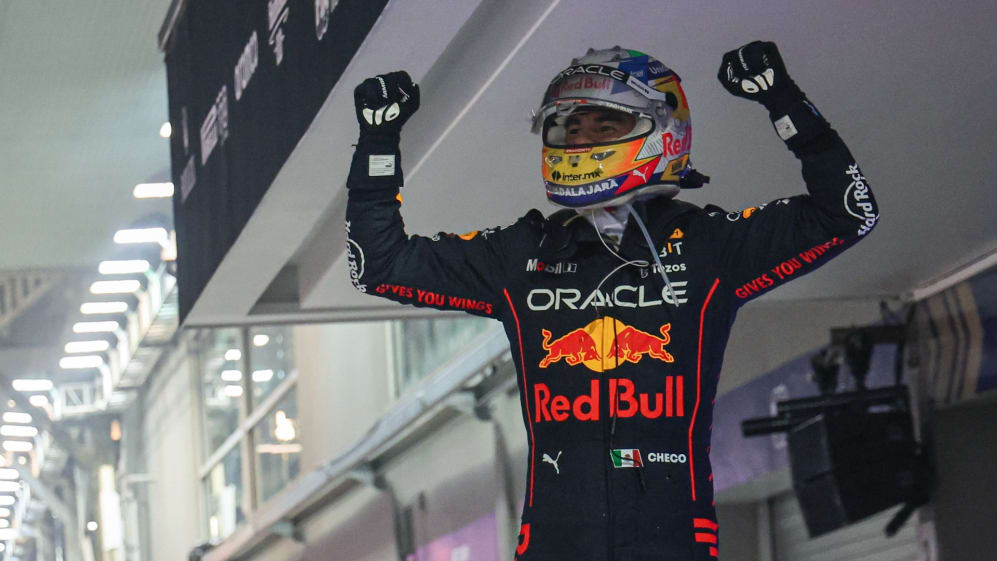 The Singapore Grand Prix is known as the most physical on the calendar with high temperatures and intense humidity greeting the drivers for what is the longest race of the season.
On Sunday the wet conditions would have made their lives physically easier, as a rain soaked, slippery circuit reduces cornering speeds and therefore load and stress on the body. But it would have made the drivers' lives so much harder mentally, as they teetered on the edge of grip in a constantly evolving race that went to the full two hour time limit.
POWER RANKINGS: Hamilton and Verstappen miss out on the top 10 as the scores come in from Singapore
On top of that, the lengthy rain delay wasn't ideal either for their preparations. In the end the delay was perhaps slightly excessive as by the time the cars hit the track the intermediates were clearly the tyres to be on, rendering the full wets futile on Sunday – a sure sign that racing could have been started sooner.
During this time the drivers and team members would have had to keep focussed on the job in hand, stay cool and take on the right nutrition as well. Usually Grand Prix weekends are so formulaic. They have rigid structures for drivers based on practice times, meeting times and other engagements. When things are delayed it can throw you off focus if you aren't careful.
It wasn't apparent that many drivers were struggling initially, but as the race wore on we saw mistakes creep in, initially from the likes of Yuki Tsunoda who seemed on the limit of mental capacity early on, yelling at his engineer to stop talking on the radio.
Then even Lewis Hamilton had a lapse of concentration resulting in a crash, on a day where it was clearly so easy to get things wrong in the intense conditions.
All of this really highlights the standout performance of the top two in the race: Sergio Perez, the race winner, and Charles Leclerc who pushed him the entire way.
For Perez this was a marvellous victory – I'd say his best in Formula 1, even if it was decided after the race in the stewards room, for his Safety Car infringements. That part looked like he maybe needs to brush up on the rules as he repeatedly dropped more than 10 car lengths back from the Safety Car whilst the lights were still on. But that shouldn't take away from a sensational on track performance from Checo.
TECH TUESDAY: Have McLaren signalled a new design direction for F1 cars with their Singapore GP update?
Getting the lead at the start was critical, and almost all of the drivers on the inside line had better starts than those on the outside starting on the racing line. Likely this is because there was more rubber remaining on the racing line which becomes slippery in wet conditions.
So while Leclerc and Perez had identical reaction times, and actually in the initial phase Perez's start wasn't super, he managed the perfect throttle application on a slightly higher grip surface to lead into Turn 1.
The pace of the top two throughout the Grand Prix was on another level to anyone behind. Carlos Sainz was very slow throughout, struggling to find any sort of rhythm and confidence, but he kept Lewis Hamilton frustrated, while Max Verstappen was also mired in traffic for most of the Grand Prix.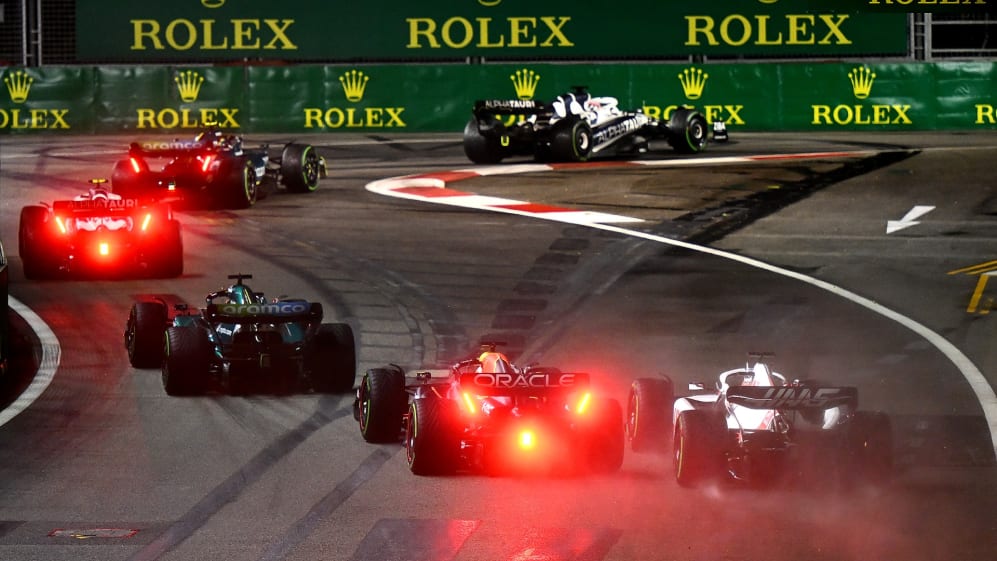 The way the lead battle could easily stretch out from Sainz though showed the level of their driving, even when the full Safety Car wiped out their sizeable advantage twice. This was true on inters in the wet, the damp and then the slicks as well – they were simply a cut above and provided us with a fantastic spectacle.
Leclerc has to take immense credit for his drive as well. Pushing Perez all the way in the final stint took guts and determination, and he said himself he dug so deep to relentlessly harry the race leader and try and force a mistake.
READ MORE: Leclerc says his start 'wasn't good enough' as pole-sitter forced to settle for P2 at Singapore GP
It looked like it might happen when Perez had a brace of lock-ups into Turn 14 with Leclerc sniffing his gearbox, but ultimately Charles was so on the edge himself that his mistakes weren't far away too, allowing Checo to stretch his legs and ease to victory, by over the necessary five seconds after being told to "disappear" by his engineer.
During this great hunt the car control on display was a treasure to watch. Were it drier offline maybe Leclerc would have fancied a lunge at a couple of corners, but the balance of risk versus reward is always a fine line – as proved by Verstappen's botched move on Lando Norris and Hamilton's on Sebastian Vettel late on as well.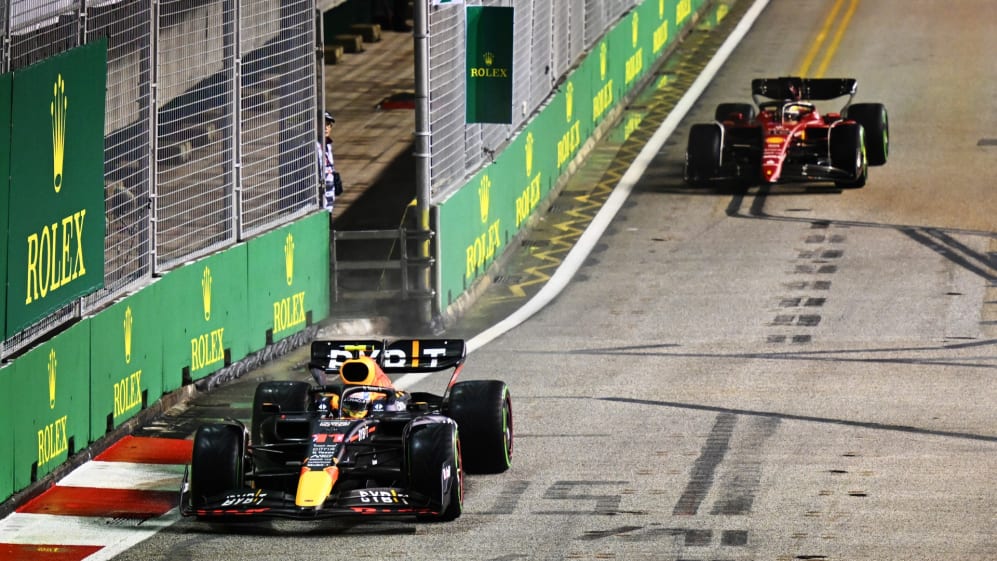 Ultimately Leclerc sapped both his tyre life and his energy levels too much as he slipped back to a second place behind a delighted race winner.
Perez added a Singapore victory to his wins in Baku and Monaco for Red Bull, while his only pole position came at Jeddah earlier in the year. We already knew he was something of a street circuit specialist, and he really added to that claim with a drive that ticked all boxes.
READ MORE: Perez hails 'best performance' in F1 in Singapore Grand Prix as he gives his view on Safety Car investigation
For me, racing on a street circuit was the greatest challenge, where concentration levels must be high and mistakes can't be made. Another great street performance from Perez and another win will do him a world of good, just as he was starting to come under pressure for his lack of podiums while Verstappen has been making winning look easy.
It's important that he can prove to Red Bull that on an off day for Max, he too can do the job, and he did that emphatically in Singapore.