Feature
PALMER: In a race decided by tyres, how did Alonso beat the odds to seal a podium in Qatar?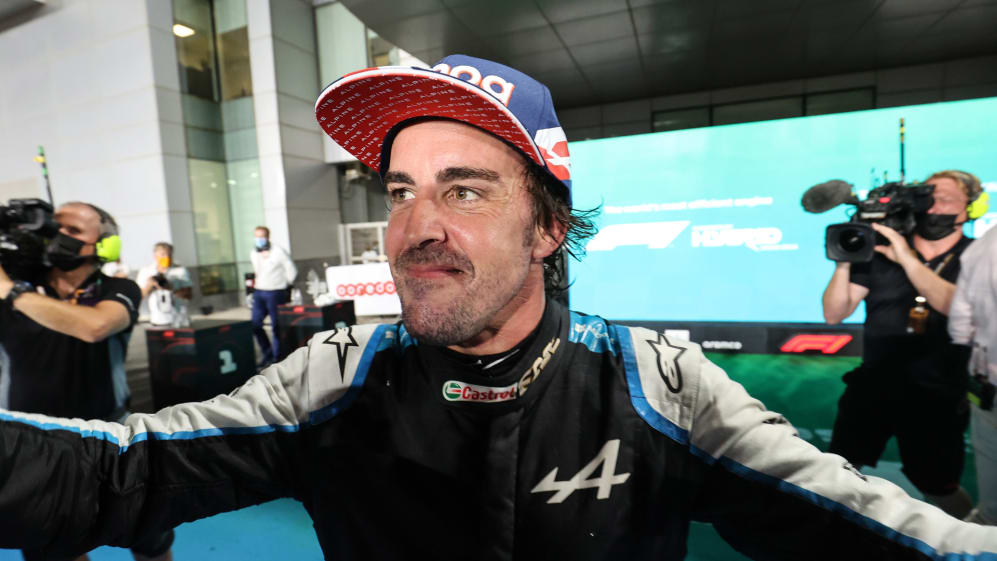 Behind the runaway top two in Qatar was an intense battle for a podium spot, eventually claimed by Alpine's Fernando Alonso in a strategic race decided by tyres.
Alonso was superb in the Grand Prix and a sweeping pass on Pierre Gasly on Lap 1 allowed him to build a buffer to the charging faster cars of Sergio Perez and Valtteri Bottas, both recovering after a poor qualifying and first lap respectively.
The Red Bull and Mercedes cars were significantly faster than Alonso's Alpine, and with the Losail circuit being easier to overtake on than anticipated on Sunday, it should have been difficult for Alonso to hang on.
READ MORE: Ross Brawn on Hamilton's masterful win, Alonso's brilliant podium, and the title race that keeps on giving
So it transpired, and you could argue that for each part of it there was an element of fortune, but also that both Alpine and Alonso absolutely maximised their own performance to take advantage of it.
Valtteri Bottas was the first of the recoverers to drop out of contention when he picked up a puncture on Lap 33 on his starting set of medium tyres – the first of a number of front-left punctures in the Grand Prix.
The issue was, unlike most races where the tyres degrade and the driver becomes woefully slow before any structural issues arise, there was often absolutely no forewarning in Qatar. It was akin to some of the Silverstone races we've had in recent times with similar issues, most notably with Lewis Hamilton finishing on three wheels to win last year.
Losail and Silverstone are viciously quick circuits. The constant high speed corners result in increased wear to the loaded outside front tyre. Both circuits are clockwise so therefore it's the front left that takes the brunt it.
On top of that, with relatively flat kerbs on the exits of these fast corners, drivers could push the edge of track limit boundaries, and with raised shark tooth kerbs just beyond in Qatar, it added extra stress to those front tyres, and as they became more worn they became more prone to further damage.
F1 Nation podcast: Who's favourite to win the title after the Qatar GP?
In hindsight, Bottas trying to do 33 laps on a set of mediums was bold, but this was the inaugural race in Qatar, and teams hadn't managed to run a tyre to the end of its life around this circuit before.
Bottas' lap times were hanging on very well, he was lapping at a consistent pace and Mercedes were leaving him out there to try to overcut Alonso in a bid to chase only Sergio Perez down for the podium.
Suddenly Bottas' left front blew and with it going so early around the lap, he had a long way to get back to the pits – it ruled him out of contention even before the team decided to retire the car later on.
READ MORE: Pirelli boss Isola explains Qatar tyre issues that saw Bottas, Russell and Latifi suffer punctures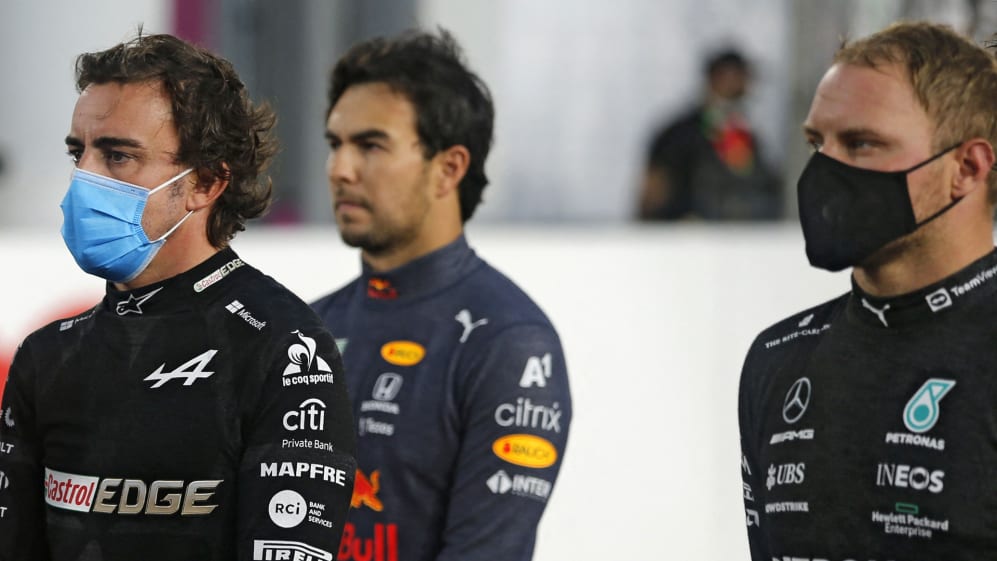 Sometimes small vibrations at the wheel can be an alarm bell that the tyres are on the edge, and we heard some radio chatter from others, including the two leaders about this, forcing them into two stops, but in many cases the tyre can just puncture unexpectedly.
Bottas had no warning, but his issues did act as a warning for others, and Red Bull acted cautiously as they pitted Perez from a comfortable third onto a fresh set of tyres for the final 16 laps.
READ MORE: Williams duo say 'audacious strategy' attempt contributed to Qatar GP tyre issues
At the time it looked a strange call, given he was six seconds clear of Alonso and extending his gap marginally with each lap. Perez himself raised questions about it as he set about his charge through back the field.
But as time wore on it looked more and more like the sensible decision from Red Bull, with both Williams cars almost simultaneously coming a cropper with the same issue as Bottas – front-left punctures.
When Norris also had the same problem after just 23 laps on the hard tyre from fourth place it promoted Perez up and it seemed at that stage that everybody else on a hard tyre one-stopper might struggle to make it to the end.
Management was critical, but the only way to manage a tyre that's on the brink of its life like that is to sacrifice a lot of lap time, by reducing minimum speeds through the right hand fast corners – of which there are plenty in Losail – and staying off the kerbs as well, which naturally tightens the corners.
Alonso, and Esteban Ocon behind set about doing that to try and hold on to their lofty positions. For Ocon it meant that a queue of cars started forming behind in a battle for fifth, but like Bottas he still had enough pace in the car when he needed it to stay out of arm's reach of Lance Stroll behind at the critical points around the lap.
WATCH: Ocon and Alonso showcase value of Alpine teamwork in Hungary and Qatar
Alonso, meanwhile, was being hunted down by Perez, but was given a significant reprieve when the VSC was declared for marshals to clear Latifi's stricken Williams.
Everyone who was sweating about their tyre life could breathe easier. Two laps under VSC meant that they could put no stress through the tyres, spare themselves two laps of work and all gaps to the cars around remained the same.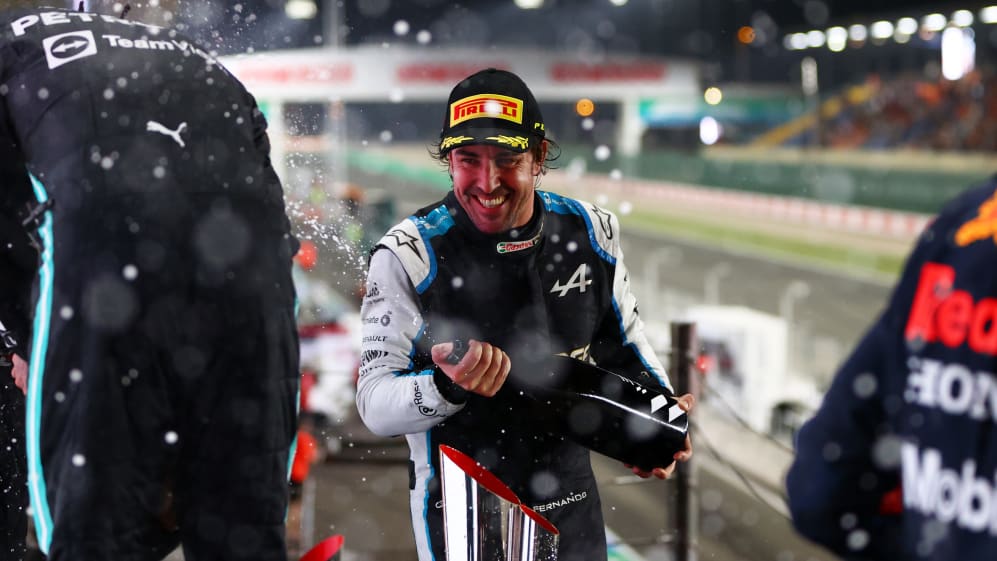 In the end Alonso held on to the podium by three seconds to Perez, who was catching at one to two seconds per lap. Without the VSC it seemed that Alonso and Perez would have been right together onto the final lap, and that's assuming Alonso's old hard tyres didn't puncture like some others had done.
Alpine's Executive Director Marcin Budkowski explained afterwards just how marginal it was for the team, but these are often the risks you have to take for an underdog team to get onto the podium.
It was brilliant to see Fernando back up there. He became the 13th different driver on the podium this season. and with his overall performances this year, not least on the weekend in Qatar, it was absolutely deserved.