Opinion
PALMER: Were the stewards right to punish Verstappen for his Monza clash with Hamilton?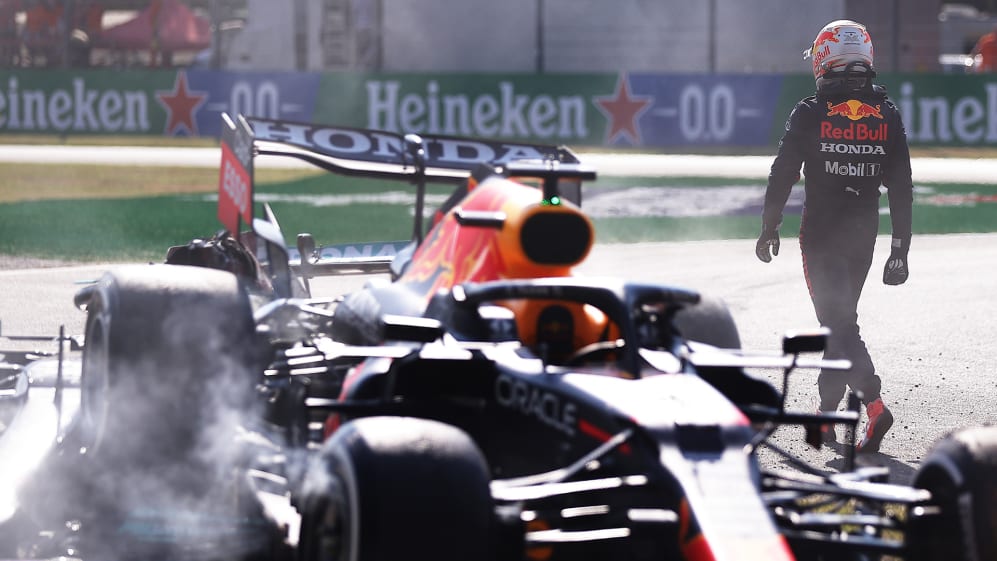 It doesn't surprise me to be talking about another clash between the championship challengers so soon after Silverstone.
It has become very clear that this year's champion will be either Lewis Hamilton or Max Verstappen. They have been in a different league to everyone else this season and that is reflected in the championship standings.
READ MORE: The Hamilton-Verstappen crash changed the face of the Italian GP – but would Ricciardo have won regardless?
Separating the two of them though is almost impossible, with only five points between them in the standings and the order constantly ebbing and flowing.
All of that means the stakes are absolutely massive whenever they race each other wheel to wheel in a Grand Prix.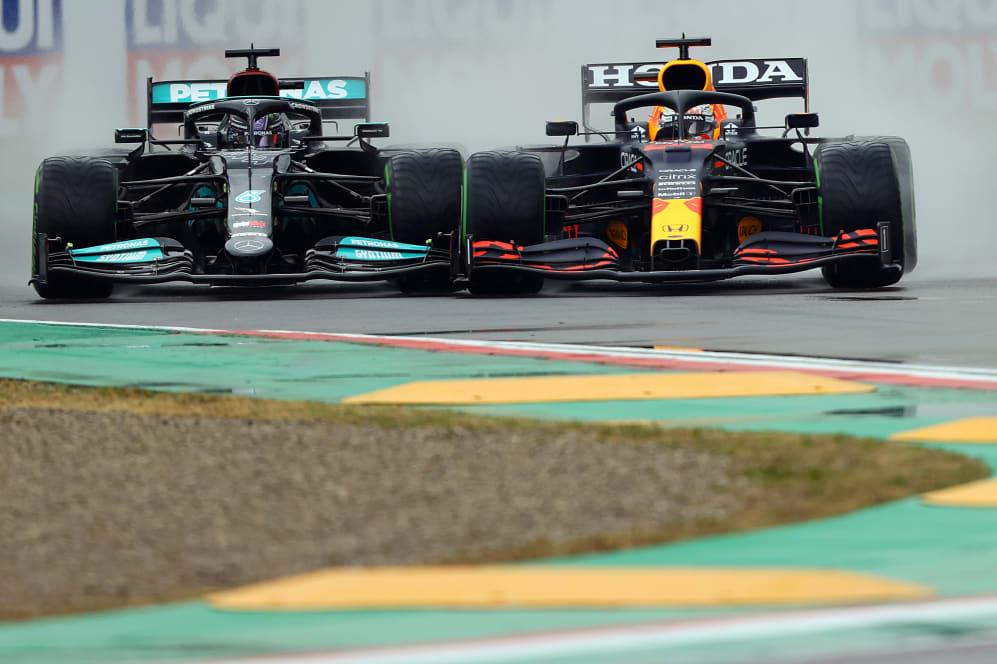 In the early part of the season there were some close fights between the two, with Verstappen the more aggressive in Imola and Barcelona, but overall there was more a feeling of playing the long game in Formula 1's longest ever season.
In those instances Hamilton could afford to yield to Verstappen – they were right at the start of the race and even if he couldn't come back past him in the remainder of the Grand Prix, there were still 20 or so Grands Prix left.
READ MORE: 'Tactical foul' or 'racing incident'? Wolff and Horner have their say on the Verstappen-Hamilton clash
Now we are after the summer break and the season doesn't seem so long. Every point counts, and when it comes to battles between the two it's effectively double points – because not only are you scoring more with a pass, but your opponent is scoring less.
In any overtake drivers are balancing risk and reward and when you race against your only rival for the title you can also afford to take more risk. Not only is the reward greater if you pull the move off, but actually if it doesn't come off and you end up coming together, then usually both drivers lose out, and therefore nothing is lost to the driver that would otherwise be behind, as happened on Sunday.
Of course that all relies on the incident being a deemed racing incident, rather than one driver being to blame.
Similar to the clash at the British Grand Prix, the Monza collision looked to me a classic case of this, only this time the aggressor was Verstappen who was taking the higher risk, rather than Hamilton at Silverstone.
READ MORE: David Tremayne on Hamilton and Verstappen – and when the gloves come off in F1 rivalries
As Hamilton emerged from the pits it was critical that Verstappen pass him at that exact corner, or at the very least keep Hamilton defending until the second chicane, but even there it's harder to pass, as Hamilton found out on the first lap with Verstappen forcing him off (below).
Hamilton was ahead into Turn 1, but Verstappen was up to racing speed so carried much greater momentum through the corner and was quite well side by side as they were between Turns 1 and 2. This was the critical moment.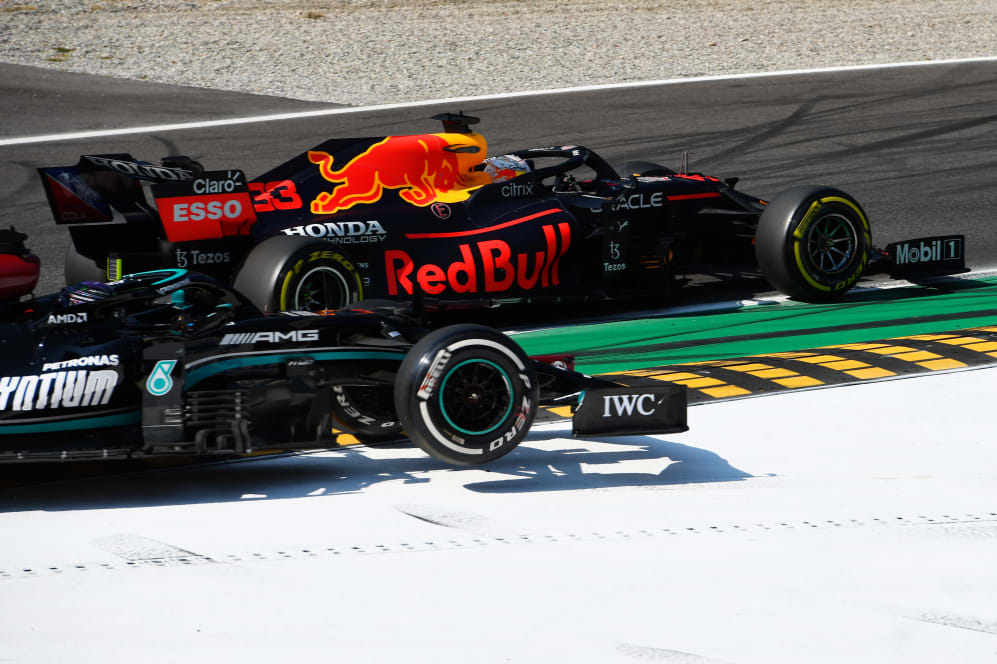 I believe that against anybody else in that Grand Prix, Max would have been more cautious and probably bolted across the run-off area. It was the do or die nature of the moment, with everything at stake that meant he kept his foot in and attempted an audacious move.
But there was initially the space there to do it, which was squeezed more and more through the cornering phase of the right-hander, until he was too tight into the left hander of Turn 2. Here he had no choice but to take to the sausage kerb with his left side, which threw him into the air and into Hamilton.
READ MORE: Hamilton says halo 'saved my neck' in Monza, and gives his take on Verstappen's penalty
From Hamilton's point of view, he was also aggressive, putting a squeeze on Verstappen in the braking area, before running him wider through the first part of the corner to the point where there was no way he could get through the second part without running too much of the raised kerb.
This crowding tactic is commonly seen in motorsport where the driver on the outside runs out of room and is either forced off or has to back off. What muddies the waters here is that Verstappen had enough room on the outside to then be on the inside for Turn 2, albeit squeezed over the apex kerb – the cause of the collision.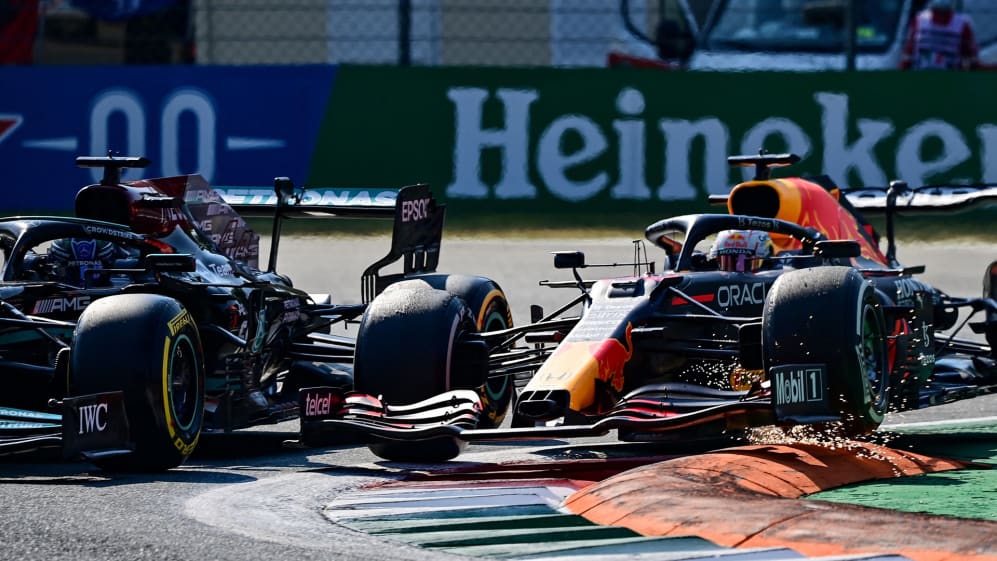 While overall I'd attribute slightly more blame on Max here for his part of aggression – he was never fully alongside and he certainly had the better chance to avoid it – it's a marginal enough one, that, like Silverstone, I might have called it a racing incident, where both parties were racing hard and partly to blame for the coming together.
Lewis expected Max to back out rather than risk the collision, and Max expected Lewis to give him more space. In reality, given everything at stake, both of those expectations in the heat of the moment turned out to be naïve.
The stewards found Verstappen predominantly to blame and he has been handed a three-place grid penalty for Sochi and I don't think his post-crash radio message of bullish defiance rather than upset, anger or finger-pointing would have helped his cause.
READ MORE: How McLaren engineered a shock 1-2 at low-drag Monza
It's likely Verstappen will incur Bottas-like engine penalties in Sochi anyway, so like Hamilton's time penalty at Silverstone the punishment from the stewards may end up effectively pointless. Given that, it also means we are unlikely to see a repeat next time out.
But with the intent, aggression and 'not backing down' approach both are driving with, and the title battle only heating up, this surely won't be the last big moment between these two this season.