Feature
David Tremayne on Hamilton and Verstappen – and when the gloves come off in F1 rivalries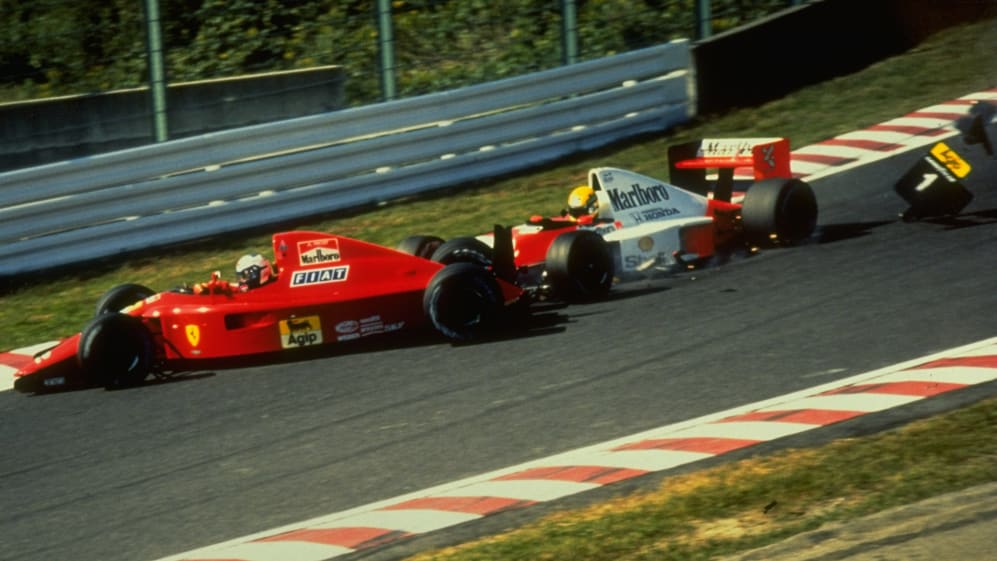 On October 21st, 1990, my friend Nigel Roebuck and I stood atop the grassy knoll in the final corner of the Suzuka circuit watching the field gathering on the grid at the end of the formation lap for the Japanese GP. It was the race that could determine the outcome of that year's World Championship fight between Ayrton Senna and Alain Prost.
"It's a hell of a long way to come if there's a first-corner shunt…" one of us mused.
READ MORE: Hamilton open to Verstappen talks before Hungary, and says 'there needs to be respect on track'
Moments later there indeed was such an incident, for that was the extraordinary occasion on which Ayrton, angered that pole position had been allocated the slower, right-hand side of the grid, did exactly what he had threatened to do the previous evening when he said, "If he [Prost] gets to the first corner ahead, he ain't gonna make it." Without backing off, he slammed his McLaren into the back of the Ferrari, and took both cars out in a spectacular collision which secured him his second title.
That, of course, was not the start of their rancour.
To begin with, the two foxes co-habitated reasonably well in the McLaren henhouse in 1988, though there was that astonishing moment in the Portuguese GP when Ayrton nearly eased Alain into the pit wall at 180 mph while trying to dissuade him from overtaking. But things really started to go wrong at Imola the following year.
The McLarens were dominant, so they made a 'no overtaking' agreement that whoever got to Tosa first would initially be unchallenged, until the race had settled down. Then the fight could begin. Ayrton got there first from pole on the original start, but then there was a second one because of the stoppage after Gerhard Berger's fiery crash at Tamburello on the fourth lap. On that restart Alain made the better start but Ayrton overtook him prior to Tosa and went on to win.
READ MORE: Prost vs. Senna: The top 10 moments of F1's defining rivalry
Alain took a dim view of that, believing Ayrton had reneged on the deal he had actually suggested. Ayrton said it had only applied to the first start. From then on things went downhill and the trust between them evaporated. And that year, in Suzuka, came that clumsy shunt between them in the chicane.
As they had walked back to the pits that afternoon there in 1990, Alain admits that he seriously thought of punching Ayrton. For years their relationship remained strained, each all too aware that the other was the gunslinger in town who prevented them otherwise being the undisputed fastest on the draw.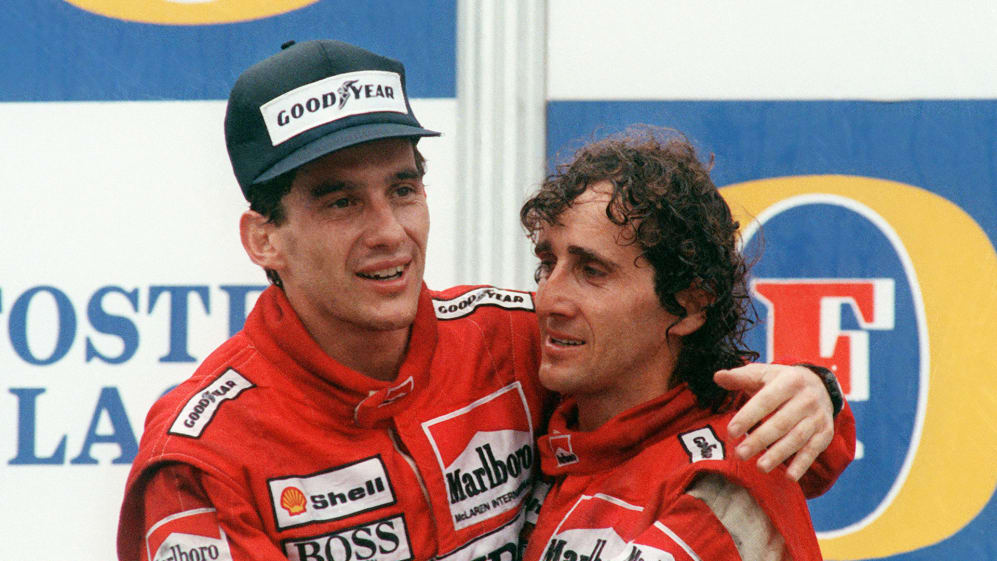 The epic few corners between Max and Lewis at Silverstone on Sunday reminded me of the Senna/Prost fight in the early laps of the 1993 British GP, when time and again it seemed Alain had finally passed Ayrton, only for the Brazilian to slam back across the Williams' path to stay fractionally ahead.
It was what people always claim to want to see – mano a mano racing with no quarter asked nor given. But it's something about which it is easy to get agitated when it all goes wrong and emotions become inflamed.
READ MORE: Rivals on track, friends off it: 7 of F1's greatest ever 'bromances'
Over the years there have been a fair few moments when drivers have fallen out seriously in the heat of battle for the World Champion's crown. Often they are team mates, given the need for every driver to deal with the man the other side of the garage, though not always. Generally, you could divide the myriad relationships into dislike, or genuine enmity.
Senna and Prost were sworn enemies, until Alain retired at the end of 1993, whereupon there was a rapprochement. With one of them on the bench, it became possible for each to mellow.
Niki Lauda had a great relationship with 1976 arch-rival James Hunt – to the point where, at the height of their battle, James told the story of how Niki burst into his room at the Glen Motor Inn, goose-stepped up to the bed, and declared: "Today I vin ze Vorld Championsheep!" before striding out again.
Niki likewise got on with Alain at McLaren. But he detested Carlos Reutemann when they were partnered at Ferrari in 1977. This was partly because Enzo Ferrari had precipitously signed the Argentine while Niki was still recovering from his Nurburgring accident, believing the Austrian to be finished. I remember him saying that the best thing about his comeback win in Kyalami in 1977 was that he crushed Carlos.
PODCAST: Prost on his amazing career, his unique relationship with Senna and his 80s rivals
Alan Jones wasn't a fan of the man from Santa Fe either, when they were teamed at Williams, especially when Lole refused to obey team orders to let Alan win in the rain in Brazil in 1981. Jonesey was one of those hard racers who was never much interested in taking prisoners.
Nelson Piquet had discovered that in Canada the previous year when they had gone wheel-to-wheel in the first corner. They had touched and Nelson crashed the race car he had put on pole position and had to restart in the spare Brabham BT49 with a higher mileage engine. It broke in the race, and victory for Jones later secured him the title.
After Ferrari team mate Didier Pironi cheated him out of the 1982 San Marino GP by disobeying team strategy, Gilles Villeneuve never spoke with the Frenchman again, and died trying to better his lap time in practice for the Belgian GP next time out.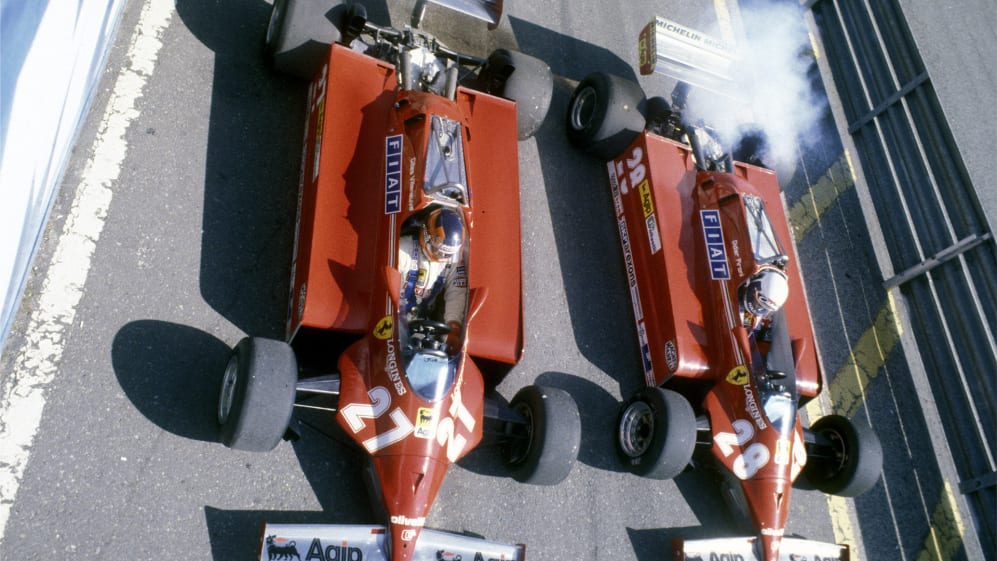 There was no love lost between Williams partners Nelson Piquet and Nigel Mansell in 1986 and '87, nor between Michael Schumacher and Williams duo Damon Hill and Jacques Villeneuve. After crashing on the 36th lap of the Australian GP in 1994, Michael secured his first of seven titles by driving his own damaged car into Damon's, and thus disabling it. Three years later, a similar tactic on Jacques backfired in the GP of Europe in Jerez.
Mark Webber always had his enthusiasm for Sebastian Vettel under control in their Red Bull days. Remember their collision in Turkey in 2010 when Seb cut in on him after passing? Their clash at the start at Silverstone which resulted in damage to Seb's front wing (the only new one available,) which saw Mark take a very popular victory? Or the acrimonious Multi 21 saga in Malaysia when Seb refused team orders to let Mark by?
WATCH: Webber reveals his biggest regret over 'Multi 21' battle
Lewis and Nico Rosberg had their moments as Mercedes teamsters, notably the cut tyre at Spa in 2014 after Nico touched Lewis's rear wheel, or their famous shunt in Barcelona which led to Max's first win.
Lewis and Max have had several skirmishes, the most recent at the start in Imola when they touched and Lewis came off worse. But by and large they have managed to maintain a clearly respectful relationship. Sadly, I doubt that will continue – at least for a while – after Sunday's incident.
I wasn't surprised that things finally reached this point between them. It's inevitable that when you get two such talented drivers they will always give their all. In the past Lewis has perhaps been in a better position as far as machinery is concerned to cede ground when Max has been at his aggressive best, but this year he is the one on his back foot in a championship fight in which the Red Bull is clearly the superior weapon.
Who will honestly say that they did not enjoy those eight corners of the British GP, when Lewis was at his assertive best? Isn't that exactly what we have all been waiting to see for years?
READ MORE: Hamilton says Verstappen clash 'not the way he wants to win' – but insists it doesn't take shine off victory
For me, their collision was a racing incident with degrees of blame on both sides, and I was interested to see later how Charles reacted as Lewis dived up the inside of him in the same corner.
I regret the rift between F1's two best drivers, but expect it to widen from now on, likewise that between Red Bull and Mercedes. The gloves really have come off and each team will be redoubling their efforts. That will add an edge to the title fight that we haven't seen in many years, putting both drivers on their mettle to give of their best, while leaving just sufficient margin to avoid a repeat of what was a horribly fast accident at Copse.
Prepare, sadly, for more acrimony, but also a lot more edge-of-the-seat jousting.