Penalty-laden Sainz admits feeling 'regret' after seeing Leclerc's low-fuel pace in Turkey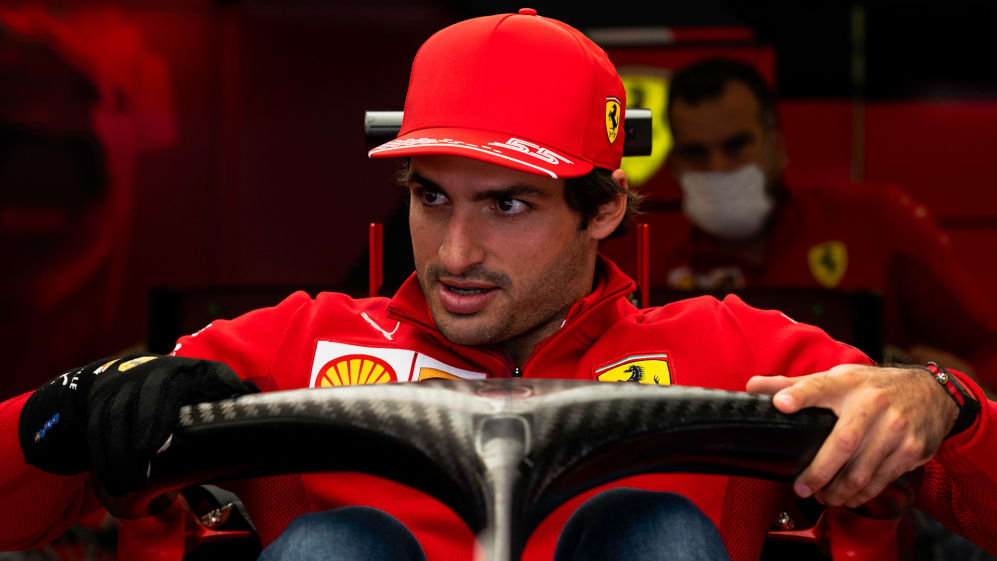 Carlos Sainz confessed to being somewhat disappointed by the back-of-grid penalty he faces for Sunday's Turkish Grand Prix, having witnessed Ferrari team mate Charles Leclerc set a competitive pace in both Friday practice sessions.
The Spaniard received a new Ferrari power unit for this weekend – just as Leclerc had in Russia – and will therefore start from the back of the grid. After finishing fifth in FP1 and 12th in the following session, Sainz was asked how he felt.
READ MORE: Hamilton fends off Leclerc to set pace in second Turkish GP practice
"I am excited; maybe a bit less, because now I see where Charles is in the low-fuel and you see that he could be fighting for a podium, then it makes me a bit regret the fact that I'm not going to be there on Saturday to fight for it and on Sunday to fight for it… It just makes me feel a bit more down, just because I wish I could be there up with him [Leclerc], fighting for higher places, looking at where the pace of the car is this weekend," he said.
As for why he didn't repeat his FP1 performance in FP2, Sainz explained: "Well… basically I did only a couple of laps trying the car in lower fuel just to get a reference of the car in low-fuel, but pretty much 99% of the session was done in higher fuel and trying to see the degradation of the tyres, trying different set-ups to also try and help the team and myself to understand the problems that we have with the front tyres."
Leclerc was rapid on Friday, having set the third-fastest lap in FP1 and the second-fastest time in FP2 behind Lewis Hamilton – yet the Monegasque driver urged caution concerning Ferrari's pace.
"There's just more grip and the lap times are much, much quicker, so the feeling has been good all day, but again, we shouldn't get carried away because I feel like the top teams have more to show," he said.
READ MORE: Norris says strong pace in opening Turkey practice sessions helping him get over Sochi disappointment
"And also on high-fuel it's been looking good, so everything looks positive for now. But again, it's only a Friday, so for now I want to keep my head down, keep working as hard as we can, to try and fine-tune the car, to have a perfect quali tomorrow," he added.
Ferrari sit 17.5 points behind McLaren in the standings, the Scuderia having scored in every one of the past eight Grand Prix weekends before the 2021 Turkish GP.