'We should get them in the ring' – Hamilton and Verstappen enjoying 'fiery' exchanges between team bosses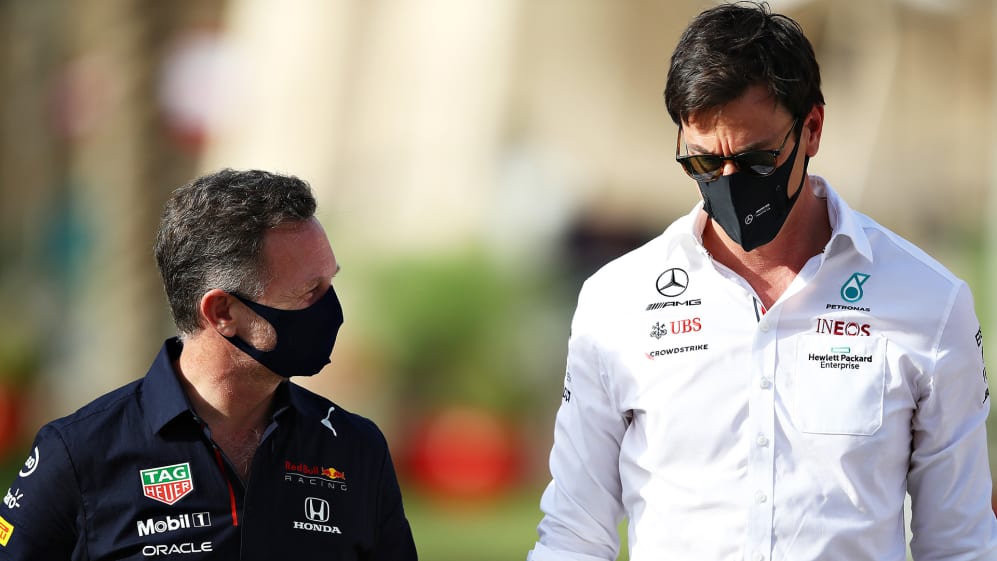 The war of words between title rivals Red Bull and Mercedes – and their respective team bosses Christian Horner and Toto Wolff – continued to rumble on across the Azerbaijan Grand Prix weekend. And Max Verstappen and Lewis Hamilton admitted after Saturday's qualifying in Baku that they were enjoying the show…
In comments to Sky Sports F1 at the start of the weekend, Horner had suggested that Wolff should "keep [his] mouth shut" with regards to the ongoing 'flexi wing' debate – with Wolff later telling the same network: "Christian is a bit of a windbag who wants to be on camera. It's easy to be punchy when you're on the top of the timesheet, but he should be a little bit more modest I think."
READ MORE: Verstappen curses 'stupid' qualifying in Baku as he loses another chance of pole to red flag
And asked about the spat between the two team bosses after qualifying in Baku – where title contenders Hamilton and Verstappen took P2 and P3 on the grid respectively, behind polesitter Charles Leclerc – Hamilton had a novel suggestion for how Wolff and Horner could settle their dispute...
"We should get them in the ring," laughed Hamilton.
"I'm all for a ring… in Formula 1, instead of penalties so that would be great," laughed Verstappen.
"It's Formula 1," added Verstappen, who'd earlier fumed on the radio after a red flag in Q3 cost him a chance at pole for the second race in a row. "There are lots of stakes involved, so everyone wants to win, everyone is a competitor, so I guess [arguing is] just the natural thing and it's good for people to read, right? A bit of fire behind it."
Verstappen and Hamilton endured their own spat across the Monaco Grand Prix weekend, with winner Verstappen telling the post-race press conference that "actions speak louder than words", after Hamilton – who finished the race in seventh – told the media ahead of the Grand Prix that Verstappen had "a lot to prove", and that he'd been forced to avoid on-track incidents with the Dutchman this year.
READ MORE: Leclerc takes shock pole in dramatic Baku qualifying session as FIVE drivers crash out
But Hamilton reiterated that he would prefer Mercedes and Red Bull to do their talking "on the track", telling the press conference in Baku: "Naturally [Christian and Toto are] the two top leaders of the teams, and they've both contributed hugely to the success of both teams and they're great, great leaders.