Perez explains spin that caused early end to opening day in Bahrain
Sergio Perez brought an early end to proceedings on day one of the Official Pre-Season Test in Bahrain when he spun and beached his Red Bull RB18 in the gravel late in the session. The Mexican was, however, encouraged by the mileage and learning he gained on Thursday.
Perez spent the whole day at the wheel of the Red Bull, clocking up an impressive 137 laps and finishing 10th overall – splitting the Mercedes duo – in what he called a "productive" showing for the drivers' championship-winning squad.
It did, however, end in the gravel as, during a late Virtual Safety Car, he lit up the tyres exiting Turn 8 and brought out the day's second and final red flag.
READ MORE: Gasly fastest on first day of Official Pre-Season Test in Bahrain
He recalled: "It was a very productive day: plenty of laps, good information, you know, a very different circuit, a lot of different behaviours. So yes, it was nice to get a rhythm in the car on a very different track, very different issues, and yes, towards the end of the day… we were trying the different aero programme on cold tyres and on the Virtual Safety Car I just lost it, and that was it.
"And the end of the day came a bit early for everyone – so everyone can have a bit of a rest now!" he joked.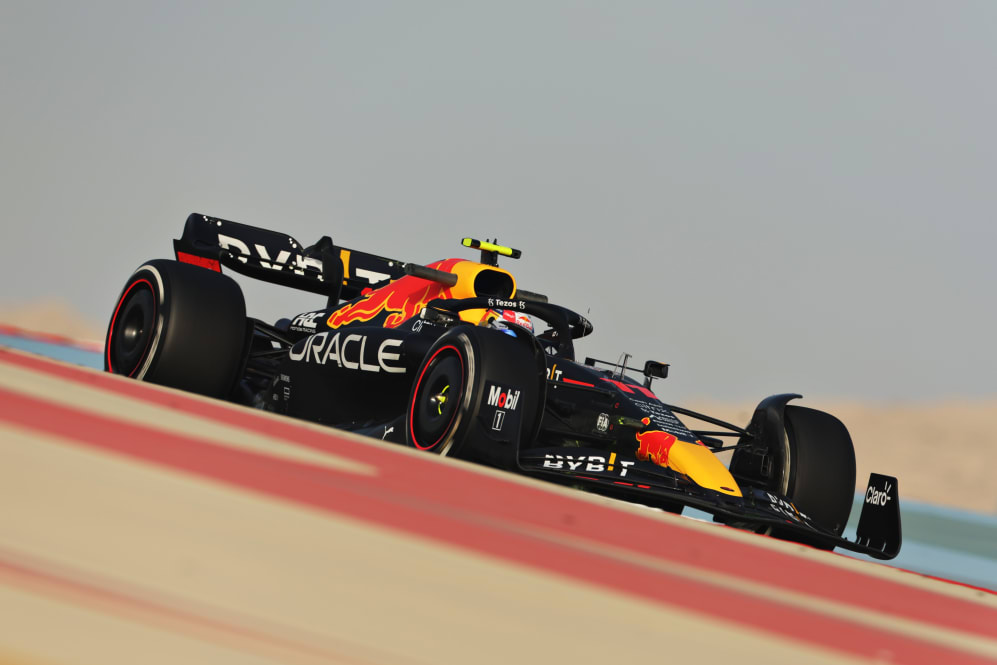 Perez was also encouraged by a solid foundation to Red Bull's pre-season test, having said that the team gathered ample information for Max Verstappen to take over on Day 2 and further hone the RB18 – while also explaining the varied challenges offered by Barcelona and Bahrain.
"Yes, it's very different; what we had in Barcelona to what we had here, the issues that we had that were there [are] very different, so in general I think yes, a good baseline today. Plenty of information to go through and hopefully tomorrow with Max we are able to do a couple of steps and then, for the final day get our final read on the car.
READ MORE: 'I didn't know I missed F1 that much' – Magnussen on his remarkable return to Haas
"Barcelona was all about the front-end limitations for everyone, I think, with the cold temperatures, and here you come to Bahrain, the roughest circuit on the calendar, so automatically you have more rear bias. So yes, I think just the usual stuff, learning from the balance, from the car, aerodynamics, and so on."
And the objective for the rest of the pre-season test?
"I think there is so much we can learn at the moment, so hopefully [I] can have a strong final day [on Saturday] and yes, that will be it for us."
F1 TV Pro subscribers can watch Bahrain pre-season testing live and on demand, access exclusive live timing, as well as Tech Talk debriefs. Subscribe now and save 20% on your Annual F1 TV Pro subscription. Offer Valid in selected territories on web and apps until March 13. T&Cs apply
Coverage of the Official Pre-Season Test is also available live in selected territories via your F1 broadcaster.