Perez found 'intense' battle with Alonso 'super enjoyable' despite missing out on the podium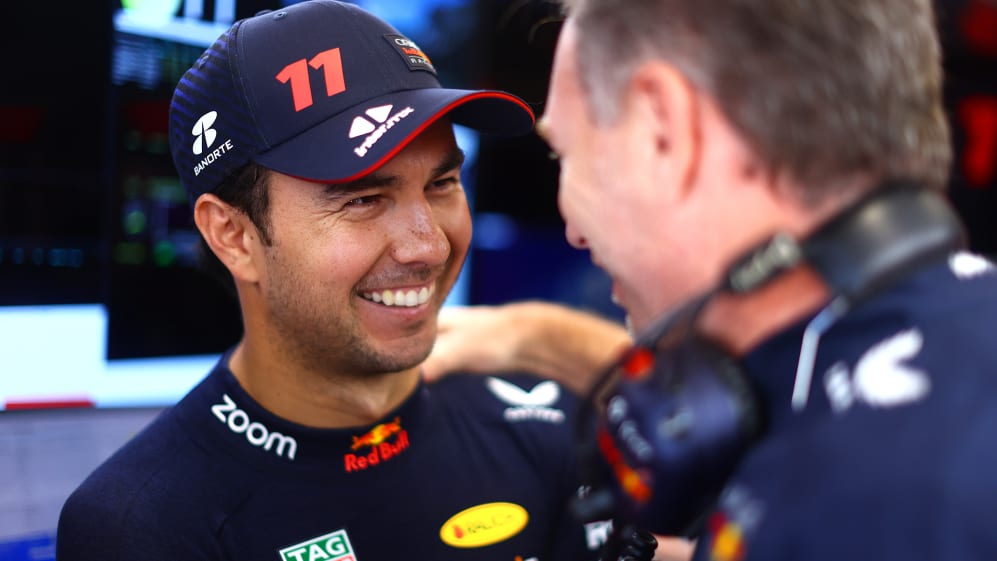 Sergio Perez missed out on a top three finish in Sao Paulo by just 0.053s, as Fernando Alonso pipped him in a drag race across the finishing line. It was the perfect end to an epic battle that had been going on for many laps between the Red Bull and the Aston Martin, with the two racers giving it everything for that final podium slot.
Lap 48 was when Perez first found himself directly behind the Aston Martin on track, but it took a few laps for the Mexican to close the gap with both drivers on soft tyres for their final stint. Alonso had the advantage of having pitted one lap later for fresh rubber, Perez having bolted on three-lap old softs at his final stop.
READ MORE: 'I thought the podium was gone' – Alonso on his thrilling final-lap battle with Perez
It took until Lap 54 for Perez to get into DRS range of Alonso ahead, and the Mexican soon went for a move into Turn 1. But Alonso knew he was coming and took a wider line to cut back across the apex, preventing his rival from squeezing down the inside. That was the status quo for lap after lap, Perez harrying and Alonso defending for all he was worth.
But on the penultimate lap, the Mexican finally found a way past into Turn 1, and managed to almost break the DRS to ensure Alonso couldn't return the favour into Turn 4. The Spaniard admitted that he thought his chance of a podium had gone, only for Perez to brake a fraction too late into Turn 1 on the final lap, giving Alonso a run into Turn 4 where he retook the position.
The two then had a drag race across the line, Alonso shading it by the barest of margins.
"I mean it was a great fight with Fernando, I don't think with a lot of drivers you can do these kinds of manoeuvers," Perez said afterwards. "It was really tight from beginning to end, it was super enjoyable to be honest, I did have a lot of fun. In the end he ended up getting the podium, but it is how the sport is.
READ MORE: Hamilton calls Sao Paulo GP 'one to forget' as Russell labels it Mercedes' 'slowest weekend' of the year after DNF
"I think we had a great fight, very fair and to the limit. I think this is something a lot of drivers can learn from, what we did, the way we fight today, I think it's something – it's how it should be done. I'm in the wrong side, I ended up losing but it's fine because it was a great fight."
Oops! Error retrieving Twitter post
Perez's wait for a first podium since Monza continues, but he did finish in the top three in Saturday's Sprint and was able to fully extract the pace from the RB19 in what was a fairly successful weekend for the Mexican – which gave him plenty to be pleased with.
"We've seen in the last couple of races that the pace has been there, that we've been really strong but for some reason or another, we haven't been able to get the end result. But I just knew it was a matter of time."
FACTS AND STATS: Verstappen passes Prost on wins, Alonso matches Prost on podiums
Team boss Christian Horner called it "a big drive" when he radioed his congratulations after Perez took the flag, saying his driver "gave it everything."
With Lewis Hamilton struggling, Perez has increased his advantage in the fight for second in the drivers' championship, with Red Bull never having managed a 1-2 finish in their history.
Oops! Error retrieving Twitter post