Perez happy to 'minimise the damage from Saturday' as strategy coup leads to P4 in Monaco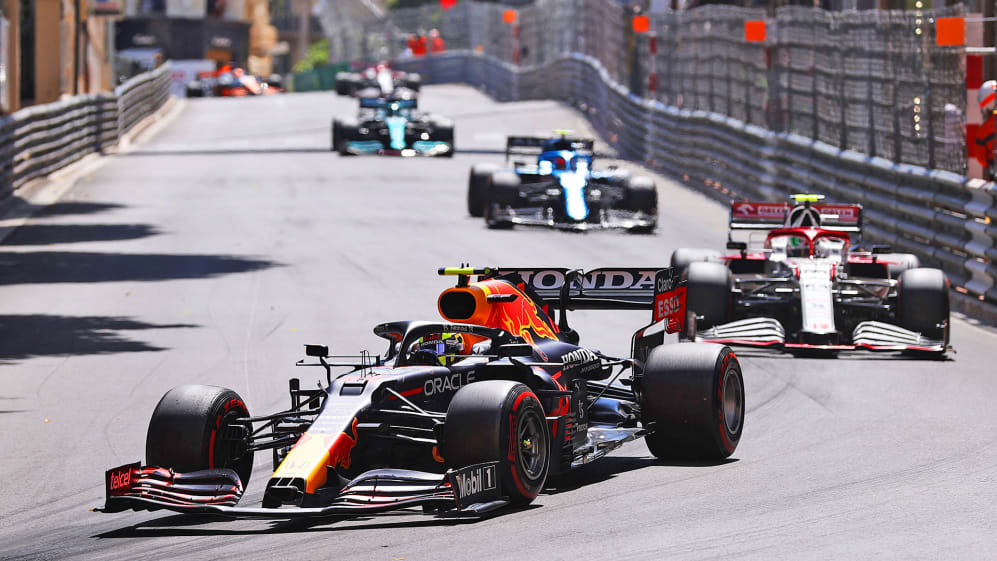 A cunning piece of strategy from his Red Bull team gave Sergio Perez his joint-best finish this season at the Monaco Grand Prix, with Perez leapfrogging from his P9 starting position to finish P4 at the flag.
A lack of single-lap pace in qualifying coupled to Charles Leclerc's Q3 red-flagging crash prevented Perez from starting the Monaco Grand Prix any higher than ninth – although with Leclerc unable to take the start, that was effectively eighth as soon as the lights went out.
But Perez rode the wave of a powerful overcut effect in Monte Carlo, pitting for hard tyres on Lap 35 to jump ahead of Aston Martin's Sebastian Vettel, AlphaTauri's Pierre Gasly and Mercedes' Lewis Hamilton – who'd all pitted before him – into P4.
READ MORE: Verstappen claims dominant Monaco victory over Sainz and Norris, after polesitter Leclerc fails to take start
And although a late bid for Lando Norris' third place failed to come off – Perez finishing just one second adrift of the McLaren at the chequered flag – Perez said he was satisfied with his race day performance.
"I'm pleased with the result today," said Perez, whose team mate Max Verstappen took an untroubled second win of the season, as Red Bull moved one point ahead of Mercedes in the constructors' standings. "I think for the team, it's a good one especially, a good day... We managed to minimise the damage from Saturday… but it's only the fifth race of the season."
Despite the positive day for Red Bull – as they scored 37 points to Mercedes' seven, to claim the lead of the constructors' for the very first time in the turbo-hybrid era – Perez added that increasing his comfort in the car over a single lap was now his priority, admitting that he felt his confidence in his Red Bull's set-up had actually taken a step backwards in qualifying at Monaco.
"On Sunday yes," said Perez, when asked if he felt he was getting on top of the RB16B. "On Saturday I'm still needing the time. This weekend particular I think we took a wrong direction, we didn't read the car as good as Max, but hopefully in the coming races we can do another step.
READ MORE: Hamilton blasts 'really, really poor performance' from Mercedes after taking P7 in Monaco
"We have to work on that Saturday, try to find a better direction on the car and we're going to be very competitive," added Perez. "We've got a lot of work ahead of us but I think once I'm comfortable with the car, we're going to see very big steps and a lot of points for the team."
Perez now looks ahead to the Azerbaijan Grand Prix on June 4-6, with the Mexican doubtless hoping for a repeat of his podiums at the track from 2016 and 2018 this year – in what would be his first rostrum appearance since joining Red Bull.