Perez hoping there are 'no more surprises' after 'extremely painful' Red Bull retirements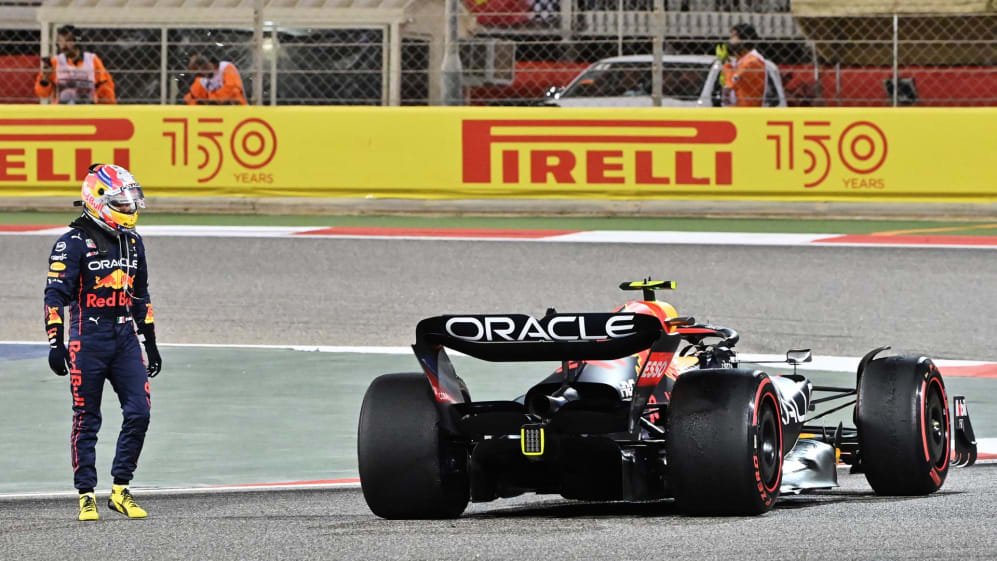 After Red Bull suffered three DNFs in the first three races of the season, Sergio Perez has expressed his hope that no more gremlins emerge for the drivers' title-winning team, with rivals Ferrari having already made headway into both championships.
Perez retired late on in Bahrain along with team mate Max Verstappen, who also retired last time out in Australia (below). Those reliability issues, along with Charles Leclerc's victories in Bahrain and Australia, mean that Ferrari have a sizeable lead in the constructors' championship and Leclerc is well ahead in the drivers' standings.
READ MORE: 'That's what we like' – Verstappen pleased to take pole in 'hectic, long qualifying'
Speaking ahead of the Imola Sprint, Perez said: "Well first of all, what gives us hope is that all the issues, all the reliability problems we had, we understood them, we were able to fix them. So from now on, hopefully there are no more surprises.
"Something unexpected can happen still, but we feel like we've come on top of them and that will be critical for us on our side as a team, to make sure we are able to collect the points we are able to get weekend by weekend, because so far it's been extremely painful."
Red Bull are third in the constructors' standings – 49 points behind Ferrari and 10 behind Mercedes – going into the Emilia Romagna Grand Prix and Perez seemed optimistic that his squad could take the fight to Ferrari on their home turf. He did however warn that other teams could also pose a threat going forward.
"I feel we're close. I think certainly in Melbourne, they [Ferrari] were probably two steps ahead, especially on race day they were very strong; I think our [tyre degradation] was quite high come race day. We have some understanding on what went wrong.
WATCH: Relive the action from the 2005 San Marino Grand Prix, as Alonso shares memories of epic Schumacher battle
"Hopefully we are able to fix it and be a lot closer on Sunday... We'll see what we are able to do this weekend. I think everyone is quite close, you know? I think the pecking order we saw last weekend [in Melbourne], like anyone can do a really good lap time in qualifying and in the race, so I think as the season is progressing, the teams are getting closer."
As for team mate Verstappen's title defence, it's got off to a rocky start: the Dutchman is sixth overall entering the first Sprint of the season at Imola, although he at least secured his first pole position of 2022 on Friday evening, as Perez gets set to start the Sprint from P7.