Perez labels Mexico result 'devastating' as he vows to bounce back in Brazil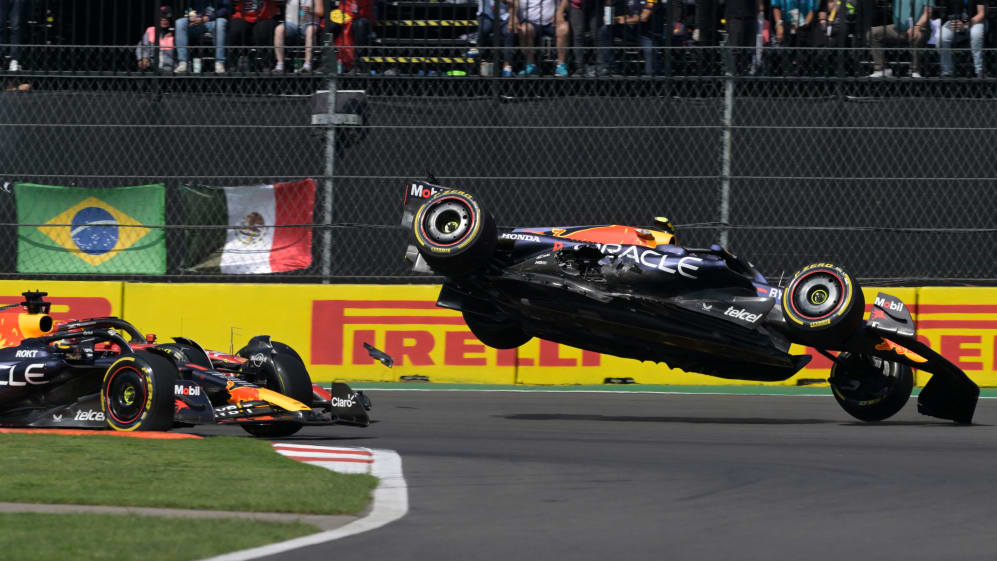 Sergio Perez has labelled his retirement from his home race at the Mexico City Grand Prix "devastating" – while vowing to fight back at this weekend's Sao Paulo Grand Prix.
Perez was caught up in a Turn 1 collision at last weekend's Autodromo Hermanos Rodriguez race with the Ferrari of Charles Leclerc, with his Red Bull RB19 launched dramatically into the air before the Mexican was forced to retire in front of a disappointed home crowd.
READ MORE: 'I paid a high price' – Perez admits he 'took a risk' in race-ending incident after hoping to win in Mexico
In the aftermath of the accident, Perez labelled the crash "a racing incident" – but admitted ahead of this weekend's Sao Paulo Grand Prix that he'd found the DNF "devastating", as he now targets staying ahead of Lewis Hamilton for P2 in the drivers' standings, with Perez currently 20 points to the good over the Mercedes driver.
"Mexico was devastating for me," said Perez. "But in this sport these things happen, and you can't afford to keep going over what could have been. I wanted to win my home race more than anything but that is gone now and my full focus is on finishing second in the championship.
"We need to have a great weekend in Brazil and I feel confident in our ability to get results right now. It felt like things were coming together last weekend with the direction we are taking."
Perez has taken just 21 points in the last five Grand Prix weekends, compared to the 127 scored by team mate and 2023 champion Max Verstappen in the same period.
But despite that, Perez believes that he's been getting more and more comfortable in the RB19, as he approaches the final three weekends of the year – including the Sprint weekend of Sao Paulo.
READ MORE: Horner insists you 'can't blame' Perez for race-ending incident in Mexico
"I am more comfortable in the car," said Perez. "The work the team and I have put in together is paying off in terms of set-up and performance.
"Brazil is a totally different challenge to Mexico but it's always a fun track, and we have two opportunities to score points this weekend. So, while Sprint weekends are a challenge on set-up, we want to maximise this chance all we can."