Perez reveals team came close to retiring car before maiden Red Bull win in Baku
Red Bull's Sergio Perez benefitted from a retirement from his team mate Max Verstappen and a rare mistake from Mercedes' Lewis Hamilton to claim the second win of his career in the Azerbaijan Grand Prix, and his first for Red Bull. But the Mexican revealed after the race that he'd feared he'd be forced to retire his car midway through the Grand Prix.
Perez was incisive from the start in Baku, jumping from his P6 grid slot to P4 at the race start, while he'd climbed his way to second after the pit stops, behind his team mate Max Verstappen. But a crash for Verstappen and subsequent red flag four laps from end set up a grand finale, with the drivers forced to endure a second standing start of the day, with Perez on pole.
And it was here that Hamilton made a rare mistake, passing Perez before locking up into Turn 1, the Mercedes driver eventually finishing P15 as Perez was able to win out, with Aston Martin's Sebastian Vettel – the driver who replaced him at that team – and AlphaTauri's Pierre Gasly completing the podium.
READ MORE: Hamilton explains switch issue that led to him dropping from P2 to P15 at crucial Azerbaijan GP restart
"I'm so, so happy, for today," said Perez, who took his maiden win for Racing Point at the Sakhir Grand Prix in 2020. "Normally Baku is pretty crazy. First of all I have to say I'm very sorry for Max because he did a tremendous race and he really deserved the win. It would have been incredible to get that one-two for the team, but at the end, it is a fantastic day for us."
And what of that restart with Hamilton?
"We had pretty cold tyres for that restart," He explained. "I think Lewis had a better one [start], but I just tried to brake as late as possible and I was like, 'no way I'm losing this one'. So I just tried to brake as late as possible, Lewis was on the inside line, on the dirty line and unfortunately for him...
"But it Just shows how vulnerable we all are to mistakes. We are operating at such a high level lap after lap that these things can happen to anyone."
Perez's achievement was all the more impressive given that he was suffering from a hydraulic issue on his RB16B, which saw him pull up immediately after passing the chequered flag.
Red Bull boss Christian Horner explained: "He was nursing a hydraulic issue as well, and we were really concerned that the car wouldn't get to the end of the race which is why he stopped after the chequered flag. We thought we could only lose when they had the restart but thankfully it all worked out tremendously well and Sergio did a great, great job."
Perez added: "We were close to retire the car but luckily we managed to finish the race and it was really quite difficult all the way till the end.
"It was a big thing. The team asked me basically not to weave, I couldn't warm up the tyres at the restart, so we were just trying to get to the end. It was only two laps to go and it was our race to be lost, because we were in the lead. It was everything to lose and not much to win because we were on pole. We just had to do two laps, but getting that that start right was a big thing."
Perez's first win for Red Bull also marked his first podium for the team, with Mexican having had an off-kilter start to the year with his new squad. And he said the victory had been a big step in his progression in the car.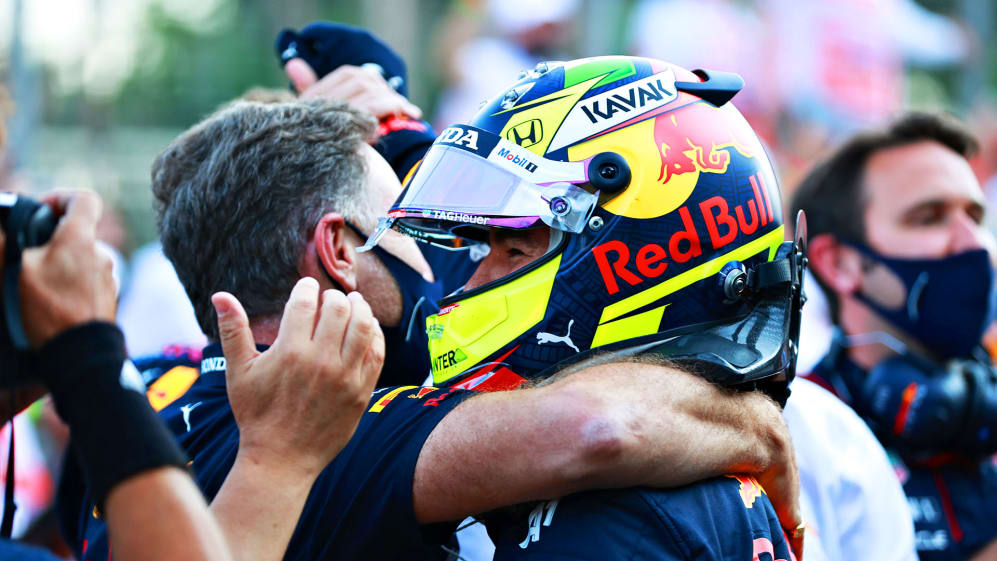 "This is definitely a strong boost of confidence for myself and for the team," he said.
"We didn't have the start of the season that we were hoping for, I found my adaptation harder than expected. But we've been working extremely hard since day one with the engineers back in the factory and finally we got a very good result for the team.
"We've been showing flashes of speed here and there, but I think this weekend, everything was looking great until Q3 run one where we got it wrong, but we didn't let ourselves [get] down and we looked forward and we had a tremendous race.
READ MORE: 'Sometimes you can hate this sport' – Verstappen frustrated to miss out on 'easy win' and chance to extend points lead
"I certainly feel that I made good progress, not just this weekend, also in Monaco. Every weekend the understanding grows. It's only race number six of the season, there's still plenty to go, but it's important to keep this momentum and keep improving race after race."
Perez's win bumps him up to third in the drivers' standings behind Verstappen and Hamilton, while Red Bull extend their championship lead over Mercedes to 26 points.