Perez says he was 'extremely unlucky' after finishing P9 in Russia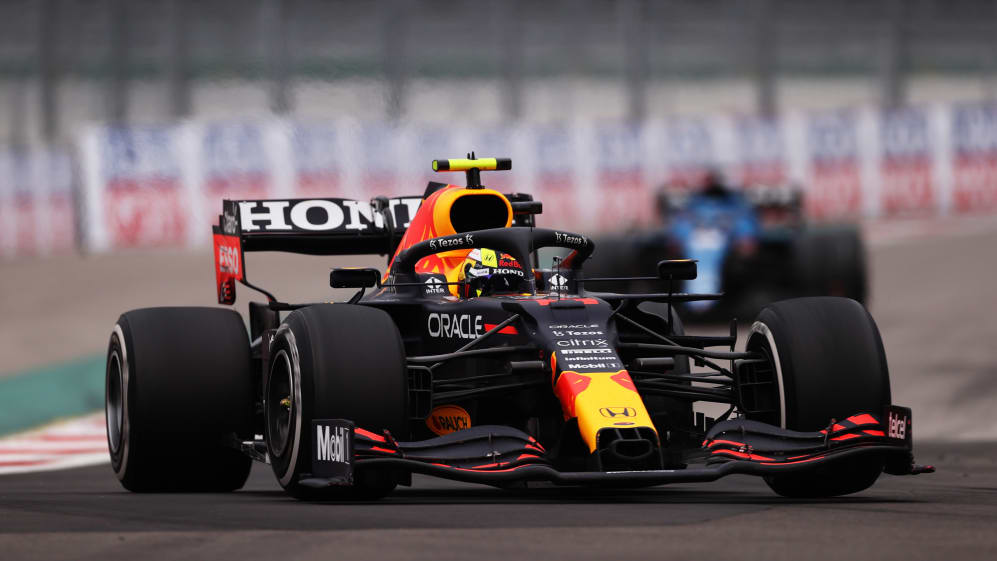 Sergio Perez came away with just two points from the Russian Grand Prix, the Red Bull driver finishing ninth on a tough day at Sochi. He explained why, in a race in which his team mate made up a staggering 19 places, his own hopes of moving up the field dwindled.
The Mexican qualified eighth at Sochi, behind Aston Martin's Lance Stroll, and ended up losing one place over the race – while team mate Max Verstappen managed to finish second having started 20th on the grid. But mid-way through the race, Perez was running third – and looked set for a podium before the rain fell with just five laps left.
READ MORE: 6 Winners and 5 Losers from the Russian GP – Who were the stars and strugglers at Sochi?
"Yes it's obviously very disappointing. I think we were extremely unlucky today," he said. "Could have gone either way really, you know. if it rained a little bit less, then the people on the inters would have [suffered].
"If it rained a bit more, it obviously favoured them. I think at the point I was on the lap, it was a little bit too late to know, you know – the amount of rain we were going to have as well – so we were already on the podium, it was a tricky decision to make," he explained.
Perez ended up pitting on Lap 50 – two laps later than team mate Verstappen – for intermediate tyres, and finished behind Alfa Romeo's Kimi Raikkonen, in P9. But his first pit stop, on Lap 36, proved to be just as costly with the Mexican losing nearly nine seconds stationary in the box. He was asked whether that is a cause for concern ahead of October 10's Turkish Grand Prix.
"No, I think we just have to see what went wrong, the boys have been doing really quick pitstops, so I think we just have to see what's going on there and hopefully we are able to fix it going forwards," he said.
READ MORE: Ross Brawn on THOSE Sochi strategy calls, Norris's pain, and Hamilton's historic 100th win
"It's a bit disappointing for myself but, yes, we just look forward onto the next one because we've shown pretty good pace this weekend," concluded Perez.
After the Russian GP, the Red Bull driver is fifth in the championship on 120 points – just seven-and-a-half points ahead of Ferrari's Carlos Sainz.