Podcast
PODCAST: F1's newest points-scorer Latifi on chasing his dream, homesickness – and learning from the army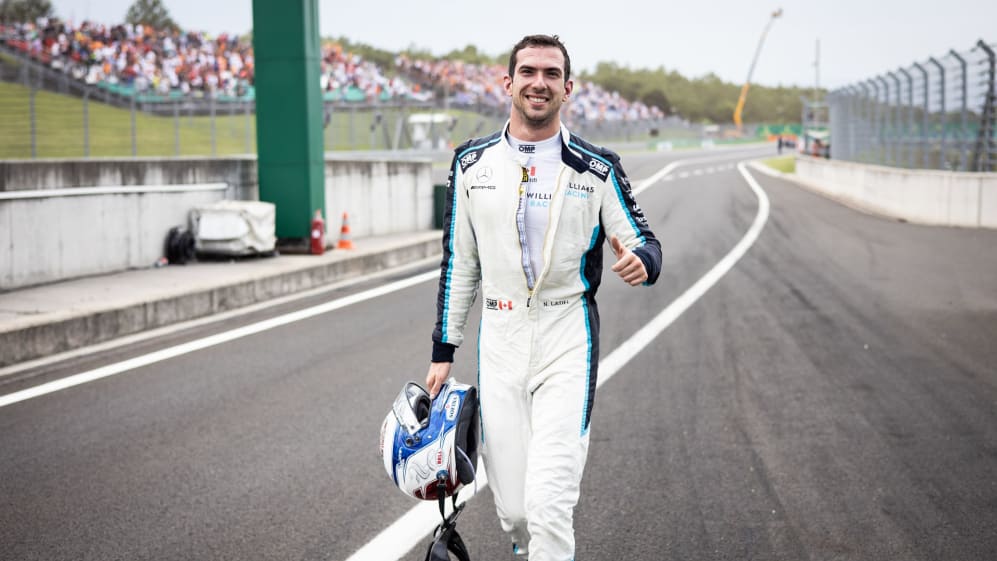 Nicholas Latifi is fresh off his first points-scoring race for Williams as he took a stellar P7 for the team in Hungary to lead team mate George Russell home. The Canadian driver is also the guest on this week's Beyond The Grid podcast, and tells all about his recent visit to an army base…
Latifi's P8 finish – promoted to P7 thanks to Sebastian Vettel's disqualification – in Hungary is his best in F1 so far and in the pod he speaks to host Tom Clarkson about how childhood karting and trips to the Canadian Grand Prix stoked a dream of racing in Formula 1, which saw him leave home to compete in Europe alongside the likes of Esteban Ocon and Alex Albon in Formula 2.
READ MORE: Double points finish just what Williams deserve says 'super happy' Latifi after his first top 10 finish
Recently, he also rode in a heavy artillery vehicle at the UK's Salisbury Plain training base, and he explains why he did it...
"It was basically a heavy artillery gun. I got to sledgehammer out a few of the tracks, because the tracks are like a tank, so I got to change a track, and then I also got to – I didn't drive it personally – I got to rev the engine, which, I looked like a kid doing it," he said.
This tweet has been removed from Twitter
But the Canadian also picked up on some similarities between the armed forces and his sport, as he says: "There are lots of parallels between military and Formula 1. Not, obviously, in terms of the practical aspects, like the actual execution of what we're doing, but communication is a huge thing in the military as it is in Formula 1 – absolutely critical – and not only what's being said but how it's being said, the efficiency of it.
"The second part, which was cool, was going to see their overwatch centre where they had a UAV [unmanned aerial vehicle] there, they train pilots to pilot the UAVs so I saw the simulator there – very different to our simulator but still, very similar goal for it – and yes I got to see the whole unit there and how they work, how they operate.
F1 NATION: Hungary Turn 1 chaos, Ocon's win, and the inside story on that spiky Verstappen press conference
"Yes it's a lot of moving parts and pieces, a lot of people having their own very specific job and that's what they have to do but it's kind of like Formula 1 as well; you'll have one guy who works on one part of the car, one engineer on electronics… but everything comes together to make a nice working machine here."
Listen to the full podcast in the player below, on Spotify or Apple Podcasts, to find out more about Latifi's trip to the Salisbury Plain army training base, homesickness, racing with George Russell, and his chocolate spread addiction...