Podium finisher Lando Norris explains why he ordered radio silence in Monaco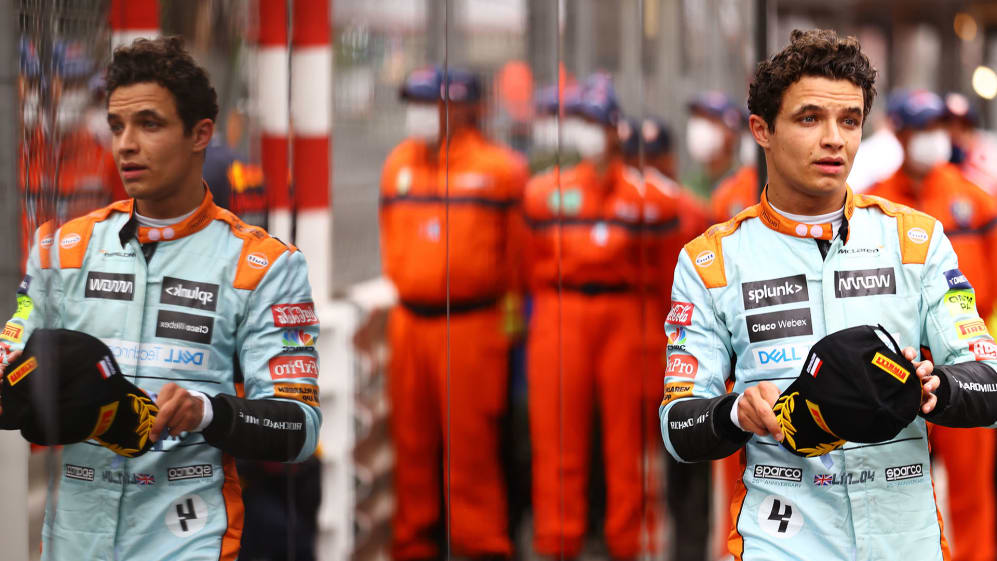 The adrenaline levels in the cockpit of Lando Norris' McLaren MCL35M ramped up in the final third of the Monaco Grand Prix, as the third-placed driver faced down the attack of Red Bull's Sergio Perez. And speaking after the race, Norris explained why he'd given an uncharacteristically terse order of radio silence to his engineer during the fight.
After starting the race in a net P4, Norris was one of the beneficiaries of Valtteri Bottas' Lap 30 retirement – the Finn's DNF promoting Norris to third, and giving him the chance to take his second podium of the season, and McLaren's first in Monaco since Jenson Button's third place in 2011.
READ MORE: 'I was just nowhere' – Ricciardo happy to move on from 'miserable' Monaco weekend
But with Perez having overcut his way from eighth up to fourth in the pit stops and bearing down on Norris on his five-lap fresher rubber, Norris radioed in to engineer Will Joseph to request "no more comments please". But after doing enough to keep Perez at bay and secure third, Norris – who earlier in the race had been shown the black and white flag for twice cutting the chicane after the exit of the tunnel – explained why he'd been particularly stressed as he tried to fend off the Red Bull.
"There's a new rule for this weekend [that] if you missed the chicane you get a warning," said Norris. "I think by about Lap 7 I had used both my opportunities to go off the track which… made my engineer Will extremely nervous.
"So not an ideal start to the race, especially because I knew there were many more laps to go and the final stint, when you can be pushing more, if I made one more mistake and went off I would have a five-second penalty and Perez would be ahead of me," added Norris.
"So I guess I was pushing a bit and doing a lot of fuel-saving at certain times and just slightly misjudged it, missed the apex and I got my warning."
Asked in particular about why he'd wanted radio silence, Norris replied: "In the end I was telling Will to be quiet, because sometimes you just want to focus on what you need to be doing, just driving around the streets of Monaco and you just want to be in your zone, in that way of just driving round, missing the barriers, just feeling confident and not having to think of any other things.