'I was just nowhere' – Ricciardo happy to move on from 'miserable' Monaco weekend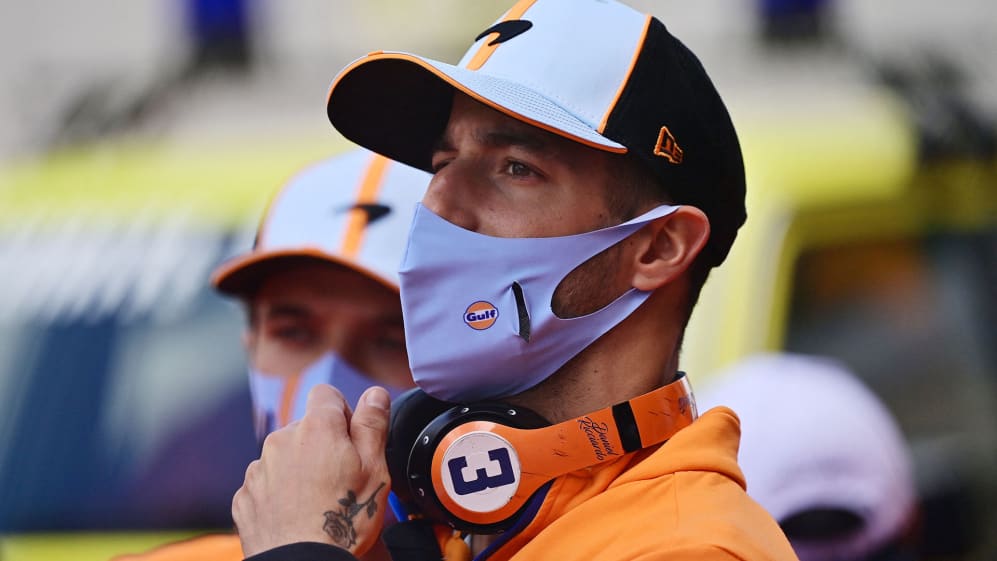 Just three years after plunging into Red Bull's Energy Station swimming pool following a lights-to-flag Monte Carlo victory, Daniel Ricciardo was left lamenting a "miserable" 2021 Monaco Grand Prix for McLaren, which saw him finish 12th after being lapped by his podium-claiming team mate Lando Norris.
Two-time Monaco polesitter Ricciardo was off the pace all weekend on his first visit to the Principality as a McLaren driver, failing to claim a top 10 position in any practice session, before falling out of Q2 on Saturday, taking P12 on the grid.
READ MORE: Norris says he'll 'cherish' surprise Monaco podium after resisting late pressure from Perez
Things didn't improve on Sunday, either, with Ricciardo jumped at the race start by Kimi Raikkonen and Lance Stroll, before a medium-hard strategy left him a classified 12th at the chequered flag, on a day when Norris was able to both lap him and claim his second podium of the season for P3 – with Ricciardo hinting that an "anomaly" in his MCL35M might be the root cause of the performance gap between him and Norris.
"It was quite a miserable weekend, just one to forget from my side," said Ricciardo. "Obviously the other side and the rest of the team, they got a podium out if it and they nailed it so congrats to them. It wasn't all miserable, but from our side, just one to forget, try and move on and hopefully find some answers. But obviously to be that far off, it's a bit of an anomaly.
"There were a few laps on the hard where I had some clear track – I don't know the tyre situation [of other drivers], but I think I was quickest on track at that point, so I guess there were maybe some moments of positivity," added Ricciardo. "But with the medium at the beginning, it was really just nowhere. I could just feel I was skating and I didn't really know what was going on and trying to find the grip. It was tricky. But we'll move on."
While Norris was taking McLaren's first podium at Monaco since 2011 and third in the drivers' standings, Ricciardo's struggles to get comfortable in the MCL35M means he sits eighth in the championship, with 24 points to Norris' 56.
READ MORE: Verstappen claims dominant Monaco victory over Sainz and Norris, after polesitter Leclerc fails to take start
But as Formula 1 now heads to Baku for the Azerbaijan Grand Prix – another street track that Ricciardo is a previous winner at – he sanguinely added that there was at least one positive he could take from his Monaco experience...
"Sometimes, when the weekend's this bad, it's kind of easier to deal with and move on because you're so far off," he laughed. "It's like, put it in the bin and let's go again, so that's I think what I'm going to do."
READ MORE: Hamilton blasts 'really, really poor performance' from Mercedes after taking P7 in Monaco
It was a sentiment his McLaren Team Principal Andreas Seidl agreed with, adding: "Daniel had a very tough one. We'll put that behind us as quickly as possible. He was quick in Barcelona and had good speed in the second half of the race here – that's what we'll be taking to Azerbaijan.
"We'll head home now, reset, recharge the batteries, and turn our thoughts to a very different street race in Baku."