POINTS PERMUTATIONS: What Verstappen needs to do to secure the F1 title in Singapore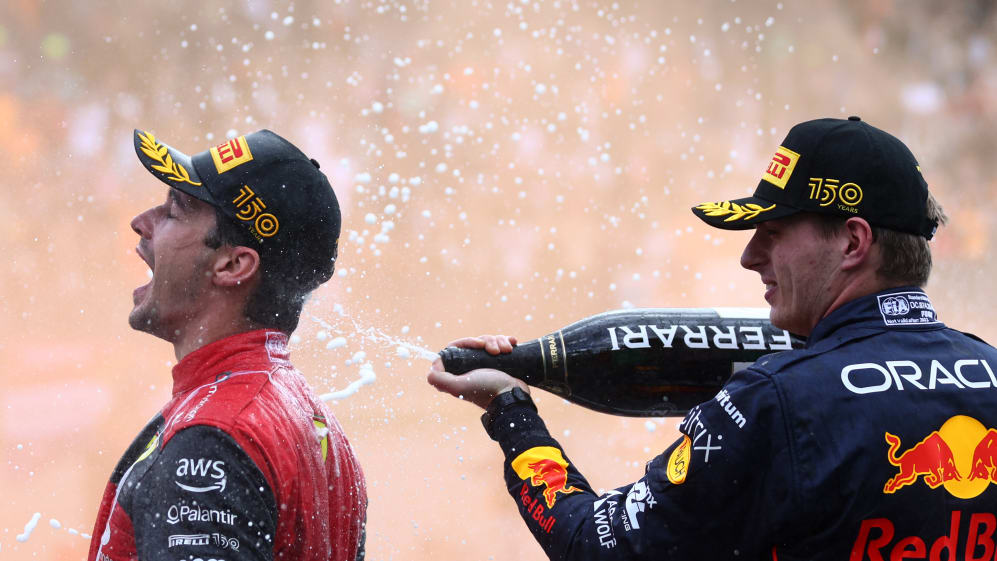 Max Verstappen will get his first opportunity to claim the 2022 F1 World Championship at the Singapore Grand Prix, as he looks to extend his winning run and mathematically end Charles Leclerc's chances.
Having won 11 races so far this season, and the last five on the bounce, Red Bull driver Verstappen heads to the Marina Bay Street Circuit 116 points clear of Ferrari rival Leclerc, with team mate Sergio Perez nine points further back.
READ MORE: 'Max is on fire at the moment' – Horner revels in Monza win as Verstappen edges closer to the title
Simply put, to wrap up the title in the city-state – and add to his 2021 crown – the Dutchman needs to outscore Leclerc by 22 points, Perez by 13 and Mercedes' George Russell by six.
Under the current F1 points system (25-18-15-12-10-8-6-4-2-1 and a bonus point for fastest lap) it means there are various permutations to consider for the Singapore round – albeit with a Verstappen title win relying on trouble for nearest competitor Leclerc.
2022
Drivers' standings ahead of the Singapore GP
POSITION
POINTS

1

Max

Verstappen

Red Bull Racing

335

2

Charles

Leclerc

Ferrari

219

3

Sergio

Perez

Red Bull Racing

210

4

George

Russell

Mercedes

203

5

Carlos

Sainz

Ferrari

187

6

Lewis

Hamilton

Mercedes

168
In the event of another Verstappen race win, the title would go his way if Leclerc finishes ninth or lower, while Perez would need to be fourth or lower without the fastest lap, or fifth or lower with the fastest lap.
Under that scenario, Verstappen would hold an unassailable 139 points advantage over Leclerc heading to the Japanese Grand Prix (with a maximum of 138 points on offer over the final five races, with 25 for victory, one for fastest lap and eight points for the Sprint win at Interlagos), with Perez outscored by either 14 or (the required) 13 points.
READ MORE: 'I'm sure we can win some other races' – Leclerc frustrated to miss out on Monza victory but sees opportunities to end Verstappen's run
The next set of numbers are based around Verstappen winning the race and setting the fastest lap, meaning Leclerc would miss out if he finished eighth or lower (22-point difference), with Perez fourth or lower (14-point difference).
If Verstappen is unable to win and achieve those aforementioned points gains over the competition, the title race will roll on to Suzuka, with another set of permutations coming into play.
Verstappen will take the title in Singapore if...
| Verstappen | Leclerc | Perez |
| --- | --- | --- |
| 1st | 9th or lower | 4th or lower without FL / 5th or lower with FL |
| 1st (with FL) | 8th or lower | 4th or lower |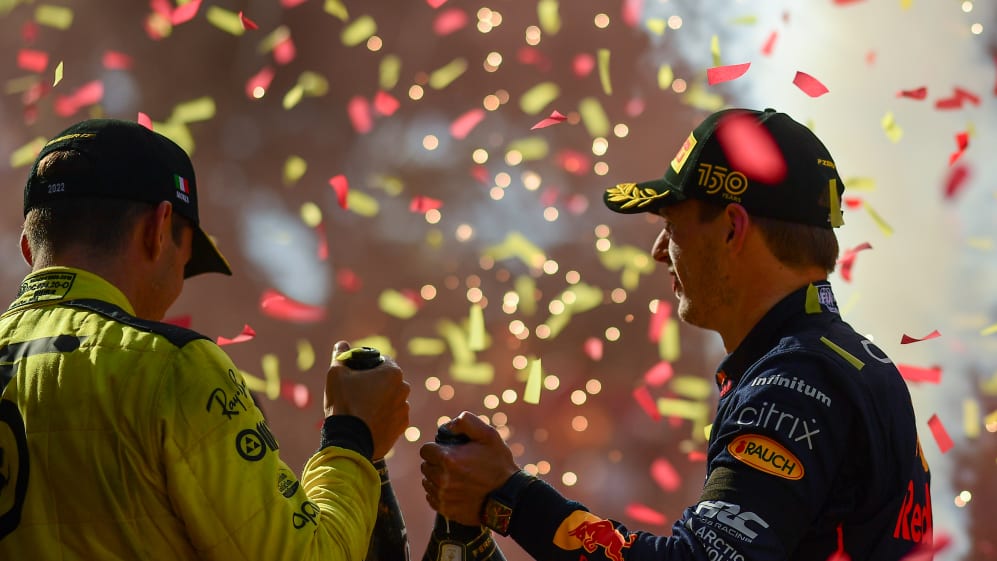 Indeed, the Japanese Grand Prix is the more likely event for Verstappen to get the job done, as he only needs to leave the race weekend with a 112-point lead (four points fewer than his current advantage) to have it all wrapped up.
That means he can even lose points to Leclerc, Perez and Russell (to varying degrees) over the next two races and fly away from Suzuka with the title under his belt – as long as he's holding that magic number.
F1 NATION: Max's maiden Monza win and debut delight for De Vries – it's our Italian GP review
In terms of the constructors' championship, there is no way Red Bull can depart Singapore with the required margin over Ferrari. Instead, their first opportunity could come in Japan.
Red Bull are currently 139 points clear of the Scuderia in the standings, and would need to be 191 ahead after Suzuka – with 88 points up for grabs at the next two Grands Prix.