Feature
Portuguese GP Facts & Stats: Hamilton's win tally matches Prost and Senna's combined totals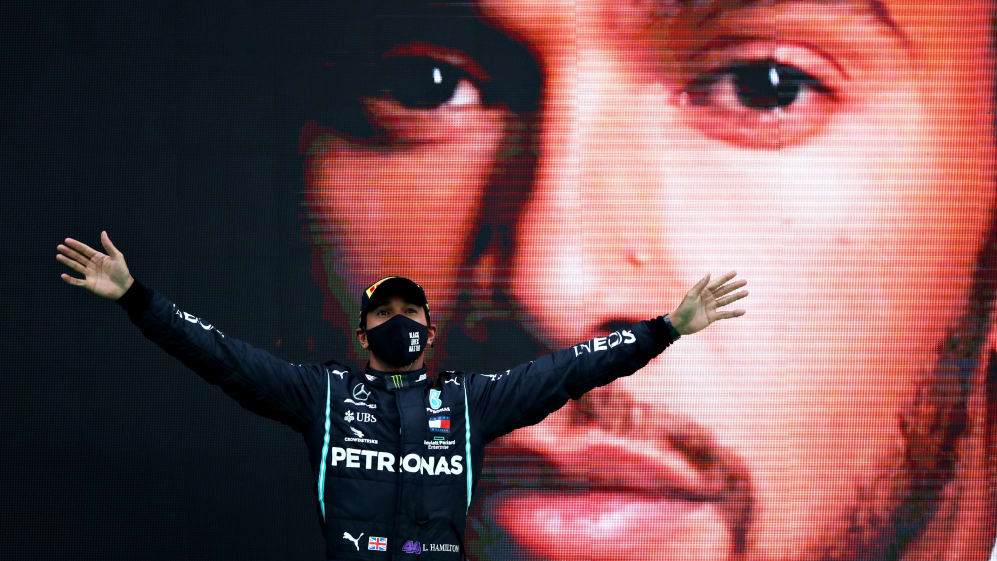 Unsurprisingly Sunday in Portimao was all about Lewis Hamilton, as he moved clear of Michael Schumacher on a record 92 F1 wins. But there was so much more to Hamilton's Portuguese victory, and to the very first Grand Prix at the Algarve International Circuit…
• The all-time wins record was broken in Portugal for the 2nd time - Alain Prost surpassed Sir Jackie Stewart's 27 wins at Estoril in 1987.
• Speaking of Prost, Hamilton's win tally is now the same as Prost's (51) and Ayrton Senna's (41) combined.
• Even before today, Hamilton had more wins (91) than 2nds, 3rds and 4ths combined (90).
• Hamilton today won on the 28th different circuit in his F1 career, extending a record he already held.
READ MORE: Hamilton reveals how cramp left him in 'excruciating' pain on way to record 92nd victory
• Hamilton now holds the all-time records for most wins, podiums, points, races led and pole positions.
• Hamilton extended his streak of points finishes to 45 in a row - no other driver has scored in more than 27 in a row.
• Hamilton won by the largest margin in 2020 - 25.592 seconds.
• It was the 4th Mercedes 1-2 of the 2020 season – with Hamilton having led Valtteri Bottas home each time.
• Hamilton, Bottas and Max Verstappen shared the podium for the 7th time in 12 races this season.
• Today ended Hamilton P1 / Bottas P2 / Verstappen P3 for the 6th time... making it the 2nd-most common finishing order in F1 history, only beaten by Hamilton P1 / Rosberg P2 / Vettel P3 at 8 times.
• Verstappen took his 9th podium finish of the season.
• Mercedes and Red Bull took the podium positions in a country in which neither constructor had ever raced before.
WATCH: Race Highlights - 2020 Portuguese Grand Prix
• Ferrari's Charles Leclerc was in the top 4 for the 4th time this season, but for the first time since the 70th Anniversary GP, 7 races ago.
• Pierre Gasly's P5 was his 2nd consecutive top-6 finish.
• That extended AlphaTauri's record scoring streak is extended to 9 races (more than they ever managed as Minardi or Toro Rosso).
• Gasly has 63 points after 12 races with AlphaTauri - an identical total to what he scored in the first 12 races with Red Bull in 2019, after which he was demoted.
• Carlos Sainz led in the early laps for McLaren before finishing 6th, his 5th top-6 finish of 2020.
• Racing Point's Sergio Perez was last at the end of lap 1, but finished 7th to extend his personal points streak to 16 races in a row (not counting race absences).
INTERVIEW: Esteban Ocon proud of tyre management after P8 at Portuguese GP
• Esteban Ocon beat team mate Daniel Ricciardo in a race for only the 2nd time this season in a Grand Prix where both Renaults finished.
• Ferrari's Sebastian Vettel finished 10th for a 4th time this season, having never done so prior to 2020.