Feature F1 Unlocked
PRACTICE DEBRIEF: Can Ferrari overcome a mixed opening day to scoop up the winnings in Las Vegas?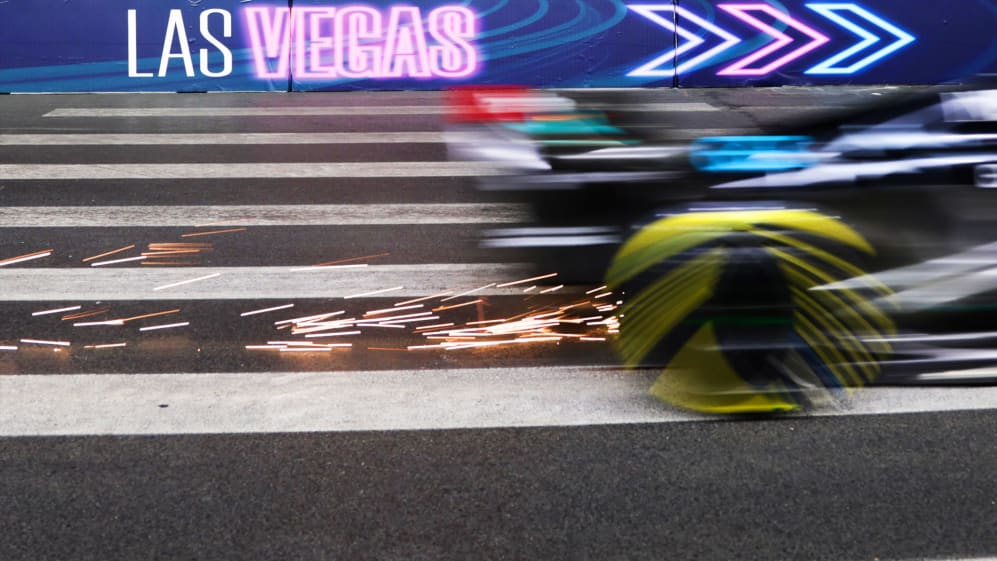 After 18 months of waiting, Las Vegas's famous neon lights provided the backdrop for practice for the Las Vegas Grand Prix – with the drivers hitting the track at 0230 local time on Friday morning for an extended 90 minutes of FP2 running. Ferrari set the pace, with the leading Red Bull only fourth – but does this mean the Prancing Horses are the ones to beat?
Leclerc a contender for pole, but Sainz suffers miserable day
There were mixed feelings at Ferrari as the sun started to rise in Las Vegas after Friday practice, as while Charles Leclerc set a scintillating pace to end up half a second clear of the field, marking the team out as pole contenders, it was a disappointing day for his team mate Carlos Sainz.
The Spaniard, who finished P2 on the timesheets, escaped with a sore back after he hit a drain cover, but the contact caused damage so significant to his Ferrari, a new chassis and power unit were required. To add insult to injury, the fitting of a new Energy Store power unit component triggers a 10-place grid penalty to go along with a large repair bill.
FP2: Leclerc leads Sainz and Alonso during second practice in Las Vegas
Had both Leclerc and Sainz put all their personal best mini sectors together, their advantage over the rest would have been even greater. And when our data team crunched the numbers, considering factors such as fuel and tyre compounds, while their lead over the rest was not so impressive – they still lead the way by 0.25s.
Most of their time advantage is being generated on the straights, with Leclerc 0.7s faster than anyone in Sector 3 – which is mostly made up of the 2km run down the Strip.
Their race pace isn't as strong – echoing the pattern we saw in Baku earlier this year – however, they are only a fraction off Red Bull (0.05s) and that suggests Leclerc is in with a genuine shot of victory.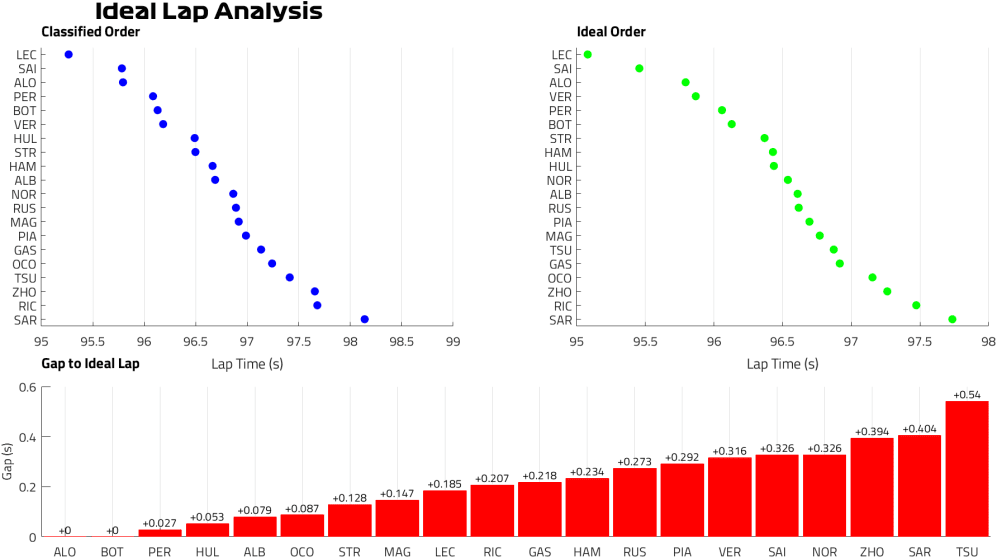 Red Bull remain a menace for the top spoils
While Ferrari are showing the kind of form that yielded the only non-Red Bull victory of 2023 in Singapore through Sainz, it's unwise to count Red Bull out despite one of their quieter and less dominant Friday practices.
READ MORE: 'We can do a better job' – Verstappen reflects on areas for improvement after first running in Las Vegas
They are near enough a match for Ferrari in the corners – and while they have a big deficit to the Italian team on the straights, it's almost certain they will slash that with changes overnight as they refine the set-up during FP3 and ahead of qualifying.
Sergio Perez was perhaps the happier of the two Red Bull drivers – with both saying they feel there is plenty more to come from the RB19 around the 17-turn street circuit, which bodes well for Perez's bid to fend off Lewis Hamilton and secure P2 in the drivers' championship.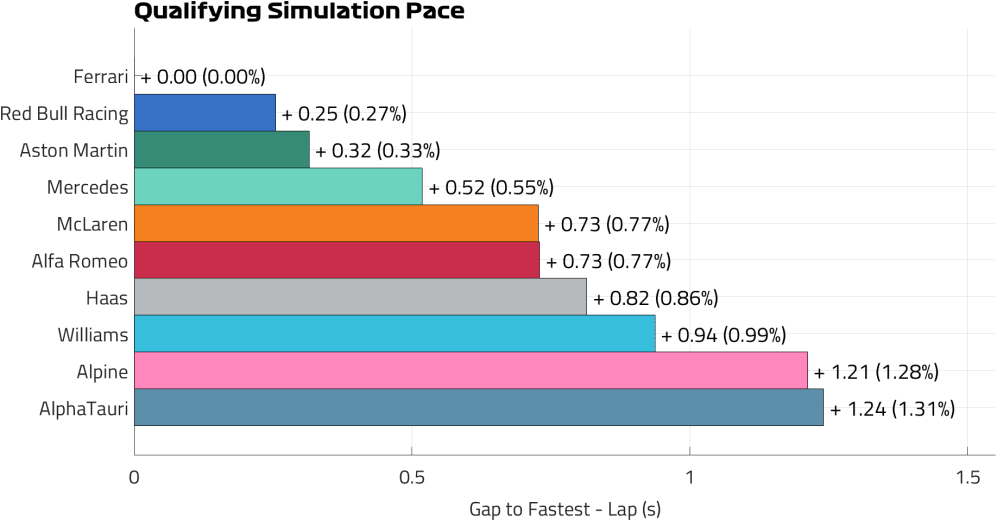 McLaren have work to do after lacklustre Friday
McLaren, who have been the second fastest team for most of the races after the summer break, knew the Las Vegas Strip Circuit would not play to their strengths after a difficult outing in Monza – the only track on the calendar that has a faster average speed that F1's newest addition.
READ MORE: Sainz handed 10-place grid drop for Las Vegas Grand Prix after practice incident
And the early signs suggest that prediction could well be right. Both Lando Norris and Oscar Piastri struggled for grip and were sliding around the 6.2km track. Only Alpine and Williams were slower in the slow speed corners while they also struggled on the straights.
In qualifying trim, they were locked in a battle with Alfa Romeo for P5 in the rankings – suggesting progress into Q3 will be a fight. Their race pace was a fraction off their Swiss rivals and 0.2s slower than Aston Martin – so big improvements are required overnight if they are to be in with a chance of scoring points.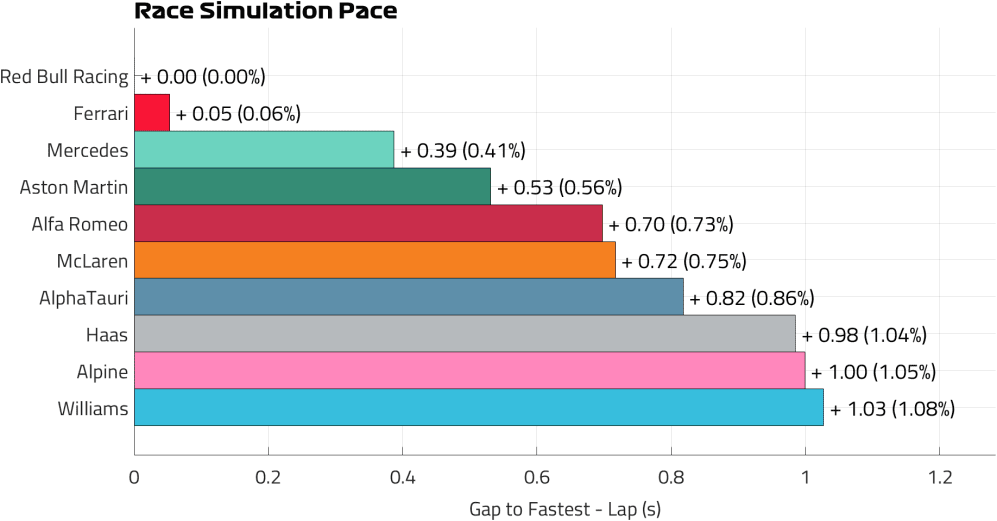 Aston Martin carry momentum from Brazil
Aston Martin's hopes of P4 in the constructors' championship looked bleak as McLaren went on a podium blitz through Asia, Qatar and Austin – but a superb performance in Brazil was followed up by a strong start to their Vegas weekend, as Fernando Alonso utilised his immense F1 experience to dance his green car around the American city's streets.
READ MORE: Alonso expecting 'tight' qualifying battle in Las Vegas but says there is still more to come from Aston Martin
He was third fastest overall in second practice, with the team's qualifying performance putting them third in the pecking order, and less than a tenth of a second away from world champions Red Bull.
Their race pace was decent too, the team seemingly having got the balance right between performance through the corners and along the straights. Anything less than the third row – and a top-five finish with at least one car – will be a disappointment based on their Thursday showing.
Mercedes in the mix for decent points
This wasn't the strongest Friday Mercedes has pulled off in 2023, however it was by no means their worst, as the Silver Arrows focused on tyre warm up and controlling the graining to put themselves firmly in the mix towards the front end of the field.
READ MORE: Mercedes drivers praise 'massively challenging' Las Vegas Strip Circuit after first practice runs_
While their qualifying pace wasn't so good – with the team around half a second off the lead and 0.2s slower than customer Aston Martin – it should be noted they only ran one set of soft tyres while their rivals used two sets, so that gives them options for the rest of the weekend.
And as has often been the case this season, their race pace was better, with the team within 0.39s of Red Bull – and the feeling inside the Silver Arrows was that there were gains to be made in this metric, if they can do some good homework before they return to the track late afternoon on Friday.
To read on, sign up to F1 Unlocked for free
You'll unlock this article and get access to:
Live leaderboard data
Epic experiences and rewards
Money-can't-buy competitions