'Quite an iconic top three' – Verstappen, Alonso, and Hamilton reflect on sharing the podium together in Montreal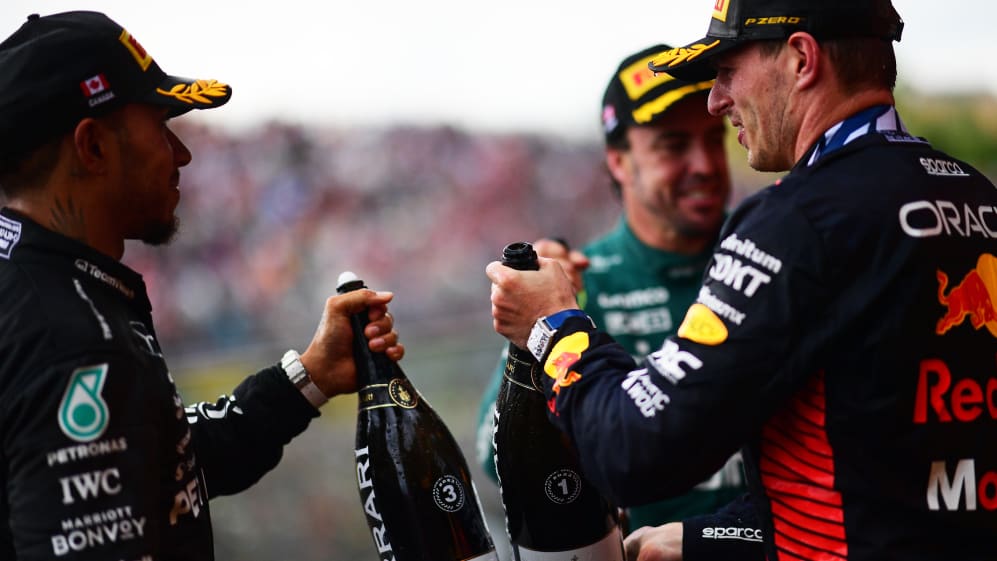 The three world champions on the grid – Max Verstappen, Fernando Alonso, and Lewis Hamilton – shared the podium together at the Canadian Grand Prix, with each of them reflecting on what a "privilege" it is to battle each other out on track.
Verstappen, Alonso, and Hamilton – who shared the rostrum for just the third time together after the Qatar GP in 2021 and in Australia earlier this season – are the only current world champions on the grid and have a combined 11 drivers' titles and 176 race wins.
READ MORE: 6 Winners and 5 Losers from the Canadian Grand Prix — Who made all the right moves in Montreal?
Verstappen, aged 25, has contributed 41 of those 176 wins – following his victory at the Canadian GP – and is also younger than both Alonso (41) and Hamilton (38). Following events in Montreal, the current drivers' championship leader reflected on his transition from watching as a fan to competing with the two drivers now.
"I remember, back in the day, I was watching these two already in Formula 1 racing each other, right," Verstappen said. "So, of course, very happy now that I'm in Formula 1 as well and racing them is probably the best thing out there.
"When we can share a podium together, I think we've done it now a few times, I think it's great. I think of course they want to swap positions, of course. I'm happy in the middle at the moment."
Alonso also opened up about the "intense" nature of the battle between the three drivers. The Spaniard explained what the differences are out on track when racing Verstappen and Hamilton compared to other drivers.
"It's great. I really enjoy these battles and these podiums," said Alonso, who has 32 race wins of his own. "It happened in Australia, I think last time and now here. And there is a lot of respect, a lot of talent when you fight against Max and Lewis.
READ MORE: Alonso says he pulled off '70 laps of qualifying' to beat Hamilton in 'amazing' battle for second
"You know that you cannot make a mistake because they will take advantage of that, and they will not make a mistake. So, if you want to beat them, you need to be tenth-after-tenth faster to close that gap.
"It's a very intense battle, very fair, very respectful, even in the overtaking possibility that we had on the DRS, for me when I passed Lewis, you know that you can trust what he's doing: he will defend hard but within the limits.
"I guess same at the start, when you start in the first two rows with these guys, you know that there's a sense of awareness and respect, that is not sometimes in other parts."
Seven-time world champion Hamilton also added: "I agree with Fernando, it's a privilege to be up here fighting these two who've done incredible in their careers.
READ MORE: Hamilton buoyed by Canadian GP podium as he insists Mercedes are 'going in the right direction'
"I don't know if there's been a top three like this ever before. I don't believe there has, but hopefully there'll be more. As Fernando said, there's a lot of respect between us as we were able to race so closely and trust in one another.
"I'm really hoping at some stage we have more of a level playing field in our cars, and then we'll have a much more exciting race, I think in the future."