Race against Lando Norris in our new #ChallengeLando Esports event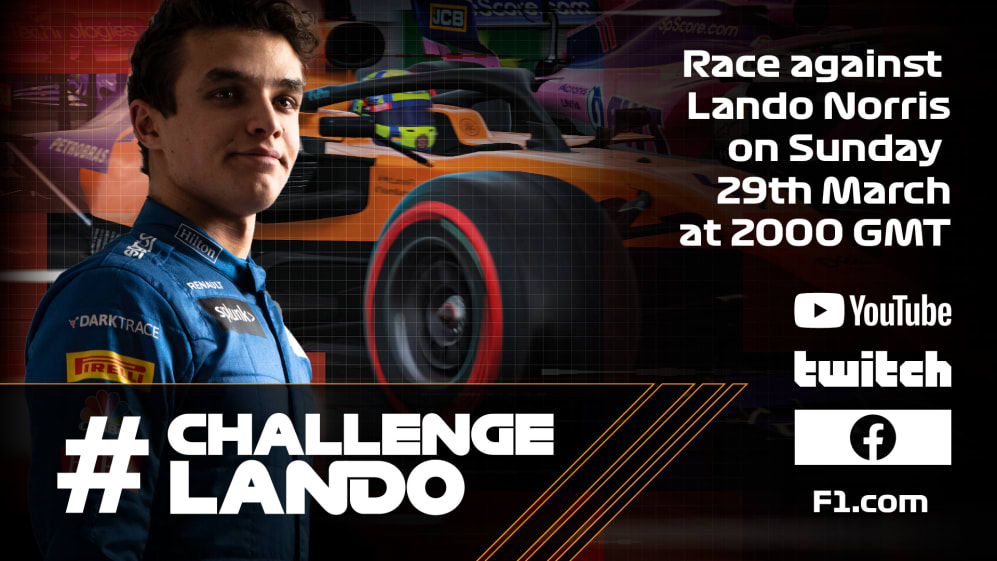 The F1 season may still be on hold, but that won't stop Lando Norris from racing – and now he wants to take YOU on in a brand new Esports event, #ChallengeLando.
This Sunday the McLaren star will be taking on a series of racing challenges on Codemasters F1 2019 game, and you could be among the racers battling him on track - read on for details on how to get involved. All the action will be broadcast live here on F1.com, on F1's YouTube and Facebook channels, and on Twitch – at 2000 BST.
Click here to watch it live now.
For each challenge win Lando will receive points towards a final score, with a total of 15 points up for grabs – but he will go into the event without knowing who he will be facing...
READ MORE: We're streaming the 2014 Bahrain Grand Prix – here's why you should watch
Oops! Error retrieving Twitter post
The challenges
Challenge 1 – Pro-Am Race Off: An eight-minute race against a celebrity. Norris will face-off against a famous personality who has had at least 48 hours of prep time to get to grips with the game. The celebrity will also receive a headstart, with two points up for grabs for the F1 driver if he wins.
Challenge 2 – Young Pretender: In an 8 minute race, Lando will race against an up-and-coming junior on the Road to F1. The twist? They'll both start at the back of a packed grid of AI racers. It's three points if Norris manages to finish ahead of the junior racer.
Challenge 3 – Race Off / Face Off: In this hardcore contest, our F1 driver will face off against another pro-racer – either from F1 or another series – who fancies themselves as an Esports contender. Four points are up for grabs here.
PODCAST: Lando Norris on meeting Helmut Marko, friendships with rivals – and much more
Challenge 4 - Lando's Challenge: The McLaren star will be taking on an epic challenge in the virtual world that has already been achieved in the real world – with members of the public taking up the rest of the grid. To be in with a chance of going up against Lando in this race, reply to this tweet with your Steam username.
READ MORE: 5 reasons why F1 Manager is the perfect way to pass the time during the F1 break
Norris will have to start in 14th place at Suzuka and win the race, just as Ayrton Senna did in 1988 when he dropped from pole to P14 and had to fight his way back up to win the title.
Other amazing feats from that Japanese Grand Prix that Norris will aim for include being eighth by the end of Lap 2, in P4 by the end of Lap 4, and win the race by at least 13 seconds. He'll get three points for winning and one point for achieving each of these other challenges.
So don't forget to tune in, this Sunday at 2000 BST, and see how Lando gets on!
Senna at 60: Exclusive - Prost and Senna 'very close' in final months