Race against Russell and Latifi in Sunday's F1 Esports #ChallengeWilliams event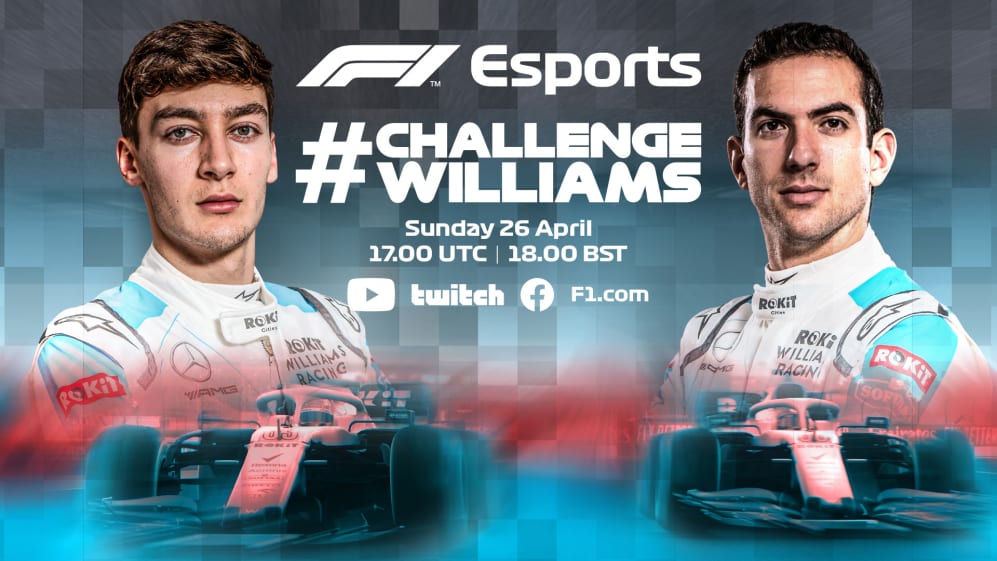 With Formula 1 currently on hold, some Grand Prix drivers have been testing their skills in the world of virtual racing – and now YOU have a chance to take two of them on.
In the latest instalment of the F1 Esports Challenge series, Rokit Williams Racing duo Nicholas Latifi and George Russell will race celebrities, Williams alumni, and a lobby full of fans in a unique event this Sunday.
It's the second race weekend of its kind in F1 Esports, with the inaugural #ChallengeLando event in March showcasing McLaren's young charger Lando Norris in a variety of different race challenges. This time, we've doubled the fun, with two full-time F1 racers on board.
Format
We have three challenges on the agenda, with a maximum total of nine points up for grabs for both Latifi and Russell. They'll be scored on how they fare in each discipline, with points on offer for things such as finishing position, fastest lap, and overtakes.
The Williams Showdown, featuring a very exclusive club of Williams personalities past and present, will kick things off.
This five-lap race will pit the 2020 Williams duo against a squad of other drivers linked to the legendary British team. The challengers will all have at least 48 hours of preparation time, and the grid is limited to six racers, meaning high stakes, and a level playing field. The winner will get one point.
Poulter's revenge
We've been fortunate to have PGA Tour superstar Ian Poulter join us for several F1 Esports events now – and he returns this weekend for another shot at glory. Anyone who watched the #ChallengeLando event will remember an unfortunate showboating incident which ruined his chances of victory...
Oops! Error retrieving Twitter post
This time, he's back for revenge, and he's brought some celebrity friends with him too.
This 25% distance race with a 10-strong grid will task George and Nicholas with emulating a legendary Williams drive from history, namely, Nigel Mansell's incredible home win at Silverstone in 1987.
Back then, Mansell duelled with his team mate Nelson Piquet, and so the modern day pairing will have to get the better of one another to succeed.
There are points on offer for several feats here: fastest lap, taking second place by the penultimate lap, passing a team mate, and of course, the all-important win.
A fifth bonus objective will be set mid-race by the stream casters, giving a maximum of five points on offer.
READ MORE: Charles Leclerc on taking virtual racing by storm - and why he can't wait to race Vettel
Your chance to race the Williams duo
Let's open this up to the floor. We're inviting 18 lucky fans to join the lobby and race against the Williams pairing in a 25% distance race (details below on how to be in with a chance of joining the race).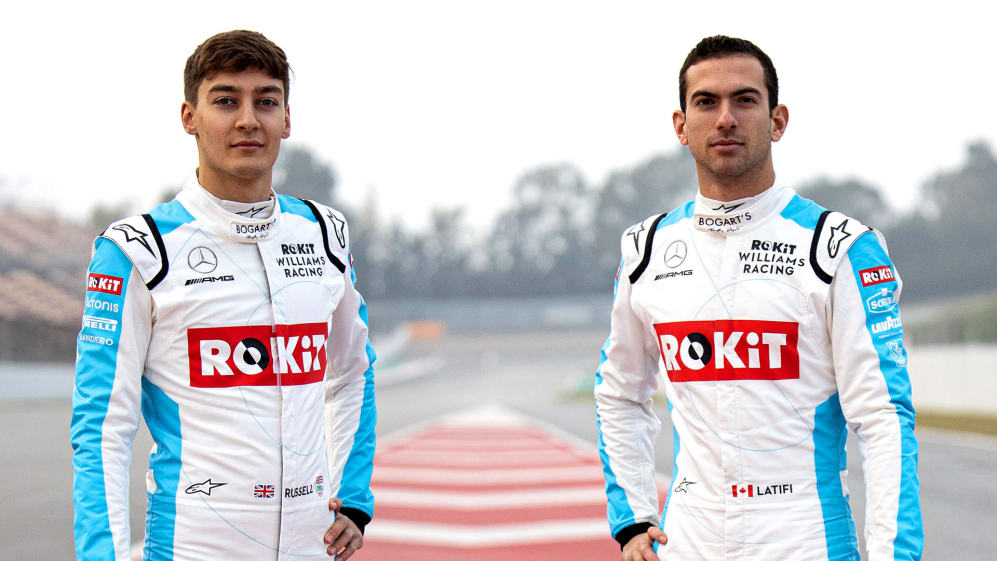 Here's where things get interesting though: as the stream gets under way, we'll be opening a poll on Twitch to decide the race conditions for the final event.
A choice of four circuits, plus weather elements, will be in the hands of the viewers, adding further unpredictability to what is already sure to be a mad dash to the chequered flag.
Starting mid-pack, Latifi and Russell will attempt to battle their way to the front. Two points are on offer for victory, with one for runner-up, and a bonus point for fastest lap. That spells three potential points, for a grand total of nine.
How to watch
We're going live this Sunday at 17:00 UTC (18:00 BST), across F1.com, Facebook, YouTube, and Twitch, so make sure you're following F1 on your platform of choice.
How can I join the fan race?
Keep an eye out on F1's social media channels for your chance to join the fan lobby. Simply reply to the relevant post with your Steam username, and we'll draft in 16 at random for the final challenge.
Good luck, and we'll see you on track!
READ MORE: Highlights and best bits as Leclerc takes another Virtual GP win