Race winner Hamilton admits it was tough to stay 'in the zone' after Grosjean crash and lengthy break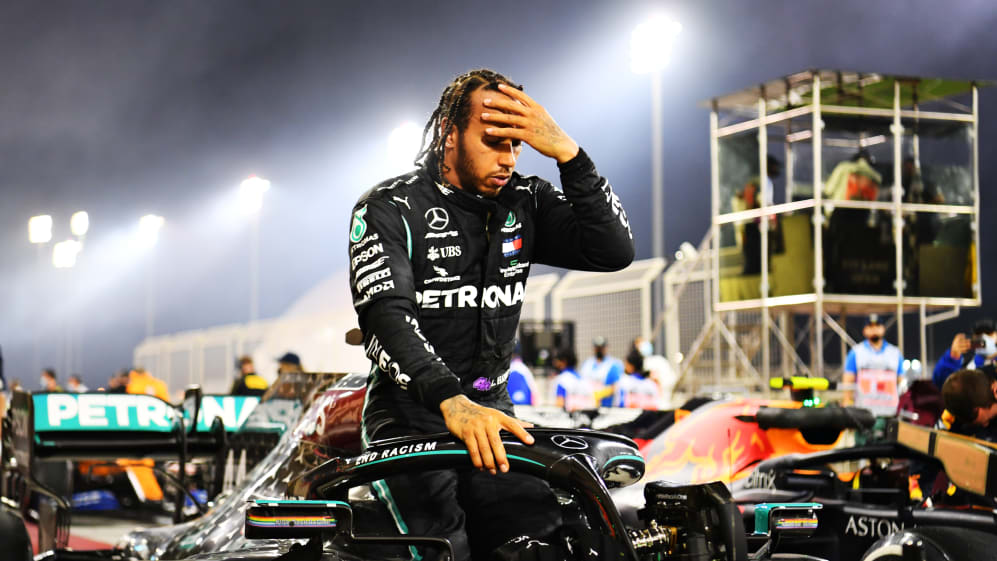 Lewis Hamilton's Bahrain Grand Prix victory wasn't just a physically exhausting one, but a mentally gruelling challenge, after Romain Grosjean walked away from a fiery crash on Lap 1 that caused a red flag stoppage of one hour and 20 minutes in Bahrain.
Hamilton's 95th Formula 1 win was overshadowed by Grosjean's horror crash as he speared into the barriers on Lap 1, his Haas instantly going up in flames. The Frenchman was soon seen jumping out of the car and was taken to hospital with burns to his ankles and hands, and suspected broken ribs.
The race was immediately red flagged while Grosjean was treated, his car recovered and the barriers repaired, and Hamilton said the break in proceedings was difficult to manage mentally.
READ MORE: Bahrain Grand Prix red flagged as Romain Grosjean escapes big crash on Lap 1
"Yeah, it really was physically very demanding," Hamilton said after taking victory in the race. "I think with the break that we had at the beginning, you get into a mindset, you go out and you've got a good start and then that 45 [minute] to an hour wait that we had, it's so easy to step out of the zone."
The Briton eventually won by just 1.254s over Red Bull's Max Verstappen, the small margin owing to a late Safety Car for Sergio Perez's retirement, but Hamilton's win looked far more comfortable throughout the race. According to him though, that was far from the case.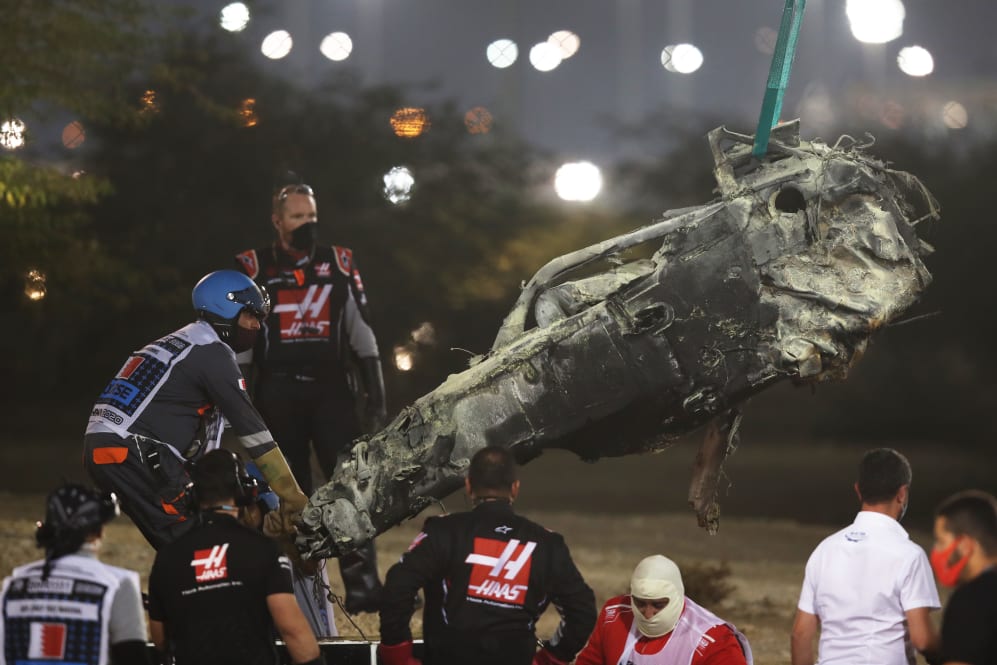 "That was quite tricky," he said of the red flag stoppage, "but then getting back in, they [Red Bull] had a lot of speed today, so I was flat out the whole way just trying to keep them at bay.
WATCH: Lance Stroll walks away after being flipped upside down on first lap of Bahrain GP restart
"It's physical, this track has always been physical. You've got lots of high-speed corners, so I was definitely feeling it. And of course I managed to just about reply to him [Max Verstappen in second] when I needed too. We were sliding around a lot out there and I wasn't really sure how it would play out at the end but I'm massively grateful, thankful to my team because at the end of the day they did a great job with the strategy and what a privilege it is to be able to get another result like this," he concluded.
As for the crash itself, Hamilton said it was a relief to see Grosjean walk away – but a stark reminder of the dangers F1 drivers face when they race.
"I'm just so grateful that the halo worked... it could have been so much worse.
"But I think it's a reminder to us and hopefully to the people that are watching that this is a dangerous sport and that is why we're out there pushing to the limit and playing with that limit, but you also have to respect it," he said.
DRIVER OF THE DAY: Grosjean's great escape gets him your vote in Bahrain
With his 11th win of 2020, the champion is on the verge of breaking one of his own personal bests as he has never taken more than 11 wins in a single season. Next up is another race in Bahrain, this time on the 'outer loop' of the Kingdom's International Circuit for next weekend's Sakhir Grand Prix.