Report
Hamilton wins Bahrain GP interrupted by huge Grosjean crash, as Perez suffers late heartbreak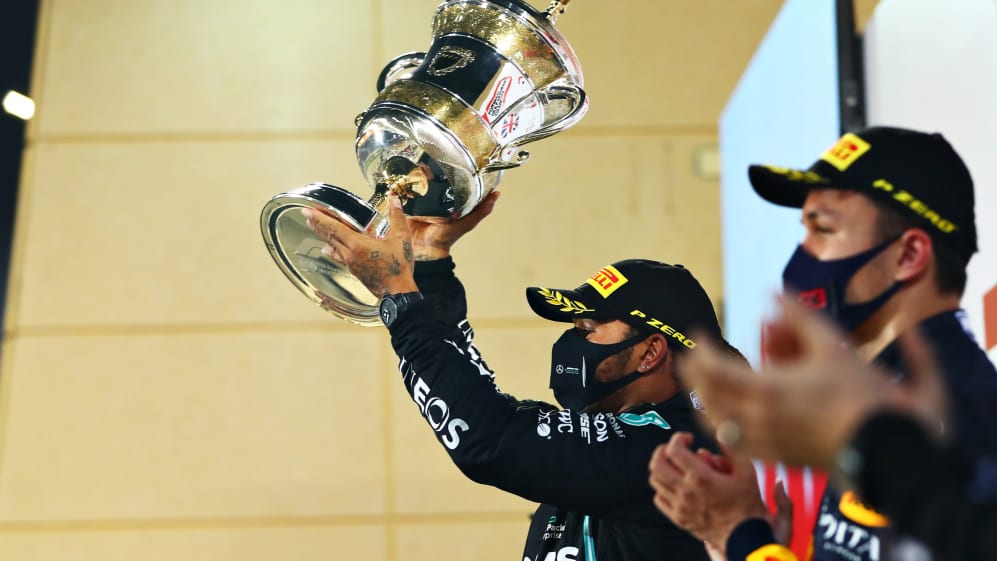 Newly-crowned seven-time champion Lewis Hamilton has taken his 11th victory of the 2020 season, winning out over the Red Bull pair of Max Verstappen and Alex Albon at the Bahrain Grand Prix – in a race whose start was overshadowed by a horror crash for Haas' Romain Grosjean.
Grosjean's Haas car plunged into the barriers at Turn 3 on Lap 1, the Frenchman emerging from the fiery remains of his cockpit before being airlifted to hospital with suspected broken ribs and minor burns – but thankfully nothing more serious than that – with a lengthy red flag period ensuing as the barriers were repaired after what had been a horrible incident.
READ MORE: Steiner thanks rescue crews as Grosjean escapes burning car with what appear to be minor injuries
Following a subsequent Safety Car period at the restart after Racing Point's Lance Stroll was rolled over after contact with AlphaTauri's Daniil Kvyat, it was a relatively simple evening's work for Hamilton – crowned world champion last time out at the Turkish Grand Prix – whose victory never looked seriously under threat from Verstappen, despite the Dutchman shadowing him for much of the race.
FORMULA 1 GULF AIR BAHRAIN GRAND PRIX 2020
Bahrain
2020
Race results
POSITION
TIME
POINTS

1

Lewis

Hamilton HAM

Mercedes

2:59:47.515

25

2

Max

Verstappen VER

Red Bull Racing

+1.254s

19

3

Alexander

Albon ALB

Red Bull Racing

+8.005s

15

4

Lando

Norris NOR

McLaren

+11.337s

12

5

Carlos

Sainz SAI

McLaren

+11.787s

10
Behind the leading pair, it looked for much of the Bahrain race as though Sergio Perez was set to claim his second podium in as many races, before the Mexican's Racing Point expired with a suspected power unit issue three laps from the end. That promoted Albon up to third, giving the Thai driver his second career podium as the race finished behind a Safety Car brought out as Perez's car was recovered.
Perez's retirement was great news for McLaren, who claimed fourth and fifth, Lando Norris leading home Carlos Sainz, while their 22-point haul saw them move ahead of the point-less Racing Point to P3 in the constructors' standings.
A one-stop race for AlphaTauri's Pierre Gasly gave him a well-deserved P6, ahead of the Renault of Daniel Ricciardo and Mercedes' Valtteri Bottas – who suffered a puncture at the race restart on Lap 3, leaving him with a recovery drive to P8. The top 10 was rounded out by the second Renault of Esteban Ocon and the Ferrari of Charles Leclerc in P10.
So, a topsy-turvy race – but once again, it was Lewis Hamilton who found himself on top, the Mercedes driver now a four-time winner of the Bahrain Grand Prix.
AS IT HAPPENED
The Bahrain Grand Prix had only lasted three corners when F1 fans witnessed horrific scenes as Romain Grosjean's Haas speared off into the barriers after contact with Daniil Kvyat's AlphaTauri, the VF-20 splitting in two with the force of the impact and causing flames to burst from the car.
Fortunately, the Frenchman was able to scramble over the barriers to safety, Grosjean suffering burns to his hands and feet, but thankfully nothing worse than that, as he was then airlifted to hospital.
But as the race was red flagged and the drivers filed back into the pit lane, many of them and their team members looked shaken, some fighting back tears after what had been a horrible, sobering accident.
READ MORE: Grosjean describes halo as 'greatest thing' from hospital bed, saying he 'wouldn't be here without it'
After an hour and 25 minute stoppage, at 1835 local time the race got underway again, the drivers' positions taken from where the were at the second Safety Car line on Lap 1 before the race was red flagged, so: Hamilton from Verstappen and Perez – both of whom had passed the Mercedes of Valtteri Bottas at the initial start, with the Finn slotting into fourth – with Albon fifth, Ricciardo sixth, Norris seventh, Ocon eighth, Pierre Gasly ninth with the Ferrari of Sebastian Vettel P10.
The restart on Lap 3, meanwhile, lasted until just Turn 8, when Kvyat and Stroll came together, with Stroll's Racing Point forced into a roll – the Canadian fortunately able to scramble out of the car unhurt as the Safety Car was brought out, with Kvyat handed a 10s penalty.
Vettel, meanwhile, had been left unamused after being divebombed by team mate Leclerc at Turn 1 – Leclerc ultimately jumping from P12 to P7 by the end of Lap 3 – while a debris puncture for Bottas forced him to pit, bringing him out 16th, while Kevin Magnussen had to replace a front wing after contact with Vettel's Ferrari.
WATCH: Lance Stroll walks away after being flipped upside down on first lap of Bahrain GP restart
Hamilton, crucially, had once again maintained his lead from Verstappen, Perez, Albon and Norris in P5, and when green-flag racing resumed on Lap 9, Hamilton aced his restart to hold off the Dutchman, while Sainz – who'd originally started the race in P15 – was up to eighth after passing Ricciardo. Sainz then made it through on Leclerc for seventh with a fine move at Turn 1 on Lap 12, with Ricciardo and Gasly demoting the Monegasque to P10 in quick succession, as the Ferraris appeared to struggle.
Hamilton quickly built a 5s gap over Verstappen, before pitting – along with Albon – on Lap 19, with Hamilton and Albon's choice of another set of medium tyres each indicating that at least one more stop was on the cards for both drivers before the evening was out. A lap later and Verstappen and Perez were in from P2 and P3, both drivers taking a set of hards each, and giving them the theoretical option of potentially staying on that tyre until the end – although neither driver would ultimately attempt it.
With the halfway point of the race reached by Lap 29 of 57, it was Hamilton with a five-second lead over Verstappen, himself 16s up the road from Perez, who was holding off Albon by around 4s.
The McLaren duo were enjoying a great race, meanwhile, Norris leading Sainz – the Spaniard having brilliantly eked out the life of his soft starting tyres – while Ricciardo was seventh having been swapped over by Renault with team mate Ocon, who was P8, ahead of Gasly, Leclerc and the recovering Bottas in P11, a minute behind his team mate.
Red Bull decided to roll the dice on Lap 34, bringing both Verstappen and Albon in for a new set of hard tyres, with Hamilton following suit a lap later but retaining his lead, and Perez a lap after that. Once both McLarens had been pitted out of the way, the top four was as it was – Hamilton from Verstappen, Perez and Albon – with Gasly up to fifth ahead of Norris and Sainz, while Ricciardo triumphed after another brief squabble with Ocon to hold P8 ahead of his team mate.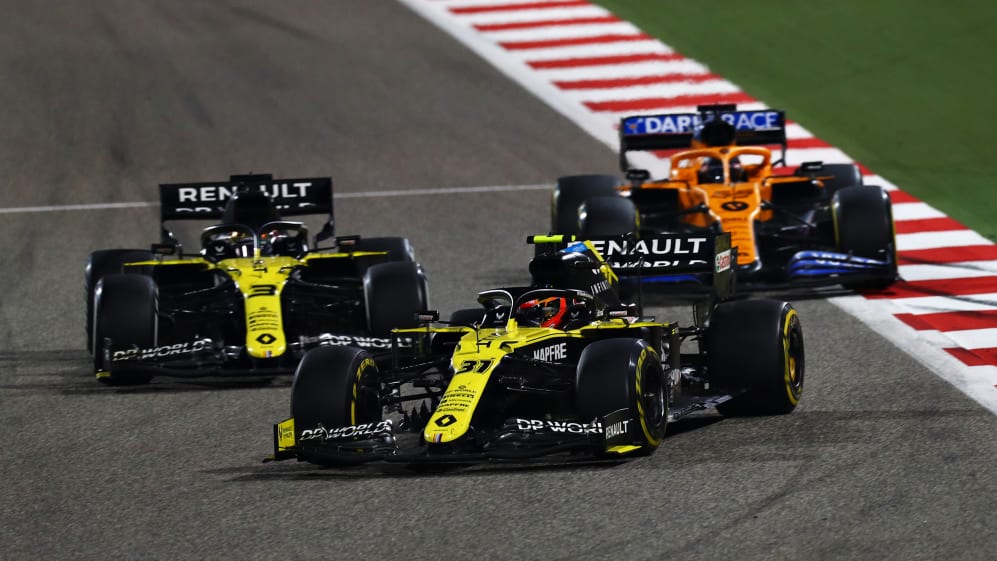 Verstappen would pit once again on Lap 46 for medium tyres, allowing him to go for the fastest lap point, which he'd duly take two laps later, with the Dutchman having emerged still ahead of Perez.
That looked to be the evening's result set, then, as the field appeared to cruise to the chequered flag. But then on Lap 54, huge plumes of smoke were seen emanating from the back of Perez's Racing Point, the Mexican eventually pulling up at Turn 10, having cruelly had a second consecutive podium snatched from him. Racing Point Team Principal Otmar Szafnauer had his head in his hands on the pit wall, unable to believe that his team had failed to score a single point in Bahrain.
READ MORE: Perez says late failure 'hard to digest', but admits podium irrelevant in context of Grosjean crash
A Safety Car was required, neutralising the race and meaning that Hamilton eventually rolled over the line at the end of Lap 57 for his 11th victory of the season, and his fifth in a row – with the Mercedes driver quick to send his best wishes to the recovering Grosjean after his win.
Verstappen was forced to settle for second, having never looked like being close enough to launch any sort of move on the Mercedes of Hamilton, while Albon was delighted to inherit his second career podium after benefitting from Perez's misfortune – a decent recovery, after the Thai driver's huge crash in Free Practice 2.
McLaren needed a strong Bahrain Grand Prix to keep themselves in the hunt for P3 in the constructors', and they got it, as Norris eventually took fourth, while exactly as in Istanbul, Sainz climbed from P15 to P5, finishing ahead of the one-stopping Pierre Gasly in P6. The net result for McLaren was third in the standings, which they now hold by 17 points from Racing Point thanks to their 22-point haul.
Ricciardo took seventh – but would likely feel that Renault could have taken more than their eight points had their two drivers not spent so much of the race fighting each other – while a late pass from Bottas on Ocon gave the Finn P8 at the flag, Bottas crossing the line with another reported puncture on his W11, as Ocon and Leclerc rounded out the top 10.
READ MORE: Norris and Sainz delighted with P4 and P5 in Bahrain GP, as McLaren jump to third in constructors' battle
Having been involved in both of the evening's big accidents, Kvyat was left to finish 11th, ahead of the Williams of George Russell – still point-less in F1 – while Vettel ended up a frustrated 13th, having complained of having an "undriveable" Ferrari SF1000 during the Grand Prix. Nicholas Latifi, Kimi Raikkonen, Antonio Giovinazzi and Kevin Magnussen were the last runners to cross the line, while Perez was classified 18th. Grosjean, meanwhile, was fittingly voted Driver of the Day by race fans.
So, as the sparkling rose water flowed, it was another victory in this extraordinary 2020 season for Hamilton, who remains on course for another record this season – that of Alberto Ascari's 75% win percentage set in 1952, which Hamilton will trump if he wins both the Sakhir and Abu Dhabi Grands Prix that close out the season. We can't wait to see if he does.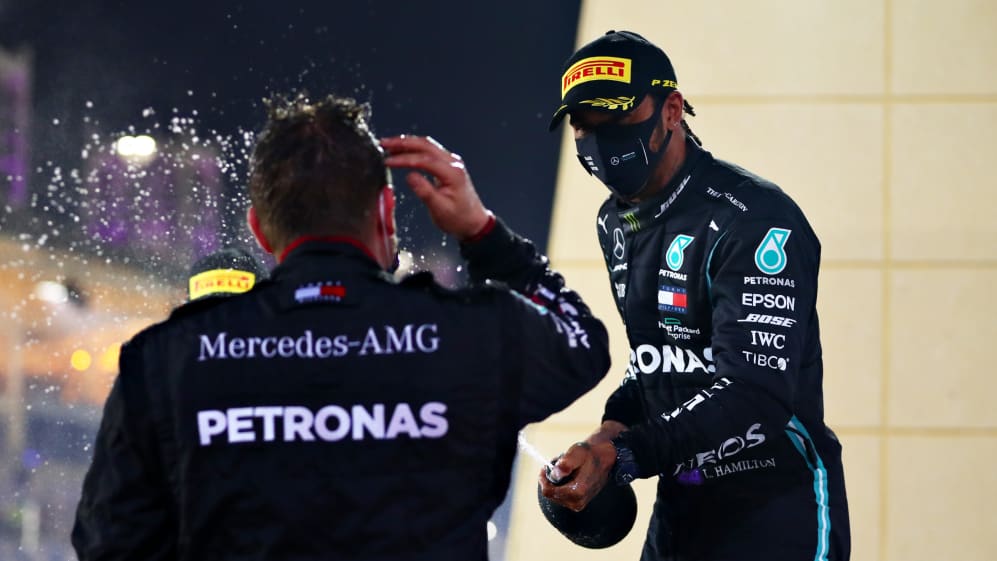 The key quote
"[Grosjean's crash] was such a shocking image to see… it was horrifying. His car, the cockpit, I don't know what Gs he pulled but I'm just so grateful that the halo worked.
"[The race] really was physically very demanding. I think with the break that we had at the beginning, you get into a mindset, you go out and you've got a good start and then that 45 [minute] to an hour wait that we had, it's so easy to step out of the zone. That was quite tricky but then getting back in, [Red Bull] had a lot of speed today, so I was flat out the whole way just trying to keep them at bay.
"But I'm massively grateful and thankful to my team because at the end of the day they did a great job with the strategy and what a privilege it is to be able to get another result like this" – Lewis Hamilton, Mercedes
What's next?
The Formula 1 drivers and teams are set to stay on the ground in Bahrain, as next week we'll be back at the Bahrain International Circuit for the inaugural Sakhir Grand Prix on December 3-6. Using the super-quick Outer Track for the first time, and with sub-minute lap times expected, it's a race you won't want to miss.