WATCH: Lance Stroll walks away after being flipped upside down on first lap of Bahrain GP restart
Lance Stroll escaped unhurt after his car was flipped upside down following the restart of the Bahrain Grand Prix.
The race had been red flagged after a huge crash for Romain Grosjean on Lap 1, when his Haas hit the barriers after Turn 3 and burst into flames. The Frenchman leapt out of the burning wreckage and was taken to hospital as the team confirmed he had suffered burns to his hands and ankles, and suspected broken rib(s).
READ MORE: Steiner thanks rescue crews as Grosjean escapes burning car with what appear to be minor injuries
The race was halted for well over an hour as the wreckage was cleared up and the barriers repaired. Once that work was completed the drivers lined up on the grid for the restart and then set off for the second time.
But Stroll's race last just a few corners as he tangled with AlphaTauri's Daniil Kvyat at Turn 8, which ended with Stroll's Racing Point car being flipped upside down on the exit of the corner.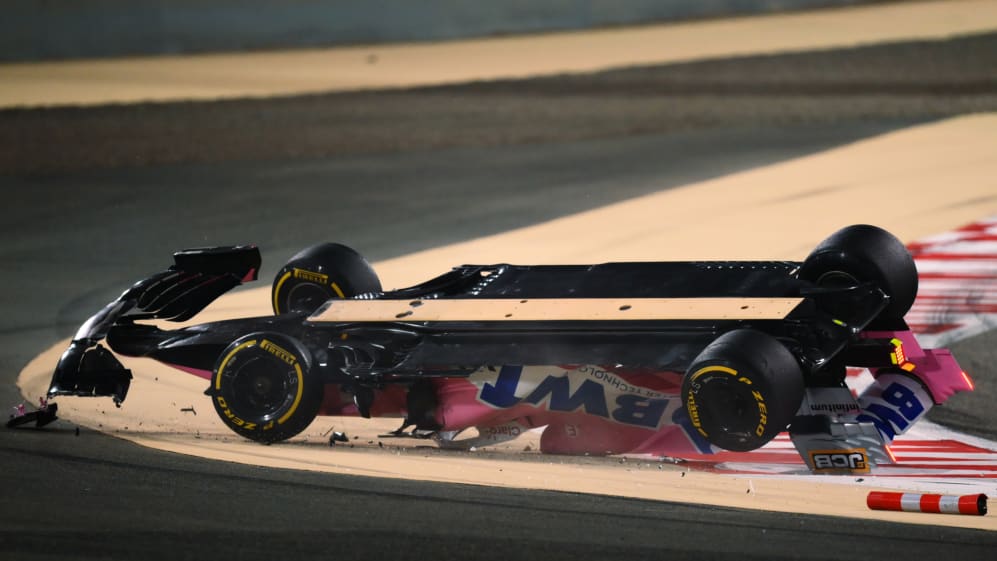 The Canadian confirmed over the radio that he was OK and he was soon helped out of the car, as Race Control deployed the Safety Car to allow marshals to remove his RP20 from the track.
Stroll later said: "I'm totally fine, it looked worse than it was" adding "I couldn't see him [Kvyat] at all. I was halfway through the corner when I got hit."
It's a blow for Racing Point as heading into the Bahrain Grand Prix the team were just five points ahead of McLaren and 18 ahead of Renault in the very tight battle for P3 in the constructors' championship.
Follow all the latest action from the race in our live blog here.