Raikkonen pleased to bag first points of season after riding his luck in Mugello
Even after surviving a first lap crash, luck didn't appear to be on Kimi Raikkonen's side for much of Sunday's race at Mugello. But faced with adversity – some self-created – the Finn dug deep and was ultimately rewarded with his first points of the season.
The Alfa Romeo driver qualified a season's best 13th on the grid for the Tuscan Grand Prix, but was involved in a collision with Pierre Gasly, Romain Grosjean and Max Verstappen on the opening lap that saw him limping to the pits for a new front wing and with a damaged car.
Having survived that, Raikkonen then put his chance of points in jeopardy when, after Lance Stroll's crash brought out another Safety Car, the Finn headed for the pit lane at the last second, cutting the white entry line and earning himself five-second time penalty.
READ MORE: Stroll blames puncture or suspension failure for massive crash at Mugello
"I only saw the Safety Car panels very late, because there was quite a lot of dust in the last couple of corners, but I kept looking to see if the Safety Car would come out," Raikkonen said.
"So, when it came, I turned in very late and I crossed the line. Usually that's OK, but here it's not OK, but once I decided to go there was no chance to go back. I was hoping they wouldn't find out but, obviously, someone pointed that out to them…"
The penalty meant Raikkonen was left monitoring the gaps at the end of the race as he looked to stay in the top ten after a good restart, and he duly pulled far enough clear of Sebastian Vettel to finish eighth on the road, which became ninth when the penalty was applied.
READ MORE: Who were the Winners and Losers of the 2020 Tuscan Grand Prix?
It turns out the first lap incident had left Raikkonen with significant damage that Alfa Romeo repaired during the red flag periods - making the recovery all the more remarkable - but the 40-year-old admits not everything about Sunday's dramatic race encourages him to remain in F1 next year.
"Obviously, I was quite p***** off getting the car damaged at the beginning, so no, from that point of view! But we still got something out of it, even without a perfect execution we still got points, so that's the main thing.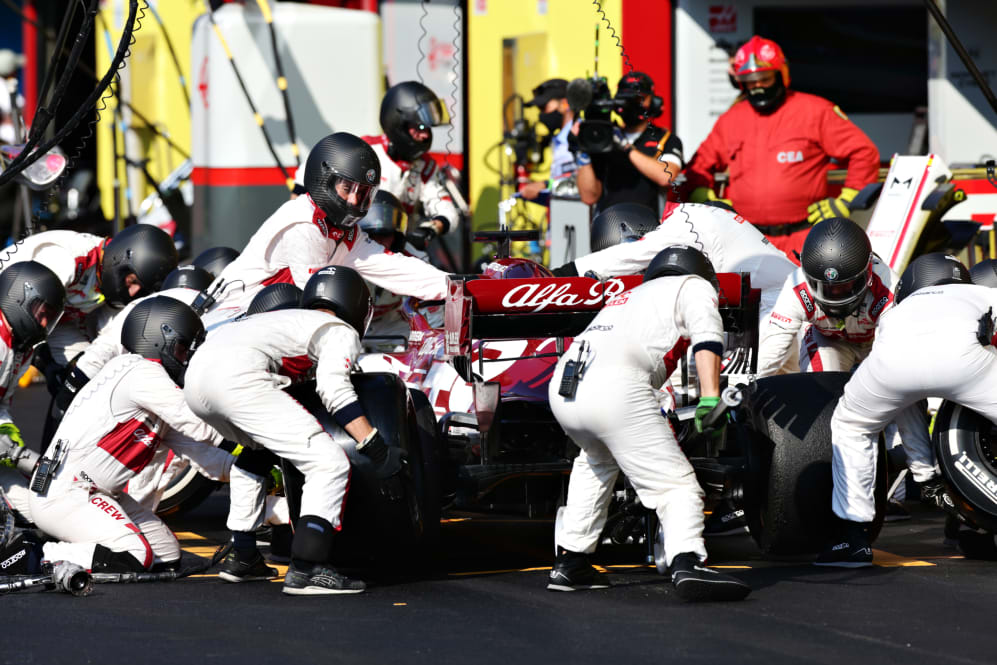 "After the bad pit stop we lost a lot of time but then there was another red flag and we kind of got back into the race. I think with all the issues that we had, far from the smoothest race of all, we still got some points, so we'll have to take that and move forwards.
"We got run over and got quite a bit of damage on the car. We struggled quite a bit with the balance, because of that. Obviously with a couple of red flags we kept adding parts, but we were still down on downforce. Luckily the wheels had stayed on!
"We managed to find some kind of balance to push and I think we had decent speed even with all the damage that we had. I had enough speed to keep behind most cars even with the penalty, but not all, one got past me. We got something out of it, but on days like this you wish you had no damage to get more out of it."
Raikkonen now has two points for the season – the same number as team mate Antonio Giovinazzi, who was a DNF in Mugello after being involved in the big restart crash at the beginning of Lap 7.
READ MORE: 'It was pretty scary' – Drivers involved give their thoughts on the huge restart crash in Mugello