Feature
6 Winners and 5 Losers from the French Grand Prix – Which drivers shone at a sunny Circuit Paul Ricard?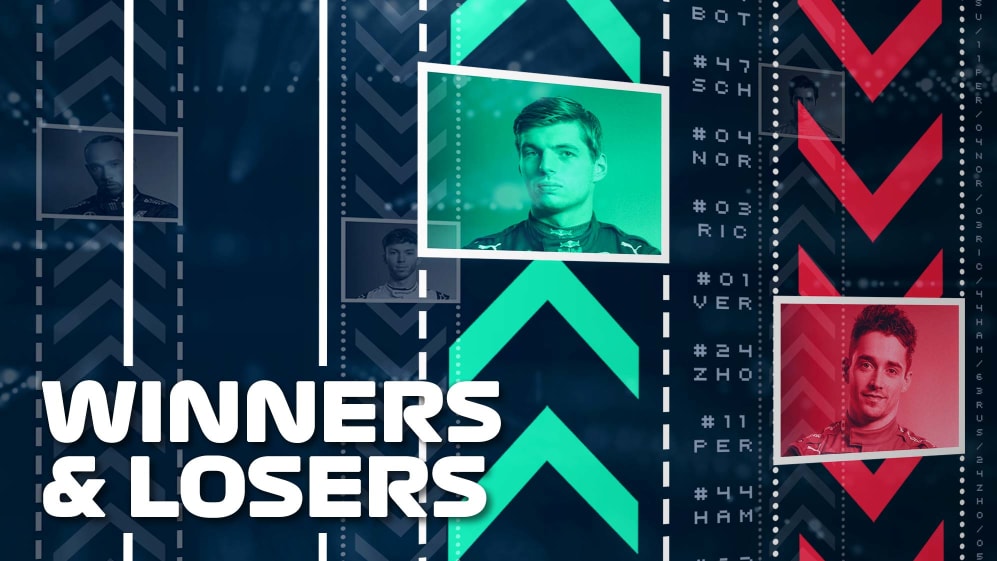 It was a tale of contrasting fortunes for the title protagonists at the 2022 French Grand Prix, Max Verstappen netting his seventh win of the year, as driver error cost early race leader Charles Leclerc. No prizes for guessing which respective section those two fit into this week – but who else fared well or left disappointed from Paul Ricard?
Winner: Max Verstappen
Max Verstappen wasn't convinced at the end of the French Grand Prix that he could have pulled off victory over Charles Leclerc had the Monegasque not crashed out (and yes, we're getting to that).
Once that Leclerc-shaped obstacle had been removed, though, Verstappen was able to manage his pace to cross the line 10s to the good over 2021 title rival Lewis Hamilton. It was his seventh victory of the season, and his second-straight win at Paul Ricard. He also now has a 63-point advantage in the drivers' standings – meaning he could sit out two Grands Prix and still head the standings. That's a pretty cushty cushion.
READ MORE: 63-point championship lead 'probably bigger than it should've been' admits Verstappen after French GP win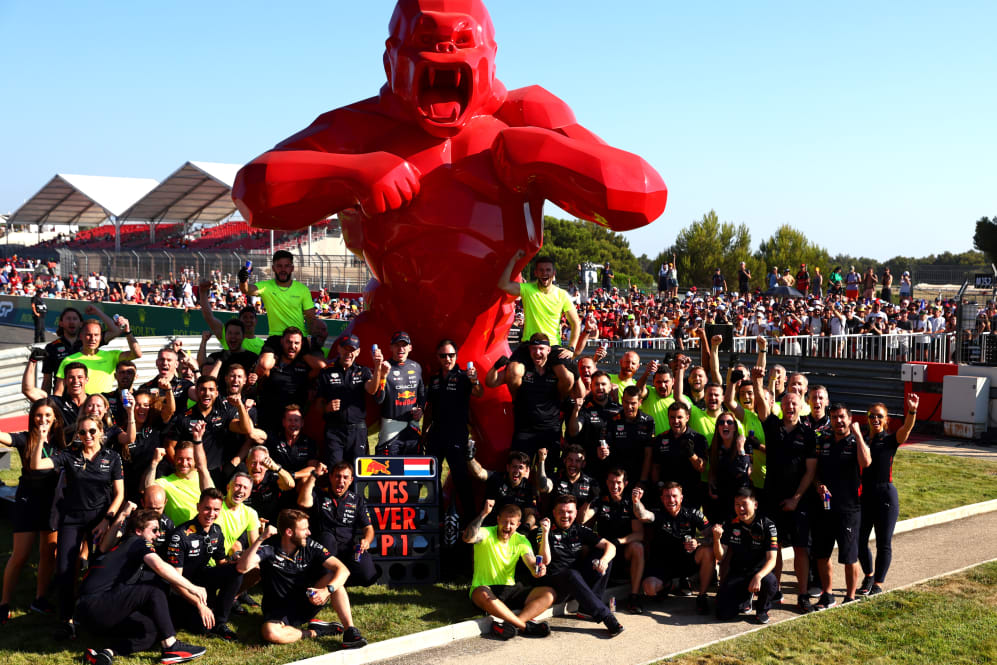 Loser: Charles Leclerc
It was the scream heard around the world when Charles Leclerc lost the rear of his Ferrari F1-75 going through the Double Droite du Beausset and smashed into the barriers.
Happily, Leclerc was unharmed bodily, but his mood sure took a hammering. The Monegasque driver was typically self-critical when he faced the media afterwards, saying that if he drove like that, he didn't deserve to be 2022 world champion. Honest stuff from Leclerc, who slips back the aforementioned 63 points in the standings, and is now just seven clear of Sergio Perez.
READ MORE: 'I'm losing too many points' says Leclerc as he takes blame for 'unacceptable' mistake that cost him lead in France
Winner: Mercedes
Despite their oft-quoted struggles in 2022, Mercedes have been scoring podiums on a remarkably consistent basis. But the French Grand Prix was the first time both Lewis Hamilton and George Russell have made the rostrum together this year.
Hamilton aced his 300th start to get ahead of Perez, putting himself P2 once Leclerc had crashed out, while Russell's own heated scrap with Perez was settled in his favour when he aced the Virtual Safety Car restart and passed the Mexican. No wonder Team Principal Toto Wolff called it "the maximum" they could have achieved.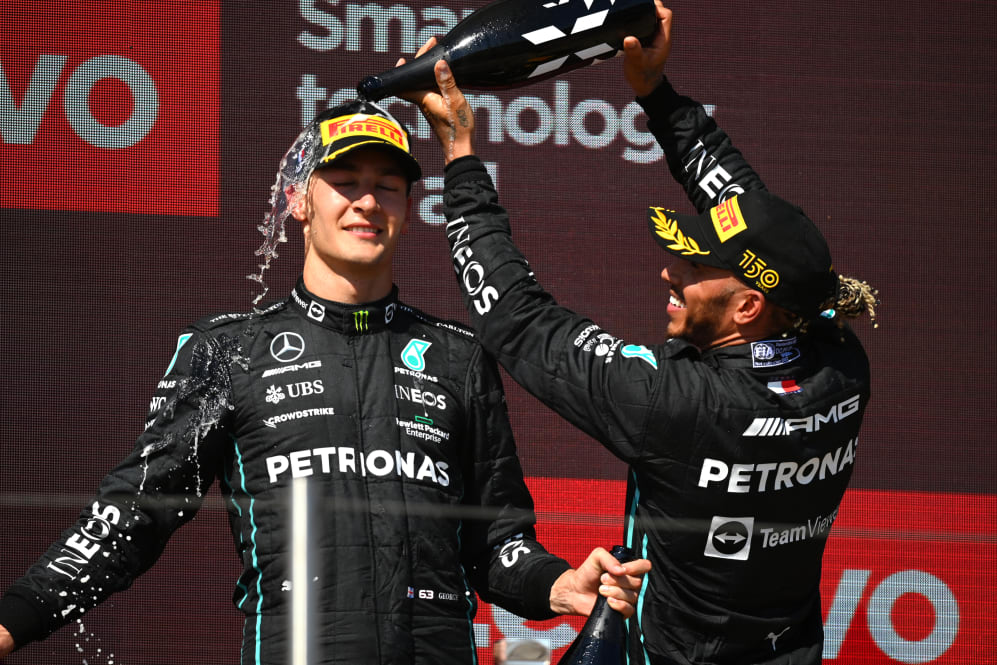 Loser: AlphaTauri
AlphaTauri's highly anticipated upgrade came in time for Pierre Gasly's home race – but from running in the top 10 across Friday, the local boy's performance slumped from there on out. Gasly exited Q1 on Saturday before finishing a disappointed (and sweaty) P12 at the flag on Sunday.
Yuki Tsunoda aced qualifying for his first Q3 since Baku, but saw his race undone by Lap 1 contact with Esteban Ocon, the Japanese driver retiring from the race on Lap 20 given his increasing damage. That's now four races without a point for AlphaTauri, their dreams of achieving a P5 finish in the constructors' this year looking increasingly remote.
READ MORE: What the teams said – Race day in France
Winner: Alpine
Fernando Alonso completed the most number of laps of any F1 driver ever midway through the 2022 French Grand Prix – and that experience showed, as he baited the McLarens behind him in order to deliberately hurt their tyres, before crossing the line P6, for his second top-six finish of 2022.
Ocon, meanwhile, secured his first ever points at his home race with P8, recovering from that contact with Tsunoda and the five-second penalty that went with it to secure double points for Alpine on home soil, moving the team four points clear of McLaren for P4 in the constructors'.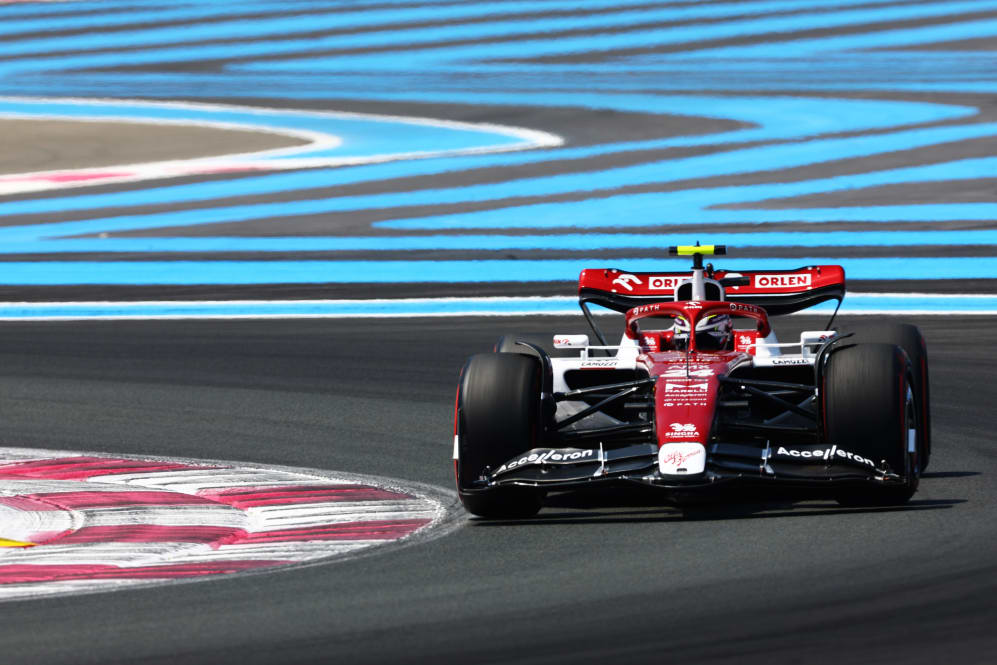 Winner: Carlos Sainz
Carlos Sainz looked in the best form he's been in all year at Paul Ricard, which made it a tad frustrating for the Spaniard that a back-of-the-grid start was required for changing power unit components.
He made the best of it, though, climbing from P19 to as high as P3, before making a second stop and serving a five-second unsafe release penalty from the first. That left him P5 at the flag – a result he said he'd "take", even if he felt that with a perfect race, a podium had been possible.
READ MORE: Sainz defends Ferrari strategy after late pit stop sees him finish fifth in French GP recovery drive
Loser: Haas
Both Kevin Magnussen and Mick Schumacher showed flashes of seriously impressive pace at times over the French Grand Prix weekend. But neither would bring home any points for the team, ending a run of two consecutive double top-10 finishes for Haas.
Magnussen enjoyed a searing start to make it from P20 to P13 at the end of the first lap, but struggled for pace thereafter, before contact with Nicholas Latifi ruled him out. Schumacher – out in Q1 on Saturday after a lap time deletion – was also struggling to make headway when he was spun around by Zhou, leaving him 15th at the chequered flag.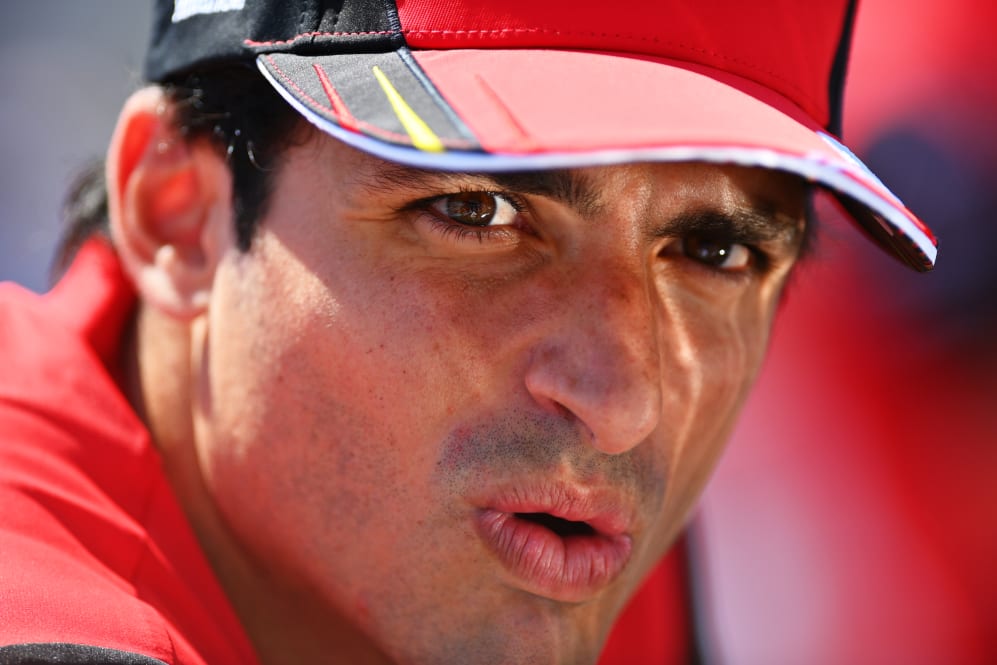 Winner: Aston Martin
Points have been a scarce commodity at Aston Martin this year, and with both drivers starting outside the top 10 on race day, their prospects – unlike the weather – weren't looking too hot.
But a lightning start from Lance Stroll jumped the Canadian to P10, the position he'd finish in at the flag for his fourth points finish of the season. Sebastian Vettel was just one place behind, on a weekend where Aston Martin celebrated 100 years since entering the 1922 French Grand Prix at Strasbourg.
FACTS AND STATS: Verstappen matches Stewart's win tally, as Alonso breaks Raikkonen record
Loser: Williams
A P8 finish for Alex Albon in Free Practice sessions 1 and 3 left Williams daring to hope for more points this weekend – with both cars now fitted with the team's hefty upgrade package.
But Albon was unable to make progress from his P13 grid slot, finishing there at the flag. On paper, Latifi had the more disappointing race after contact with Magnussen took him out of the running. But the Canadian had been delighted with his uptick in pace prior to the crash, declaring that his season had now begun in earnest… so it's not all bad.
HIGHLIGHTS: Relive the action from a dramatic French Grand Prix, as Verstappen capitalises on Leclerc's misfortune
Winner: McLaren
Doubtless there were mixed emotions for McLaren over their breakfast croissants this morning, after they were convincingly outgunned by Alpine on Sunday at Paul Ricard, Lando Norris finishing behind Fernando Alonso in P7, and Daniel Ricciardo behind Esteban Ocon in P9.
But they're in the winner's section, so let's look at the positives, which were (in no particular order): Norris's stunning lap to claim P5 on the grid; Daniel Ricciardo scoring consecutive points for the first time this year; and the introduction on both cars of a hefty new upgrade package – with the servers over at the McLaren Technology Centre likely to be whirring away this week as the team process all that data and try and make a step forward for Hungary this weekend.