Record-breaking 22-race F1 calendar set for 2020
Formula 1 is delighted to release the draft calendar of the 2020 FIA Formula 1 World Championship, which features an unprecedented 22 Grands Prix.
F1's 70th anniversary season gets underway with the Australian Grand Prix in Melbourne on March 15 and, as usual, it will end with the Abu Dhabi Grand Prix at the Yas Marina Circuit on November 29.
Along the way there will be seven back-to-back race weekends and two exciting new additions.
READ MORE: 2020 F1 GRID – All the drivers and teams
Vietnam will become the 34th country to stage a round of the FIA Formula 1 World Championship, with a race in the dazzling capital Hanoi on April 5.
Meanwhile, a famous name from the past returns in the shape of the Zandvoort circuit, which will be the venue for the Dutch Grand Prix - and much Max Verstappen mania - on May 3.
READ MORE: How the 2020 Formula 1 calendar came together
This year, several historic events - Australia, Great Britain and Spain - have renewed their contracts, as has the more recent and spectacular Azerbaijan Grand Prix. Mexico City will continue to host a race for the next three years under the new title of Mexico City Grand Prix. And, currently being finalised is an extension to the contract with the Italian Grand Prix, which next weekend celebrates its 90th anniversary.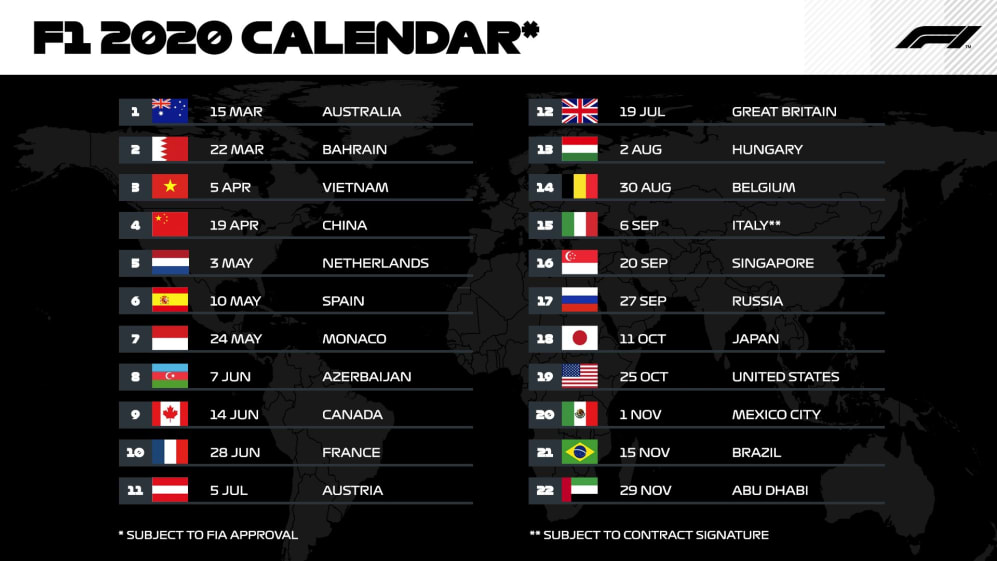 F1 2020 Calendar*
| Round | Date | Grand Prix | Location |
| --- | --- | --- | --- |
| - | 19-21 FEB | PRE-SEASON TEST 1 | Barcelona |
| - | 26 - 28 FEB | PRE-SEASON TEST 2 | Barcelona |
| 1 | 15 MAR | AUSTRALIA | Melbourne |
| 2 | 22 MAR | BAHRAIN | Sakhir |
| 3 | 5 APR | VIETNAM | Hanoi |
| 4 | 19 APR | CHINA | Shanghai |
| 5 | 3 MAY | NETHERLANDS | Zandvoort |
| 6 | 10 MAY | SPAIN | Barcelona |
| 7 | 24 MAY | MONACO | Monte Carlo |
| 8 | 7 JUN | AZERBAIJAN | Baku |
| 9 | 14 JUN | CANADA | Montreal |
| 10 | 28 JUN | FRANCE | Le Castellet |
| 11 | 5 JUL | AUSTRIA | Spielberg |
| 12 | 19 JUL | GREAT BRITAIN | Silverstone |
| 13 | 2 AUG | HUNGARY | Budapest |
| 14 | 30 AUG | BELGIUM | Spa-Francorchamps |
| 15 | 6 SEP | ITALY** | Monza |
| 16 | 20 SEP | SINGAPORE | Singapore |
| 17 | 27 SEP | RUSSIA | Sochi |
| 18 | 11 OCT | JAPAN | Suzuka |
| 19 | 25 OCT | UNITED STATES | Austin |
| 20 | 1 NOV | MEXICO CITY | Mexico City |
| 21 | 15 NOV | BRAZIL | Sao Paulo |
| 22 | 29 NOV | ABU DHABI | Yas Island |
*Subject to FIA approval
**Subject to contract signature