Red Bull drivers expect competition with Mercedes to be '******* close' at Silverstone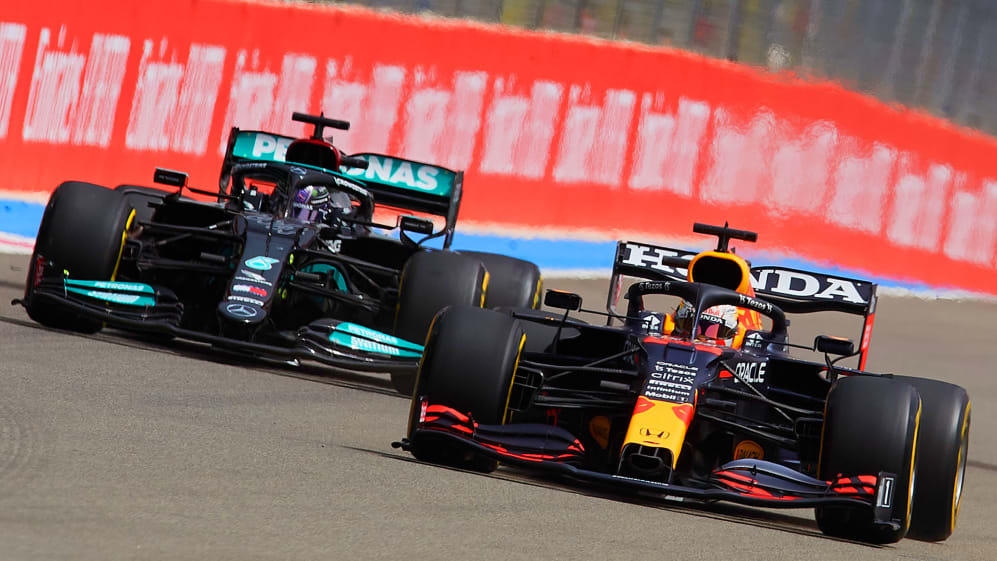 Red Bull are riding high on the back of five straight Grand Prix victories – a record for them in the turbo-hybrid era. But despite a dominant win over Mercedes last time out at the Austrian Grand Prix, both Max Verstappen and Sergio Perez are expecting a much closer fight with the Silver Arrows at the British Grand Prix.
Verstappen has won four of the past five races, while Perez took victory at the Azerbaijan Grand Prix – with Mercedes now not having won a race since the Spanish Grand Prix in May.
F1 SPRINT: What to expect on each day of Formula 1's new race weekend format at Silverstone
But with Mercedes having taken every pole position at Silverstone since 2013 (and won seven of the last nine Grands Prix here) and with the Silver Arrows set to bring upgrades this weekend, Verstappen is wary of the performance potential of Lewis Hamilton and Valtteri Bottas at Silverstone.
"They're bringing upgrades, so naturally I think if they work, they [will be] closer," said Verstappen, who currently heads the drivers' standings by 32 points from Hamilton. "We are very focused, just ready for the race weekend again. Of course we've been happy with the last few races but we always look at things we could do better and that's what we'll try and do this weekend again."
Meanwhile, with Formula 1 set to debut the new F1 Sprint format this Saturday – with the result deciding the grid for Sunday's British Grand Prix – Verstappen said that finding an ideal set-up would be crucial, especially given the reduced practice time of just two hours this weekend.
"I always say we have to work on putting the car in the best possible state on the track in terms of set-up," said Verstappen, "and of course now with the change of format, it will be a bit more difficult to nail that, but I'm looking forward to start the weekend and then we'll find out by itself where we are.
GALLERY: A first look at the life-size 2022 F1 car, after drivers get up close at Silverstone
"We've had already proper tests before," he added, when asked if beating Mercedes at Silverstone would be a real test of Red Bull's newfound dominance. "So it's just another weekend which we try to win. And if we can, we will win, and if we can't then we'll finish somewhere else."
Perez, meanwhile, agreed with Verstappen that getting the RB16B's set-up on point would be key this weekend – especially with the debut of F1 Sprint.
"It will be so important that the car leaves the garage with you feeling confident with it," said Perez. "There are weekends where you are so confident straight away, and some others where it takes more time, and if that's the case, then you can be on the back foot quite a bit.
FORM GUIDE: Who will triumph at the British Grand Prix, as F1 Sprint makes its debut?
"We'll see what kind of weekend it is; I think in terms of preparation, for me it's been very normal. Just trying to get up to speed quickly in FP1 will be key."
Asked if he felt it would be especially close between Red Bull and Mercedes this weekend, meanwhile, Perez replied: "I think so. I think it's going to be… you don't let me say bad words, but I think it's going to be 'effing' close."
2021
Constructors' standings pre-Silverstone
POSITION
POINTS

1

Red Bull Racing

286

2

Mercedes

242

3

McLaren

141

4

Ferrari

122

5

AlphaTauri

48