Feature
FORM GUIDE: Who will triumph at the British Grand Prix, as F1 Sprint makes its debut?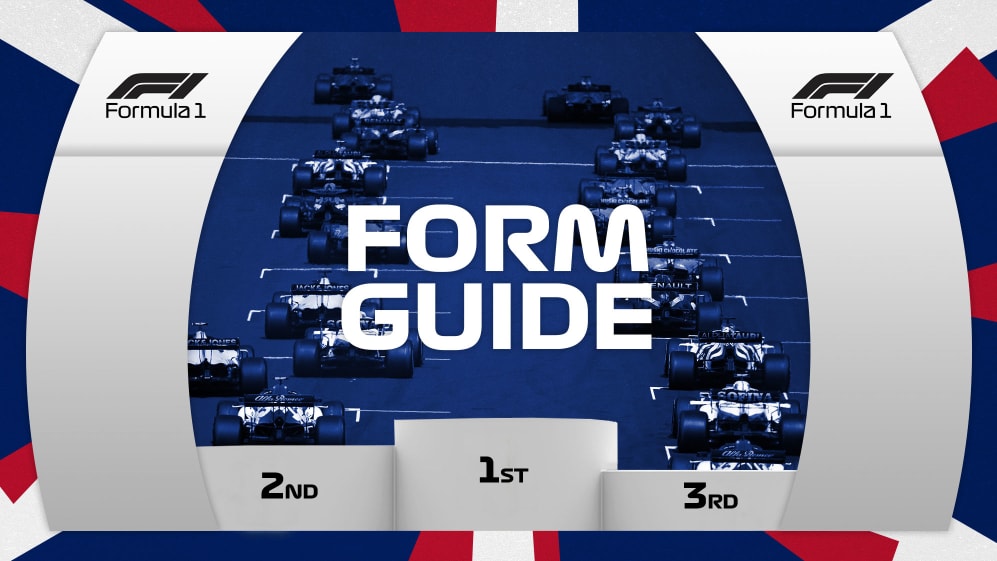 The 2021 British Grand Prix weekend will witness a landmark moment in Formula 1 history, as F1 Sprint – a short-format encounter that will decide the grid for Sunday's British Grand Prix – makes its debut. So ahead of all that, let's look at the drivers who are in form heading into what's set to be a very special Silverstone weekend.
Vying for fastest in qualifying
With this weekend seeing the introduction of F1 Sprint, qualifying is due to take place on Friday, and will decide the grid not for Sunday's British Grand Prix but for F1 Sprint itself. So let's first take a look at who's likely to be quickest in Friday's qualifying session.
Mercedes' qualifying record at Silverstone is stonking, the Silver Arrows having been fastest in quali here every year since 2013 – with Lewis Hamilton a seven-time polesitter at Silverstone (six with Mercedes, one with McLaren), while Valtteri Bottas has scored two.
READ MORE: F1 Sprint – True or False? Separate the fact from the fiction about F1's new format in this handy guide
In last year's British and 70th Anniversary Grands Prix, meanwhile, Red Bull's Max Verstappen qualified exactly 1.022s off the leading Mercedes for both races – a whopping margin by modern F1 standards.
But the Dutchman scored every pole position of this year's triple header to take his tally for the season to four, while the closest a Mercedes has been able to qualify to Verstappen in the last three races – at the decidedly different Circuit Paul Ricard and Red Bull Ring – has been 0.226s.
READ MORE: The special celebration planned for the F1 Sprint top 3 – with a classic flavour
Turning around a 1.022s deficit in 11 months is not easy. But given Verstappen and Red Bull's momentum currently – and with Verstappen having turned a seven-tenths deficit at the 2020 Spanish Grand Prix to just 0.036s at the 2021 Spanish Grand Prix – the fight between Red Bull and Mercedes looks set to be much closer this Friday.
It seems less likely, however, that McLaren's Lando Norris will be able to repeat his qualifying heroics from the Austrian Grand Prix around the longer, and more varied, Silverstone track, Norris having started a sensational P2 last time out.
Pole positions in the last five Silverstone races:
2020 (70th Anniversary) – Valtteri Bottas (Mercedes)
2020 (British) – Lewis Hamilton (Mercedes)
2019 – Valtteri Bottas (Mercedes)
2018 – Lewis Hamilton (Mercedes)
2017 – Lewis Hamilton (Mercedes)
FAN VIEW: That hat-trick of poles for Max Verstappen in France and then at the Red Bull Ring (twice) means it's the Dutchman who is holding sway in the F1 Play voting. He is outperforming Lewis Hamilton by about two to one ahead of Silverstone this weekend.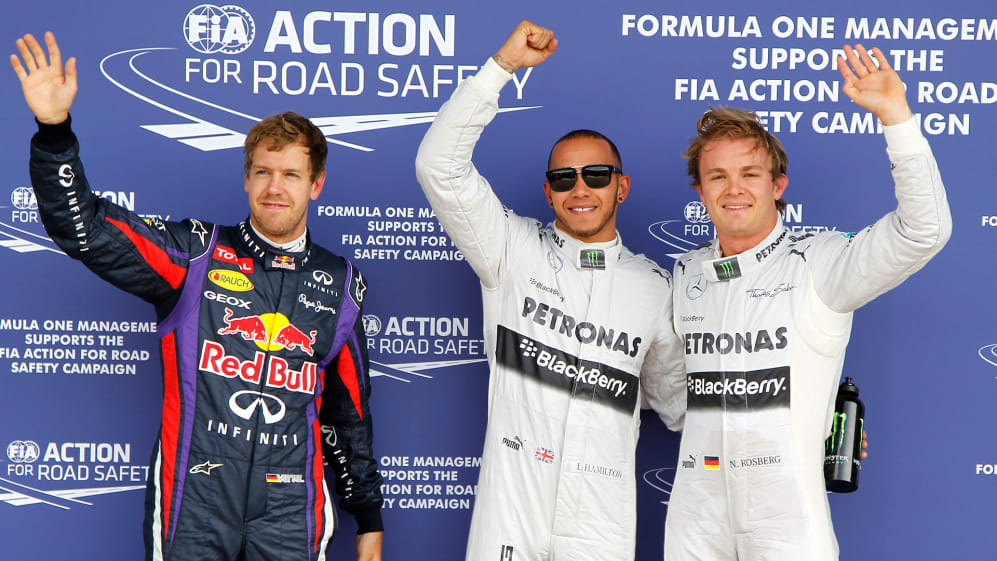 In the mix for victory in Sunday's British Grand Prix
Mercedes' record for victories at Silverstone is also an impressive one, the team having won seven of the last nine races here – Hamilton even managing to win the 2020 British Grand Prix despite driving half of the final lap with a flat tyre, for his seventh victory here (Bottas has never won here, meanwhile).
But Verstappen was actually the last winner at Silverstone, having taken a shock victory in the 70th Anniversary Grand Prix after a move to softer compound tyres played into Red Bull's hands.
READ MORE: 'You have to go for it' – Russell on why the first F1 Sprint is a great opportunity for Williams
Red Bull are also riding the wave of five consecutive victories, with Mercedes in a winning dry patch that they haven't experienced in the turbo-hybrid era, having been comfortably bested by Verstappen most recently in the Styrian and Austrian Grands Prix.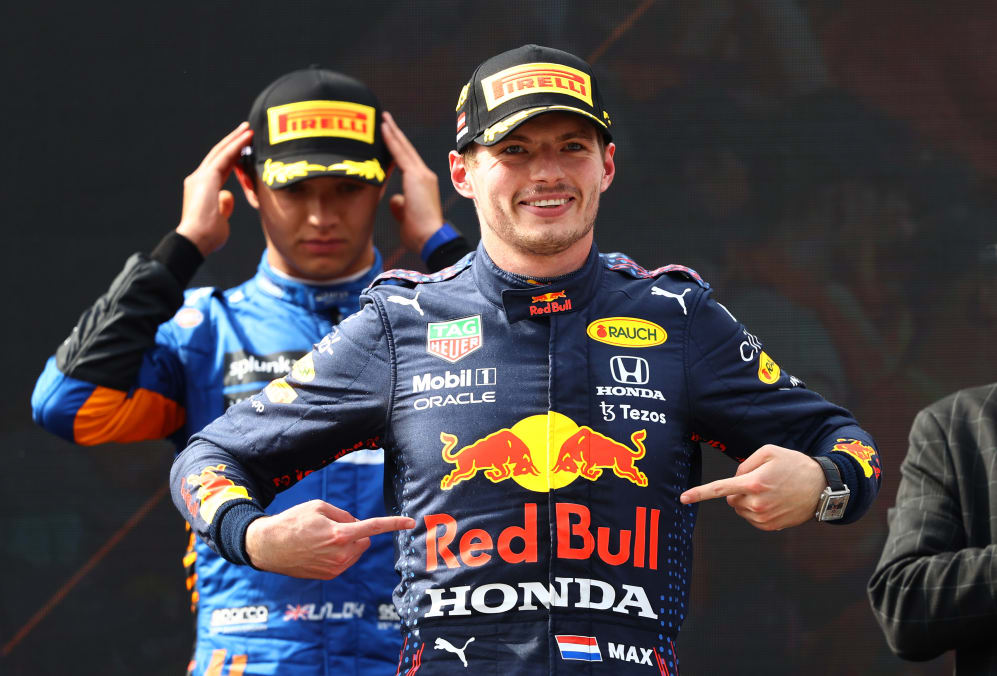 Red Bull Team Principal Christian Horner recognised, speaking after Verstappen's Austrian GP win, that Mercedes' record at Silverstone is "mighty". But he added "if we can carry this momentum into Silverstone, then there isn't really anything we should fear".
READ MORE: Horner warns Red Bull must guard against complacency – but insists there's 'nothing to fear' at Silverstone
Of course, the major caveat for the result of Sunday's British Grand Prix is what the outcome of F1 Sprint will be (more on that below), with the finishing order from Saturday's inaugural Sprint due to set the grid for Sunday's race – and with the potential for an upset or three!
Wins in the last five Silverstone races:
2020 (70th Anniversary) – Max Verstappen (Red Bull)
2020 (British) – Lewis Hamilton (Mercedes)
2019 – Lewis Hamilton (Mercedes)
2018 – Sebastian Vettel (Ferrari)
2017 – Lewis Hamilton (Mercedes)
FAN VIEW: Again Verstappen has the upper hand on F1 Play, but not by quite the same margin as that qualifying delta. He has the edge over Hamilton 60-40 as we head into what should be a pivotal weekend. It is the epitome again of a two-horse race. Valtteri Bottas, for example, has less than 1% of the vote so far.
Podium outsiders for the British Grand Prix
Obviously outside of Red Bull and Mercedes, Lando Norris is the form driver currently, having taken his third podium of the year in the Austrian Grand Prix.
The Red Bull Ring is something of a pet track for Norris, it's true – but the McLaren driver is in excellent nick at the moment, and should be spurred on by packed grandstands full of home fans cheering for him across the weekend.
Look out for the Ferrari duo of Charles Leclerc and Carlos Sainz, though. Both rank Silverstone as one of their favourite tracks, while Leclerc had an incredible pair of races here for Ferrari last year, finishing P3 and P4 in a Ferrari SF1000 that was hardly the greatest car ever to come out of Maranello.
LISTEN: Charles Leclerc on why he'd be happy to spend his entire F1 career with Ferrari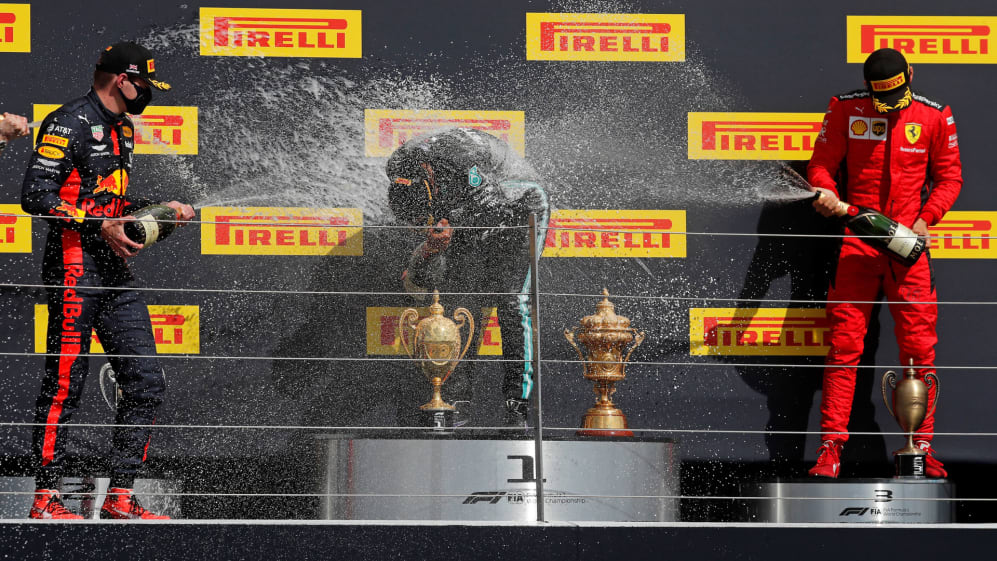 If Ferrari can keep hold of their decent Red Bull Ring race pace across what's set to be a baking hot Silverstone weekend, they'll be hopeful of getting a sniff of the rostrum.
READ MORE: The unorthodox rear wing helping McLaren mix it with Mercedes and Red Bull
Red Bull's Sergio Perez, meanwhile, will also be keen to re-establish his podium credentials, having missed out at both Red Bull Ring races – while Perez last raced at Silverstone in 2019, after Covid-19 ruled him out of the two races here last year.
Podiums in the last five Silverstone races:
Mercedes – 8
Ferrari – 5
Red Bull – 2
FAN VIEW: Once again, maybe we should not be classifying McLaren prodigy Lando Norris as an outsider here. His performances so far in 2021 make him utterly dominant in the F1 Play voting to take best of the rest once you take Red Bull and Mercedes out of the equation. The rest of the 'midfield' are virtually friendless.
Points potential for the British Grand Prix
Norris' McLaren team mate Daniel Ricciardo managed to enjoy a strong and relatively straightforward run to P7 at the Austrian Grand Prix, a result which should put the Australian in a good frame of mind ahead of his arrival at Silverstone, where he scored a fine P4 for Renault in the 2020 British Grand Prix.
READ MORE: Don't miss the beginning of a whole new era – See a full-size 2022 F1 car for the first time this Thursday
Behind Norris (14) and Red Bull's Sergio Perez (7), meanwhile, Alpine's Fernando Alonso is on the next-longest points streak of any driver with four consecutive top 10s, and with the two-time Silverstone winner doubtless keen to make that five this weekend.
There's two more Silverstone winners in the midfield too, with Sebastian Vettel and Kimi Raikkonen presumably both looking to get back to the points after colliding on the final lap of the Austrian Grand Prix.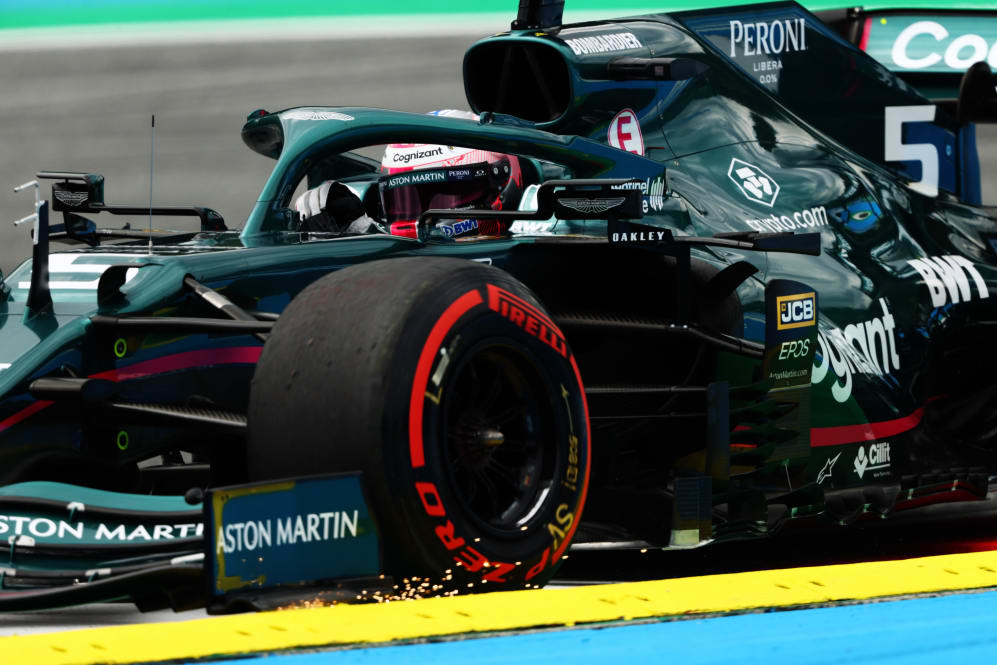 Arguably one of the most impressive records in the midfield at Silverstone, however, belongs to Alpine's Esteban Ocon, who while not having scored since the Monaco Grand Prix, has never finished lower than eighth here. Points for the Frenchman this weekend would be timely.
READ MORE: 7 legendary drivers who were tailor made for F1 Sprint
Points in the last five Silverstone races:
Mercedes – 176
Red Bull – 112
Ferrari – 104
Renault – 47
Racing Point/Force India – 29
McLaren – 24
AlphaTauri/Toro Rosso – 9
Alfa Romeo/Sauber – 4
Haas – 2
Williams – 1
FAN VIEW: Again, the usual suspects account for most of the interest on F1 Play. The Ferrari pair of Charles Leclerc and Carlos Sainz as well as AlphaTauri's Pierre Gasly are coming in for good support. Former world champions Fernando Alonso and Sebastian Vettel are both expected to go well at Silverstone.
And what about the prospects for F1 Sprint?
Saturday's F1 Sprint debut will witness a 100km, pit stop-free encounter kicking off at 1630 local time, with the result set to define the grid for Sunday's British Grand Prix – while there'll be championship points on offer too, three for P1, two for P2 and one for P3.
READ MORE: What tyres will the drivers have for the first ever F1 Sprint at the 2021 British Grand Prix?
It's a first for Formula 1, with the drivers having to tread a fine line between going at it hammer and tongs in order to improve their grid slot for Sunday's Grand Prix, while not risking damage to their car – or crashing out completely.
It's a game of risk versus reward – and while we don't know how it's going to go, by gum are we excited to find out!