Renault team mates Ricciardo & Ocon reckon they can avoid clashes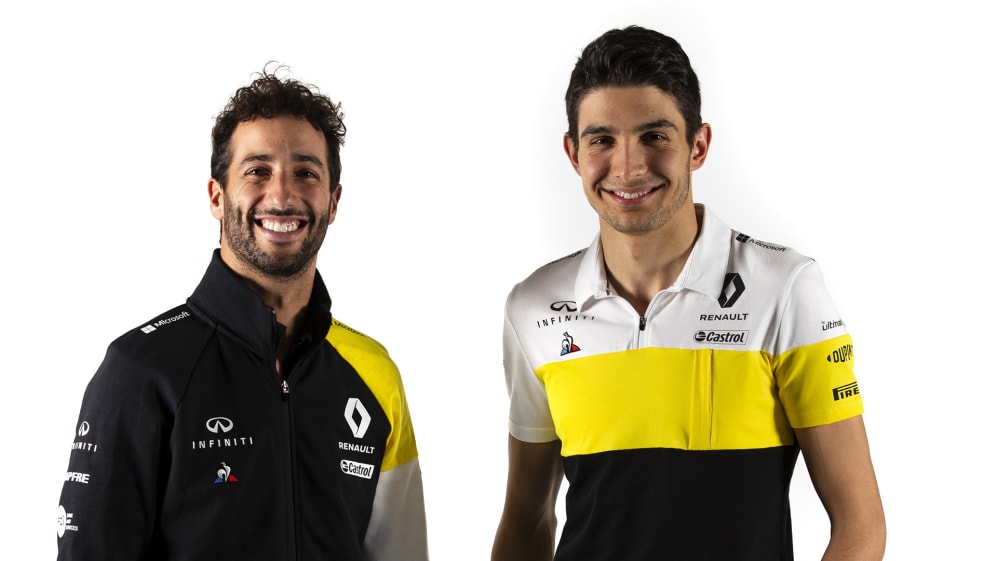 Renault chief Cyril Abiteboul said last year on the official F1 podcast Beyond The Grid that managing the new Esteban Ocon-Daniel Ricciardo relationship in 2020 will be a "challenge" – but the drivers aren't anticipating any issues.
Ocon, who joins Ricciardo at Renault after a year on the side-lines as Mercedes' reserve driver, had a tumultuous relationship with Sergio Perez during their time as Force India team mates. The duo banged wheels in both Azerbaijan and Belgium, forcing the team to instigate team orders.
The Frenchman concedes that "the atmosphere" was not good between him and Checo, but he doesn't see the situation repeating itself. "What happened at Force India is not something I want to redo again," he said. "It was not a nice atmosphere. We had respect - me and Checo - and it didn't slow down the team or anything but the atmosphere between us was not so good.
"On track we came close too many times, that was clear, and that was not good. It's not something I want to do again. The atmosphere is definitely a lot better between me and Daniel than it was with Checo.
"So if we can keep working like that, even though it's going to be different on track, it's going to be a lot better for everyone to have a positive energy and a great working environment. Hopefully we're going to be solid on that topic and be able to push the team forward. But no, we don't want to have that happening. Of course it can always happen at the start or something, but in a race like it happened it was not acceptable."
From social media videos and the way they interacted at the team's season launch in Paris, Ricciardo and Ocon appear to be getting on well so far, which might be why Ricciardo isn't too bothered about Ocon's history and is instead approaching things with a clean slate.
READ MORE: Tight midfield fight demands 'discipline', says Renault's Ricciardo
"I'm definitely coming into it with a fresh approach and I don't want to lay any rules down from day one, because I think already that will create a tension in itself," he said. "'Oh so you're anticipating something'. His relationship with Perez, obviously they came to blows a few times and it's a little bit like when I joined Red Bull you know Mark [Webber] and [Sebastian] Vettel came to blows a few times so a lot of people were like, are you going to have blows from Vettel?
I'm prepared for competition, but I'm not prepared for fun and games
"But the way I saw it was: 'Mark and Vettel have their own relationship. That's not my relationship so I need to establish something with him. It's a bit like Perez and Ocon and me and Ocon. Maybe he had his things in the past, even with Max [Verstappen, when they collided in Brazil], but I need to create something for myself with him. So I'm not going to come in with any kind of ideas or hesitations.
"I'm prepared for competition, but I'm not prepared for fun and games. If down the track fun and games appear then I'll deal with it at the time but I think I'm certainly coming in with an open mind and positivity, as opposed to, 'oh ****, when's he going to blow up?' I'm not I'm not thinking like that."
"I have every intention of building something positive. On Sundays we're going to race it out and maybe we'll bang wheels at some point, but it's I think our best intention to try to get this team in a good place before they start losing energy focused on managing us you know they need to manage a better race car."
The duo will get to drive the Renault R.S.20 for the first time in anger when pre-season testing gets under way on February 19 in Barcelona, with the first race of the season kicking off in Melbourne on March 15.