We're streaming the 1997 European GP - here's why you should watch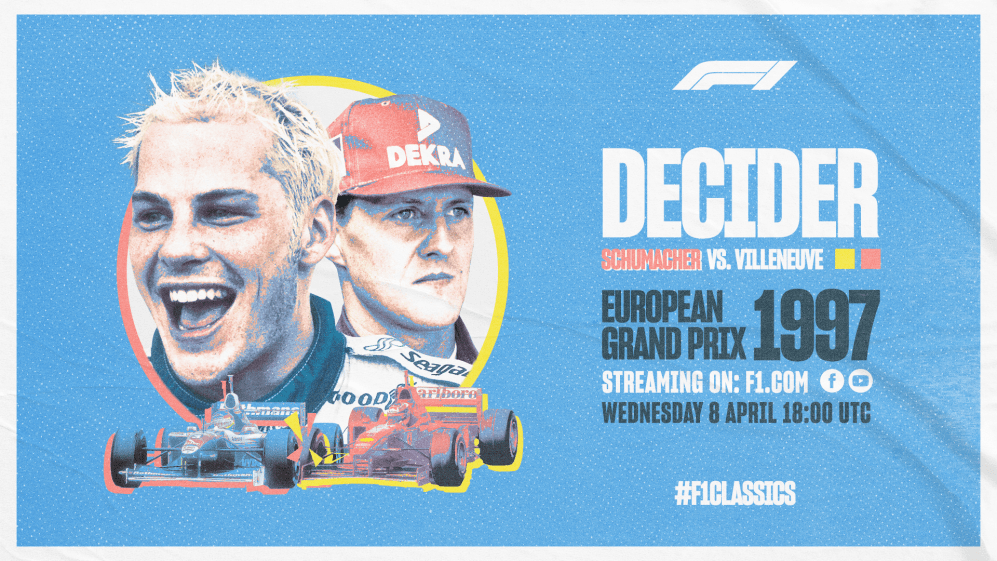 We've already brought you such classics as the 1986 Australian Grand Prix and the 1996 Monaco Grand Prix. But for the first time, you've chosen the race we will air on Wednesday, April 8 at 1800 UTC – and it's an epic title decider…
Thousands of votes were cast when we asked you to pick a classic race for us to stream, but over 44% of them went to the 1997 European Grand Prix, the finale of a captivating, intriguing duel for the title between Michael Schumacher and Jacques Villeneuve.
Read on to find out why you should tune in to our latest stream...
How they stood before the race
The standings were in Villeneuve's favour ahead of the penultimate round in Japan, but Villeneuve was disqualified from that race for ignoring yellow flags during practice and Schumacher won it to keep the title race going down to the wire.
With Villeneuve on 77 points and Schumacher on 78 for the final, 17th round of the season, the Canadian would have to finish sixth or better – and ahead of Schumacher – to win the title.
Standings before the 1997 European Grand Prix
| Place | Driver | Team | Points |
| --- | --- | --- | --- |
| 1 | Michael Schumacher | Ferrari | 78 |
| 2 | Jacques Villeneuve | Williams | 77 |
| 3 | Heinz-Harald Frentzen | Williams | 41 |
| 4 | Jean Alesi | Benetton | 36 |
| 5 | David Coulthard | McLaren | 30 |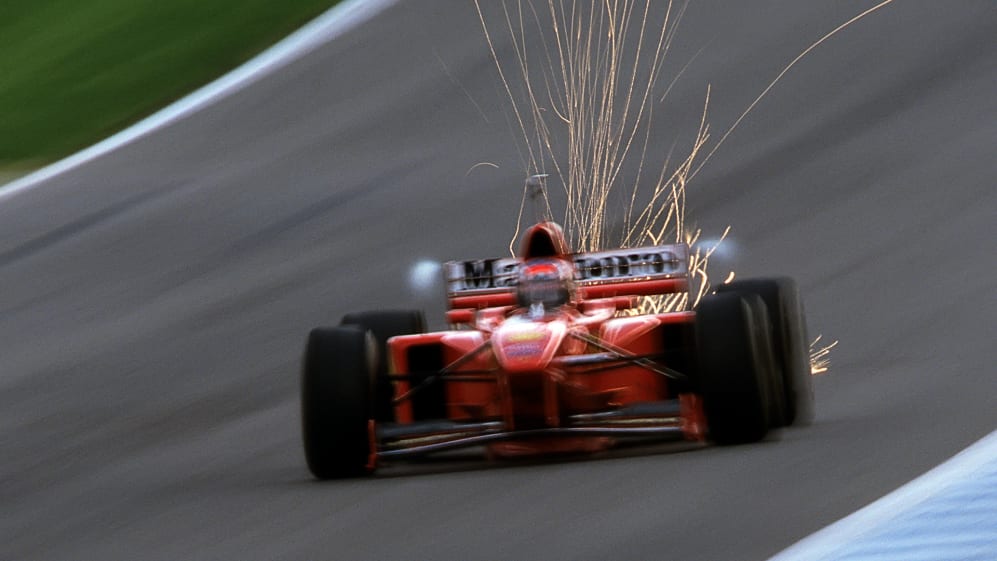 The background
Given two-time champion Schumacher's will to win no matter what - remember, Ferrari hadn't won the title since 1979 - this was always going to be a terrific showdown at Jerez. Tensions between Williams and Ferrari ran high, as Villeneuve had confronted Schumacher's team mate Eddie Irvine for blocking him in practice.
There was more drama to come.
WATCH: 20 years on – Villeneuve on Jerez '97
The headlines in qualifying nearly went to Damon Hill, who finished just 0.058s off the pace in his final race for Arrows-Yamaha for P4. But Villeneuve, Schumacher and Frentzen had just pulled off an incredible feat.
Pushing their cars to the limit, they managed to set exactly the same time of 1m 21.072s in qualifying – and having crossed the line in that order, would line-up so.
If the race finished like this, Villeneuve would have his first Formula 1 world championship. Spoilers warning below.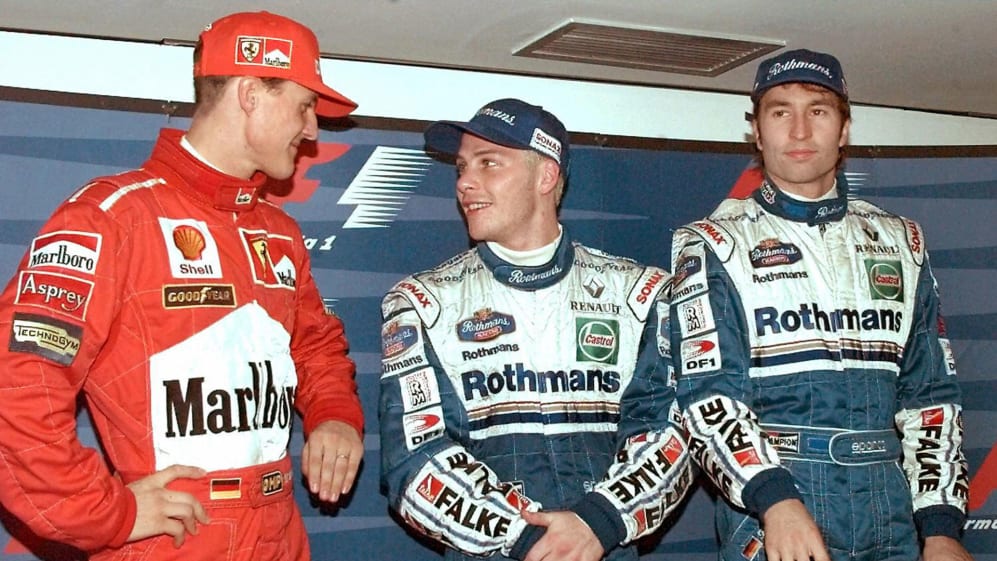 What to watch for
Although they were practically neck-and-neck going into Jerez, Villeneuve and Schumacher had seldom battled wheel-to-wheel in 1997, but the European Grand Prix was an exception. Would Villeneuve buckle under the pressure, or would Schumacher lose his cool?
READ MORE: Williams' history of bold driver choices
It was also set to be Renault's final race as engine supplier (they powered Williams and Benetton in 1997) with the French company having announced that they would bow out of F1 after this European Grand Prix. Could they deliver glory for Villeneuve?
Finally, there was the McLaren pair of David Coulthard and Mika Hakkinen lurking in the background as the frontrunners battled. Crucially, McLaren were looking for their third win of the season and Hakkinen was seeking his first...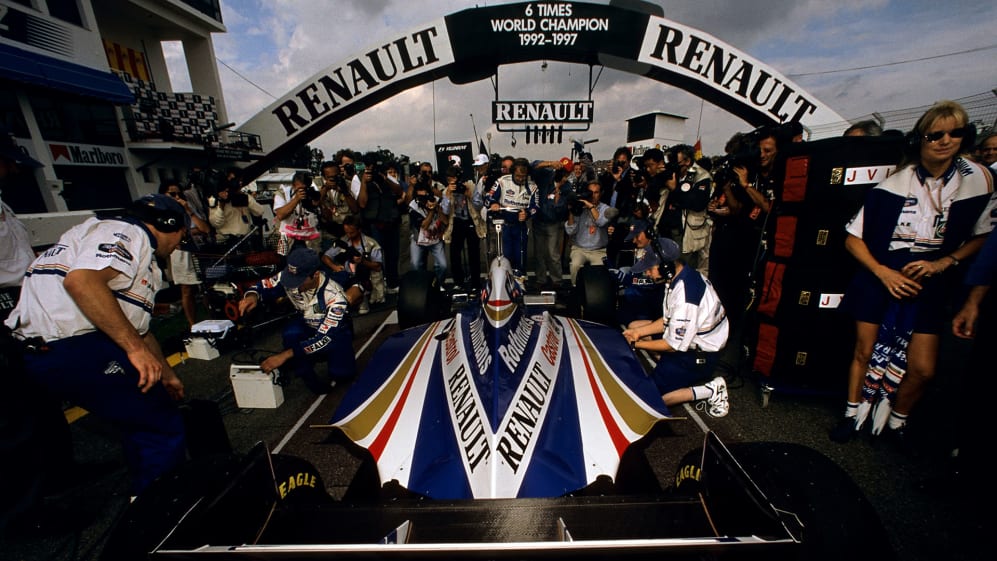 Four key moments
The getaway Michael Schumacher made a terrific start to the race on new slicks, skating past Villeneuve who fell back to P3 on used tyres. The championship was in the Ferrari driver's hands.

The pitstops The first round of stops had Schumacher pit first and emerge in P4, Villeneuve just seconds behind as he responded. On Lap 44, Schumacher pitted first once again to retain his lead, but Villeneuve's stop was quicker, and now the chase was definitely on.

The championship-deciding move On Lap 48 came the moment we were all waiting for. Villeneuve closed in on Schumacher and eyed up the apex of Curva Dry Sac – Turn 6 – diving in for the lead. Schumacher shut the door too late, made contact and… ended up in the gravel, watching on as Villeneuve limped away.

Hakkinen stakes his claim Ninety-six races without a win and Hakkinen was hungry for a win. On the final lap, he had his chance. Would Villeneuve battle for the lead or let him past, and settle for the title?
The headlines
A three-way tie in qualifying for the first time Never before had the top three drivers set exactly the same time in qualifying. Commentator Murray Walker was incredulous: "This is amazing! I cannot believe this!" he exclaimed over the airwaves.

Schumacher's lunge on Villeneuve "That didn't work Michael. You hit the wrong part of him, my friend," said Martin Brundle as Schumacher turned in on Villeneuve in the race's pivotal moment. But newspapers and magazines were more critical, with Germany's Bild blaming Schumacher, and Frankfurter Allgemeine dubbing him a "kamikaze". Italian outlets mourned the loss of Ferrari's championship with La Repubblica calling Schumacher's move "shameful". "Where have all the morals gone?" mused Nigel Roebuck in Motor Sport

Villeneuve's championship The Canadian had become the third driver to win the Formula 1 world championship, Indycar title and the Indy 500 along with Emerson Fittipaldi and Mario Andretti. Autosport ran the headline "Jacques' Title Glory as Schuey Fights Dirty" on their front cover.

The fallout Schumacher found himself up in front of an FIA disciplinary hearing and was subsequently disqualified from the 1997 World Championship. He was also ordered to take part in a road safety campaign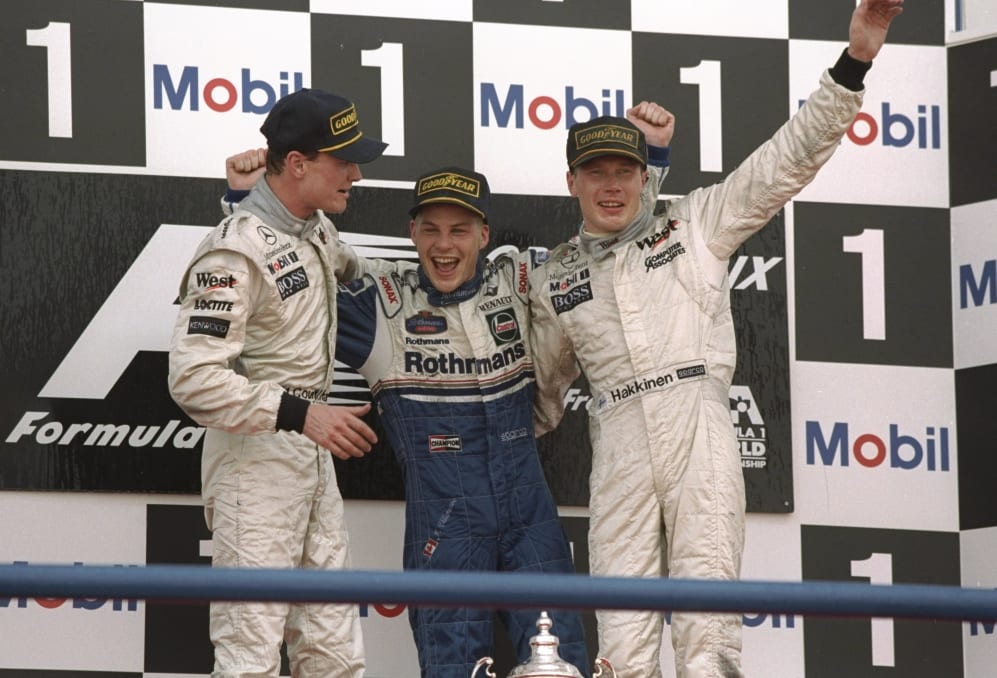 How to watch
Find out why the 1997 European Grand Prix is held up as one of the greatest season finales of all time by watching it live on F1.com, or on F1's Facebook and YouTube channels at 1800 UTC on Wednesday, April 8.
Delve into F1 TV's archive: highlights of every race going back to 1981, with more than 1000 hours of on-demand content, including season reviews, on-boards, qualifying highlights and much more! It's all available on F1 TV here.