Ricciardo expected to retire car after Lap 1 clash
The last 10 laps of the Belgian Grand Prix were painful for Renault's Daniel Ricciardo, as he fell from P7 down to P14 by the race end. But the Australian admitted afterwards that he was surprised to have even seen the chequered flag, such was the damage he'd suffered during a shunt on Lap 1.
A ripple effect of the chaos at the start of the Grand Prix saw Ricciardo get clattered into by the Racing Point of Lance Stroll. Ricciardo pitted immediately – and, so he thought, for good – before Renault waved him on his way again, and had battled up to seventh by Lap 33 when his medium tyres threw in the towel, leaving the Australian to drop drastically down the order.
READ MORE: The Winners and Losers of the Belgian Grand Prix
"I don't know how we even put ourselves in a top 10 position," said Ricciardo after the race. "There was a lot of damage on the floor, and I thought we were just going to retire the car after that lap, but we persisted and [I was] running in seventh for a while and holding on. To be honest, I felt like I was driving very well, if I want to pat myself on the back. I really felt like I was doing everything I could with a pretty hurt car and we did well to hold on. But then at the end it was tough."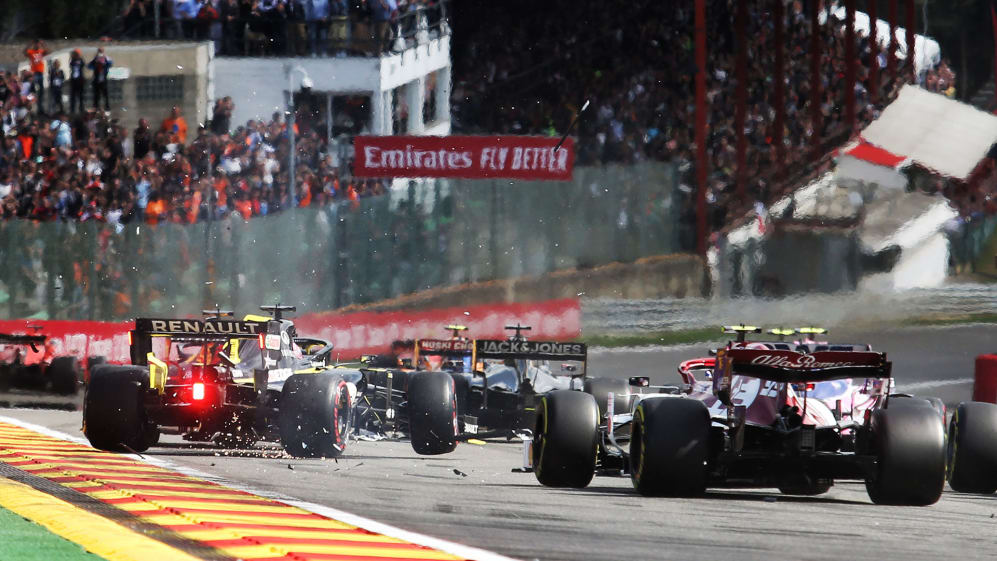 Out-going team mate Nico Hulkenberg also dropped down the order following the opening lap incidents, but was able to battle back to eighth by the flag, aided by the late retirements of Lando Norris and Antonio Giovinazzi.
"We pitted early, undercut a few people but the deg was kind of high, so I told the team, 'I think it's a good idea to fit another soft and have a sprint till the end'," said Hulkenberg, who admitted to not feeling "the love" with his Renault R.S.19 in Spa. "That paid off, managed to pick up a few positions at the end, a few DNFs which helped as well so yeah, we'll take those four points for today."
READ MORE: Verstappen and Raikkonen bemoan first-lap clash
Also encouraging for Renault was how well their cars had run on a power-rewarding circuit like Spa – Ricciardo and Hulkenberg having qualified sixth and seventh before taking grid drops – with their pace leaving Ricciardo looking forward to Monza, after a hard weekend for the team following the death of Renault Sport Academy driver Anthoine Hubert in the Formula 2 Feature Race on Saturday.
"With old tyres, and with damage, to still hold onto P7 for a while, it's very promising, so Monza, low downforce, it should be good," said Ricciardo. "We ran pretty low here and it seems the car is working well with that now.
"Nonetheless, I feel good that this race is over," he added. "I think this morning, I didn't really know how I felt about being here. I didn't really want to be here, I think I speak for most of us, but strangely enough, I think competing today was probably the best way that we could show our respects. It's weird, it's been really strange but I'm glad it's over and we can move on now."