Ricciardo explains the reasoning behind his McLaren switch – and why he made the call so early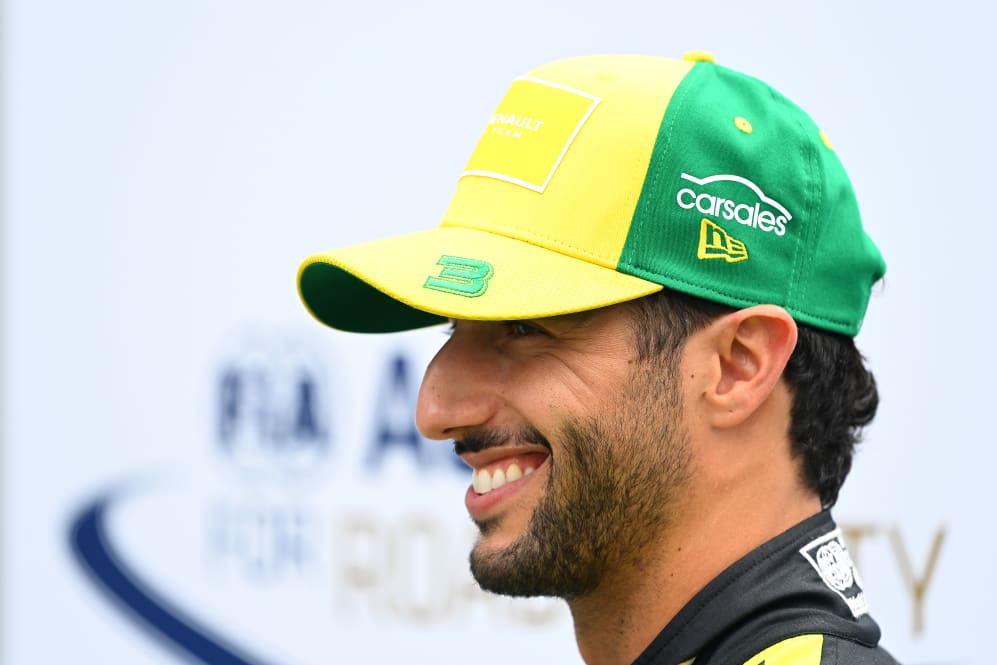 Daniel Ricciardo's decision to leave Renault and sign for McLaren for 2021 has been one of the biggest stories of the year. And on this week's episode of the F1 Nation podcast, the Australian explained why he made the 'tough' decision to switch teams before seeing the true nature of the 2020 formbook.
According to the seven-time race winner, the decision whether to stick or twist, after just one year at Renault, with another remaining, came down to excitement.
"Obviously the reality is, you get pitches from whichever team is talking to you and to some extent, especially now without having any races and any kind of proof, other than last year, you kind of have to believe. It's kind of what pitch do you, maybe even 'believe' is too much. But what pitch excites you more than the other?
READ MORE: Ricciardo reveals Ferrari talks went on 'for years' before McLaren switch
"You're going with obviously what you feel and think at the time. Who knows? If I go back to last year, last year's our best reference for now. They [McLaren] were the team that made the most noise – Mercedes won the championship again – but it was quite clear to most that McLaren was the team that made the biggest step out of all. So that was encouraging obviously for them and that's really all you can kind of base it off and their pitch for the future.
"Obviously they're switching power units and all that. Yeah, there's a bit that I guess they're excited about for now. Talking about it is certainly tough as it was by no means an easy decision, as you can imagine, and not having really much to gauge from 2020 was pretty difficult."
News of Ricciardo's move coincided with the announcement that Sebastian Vettel would be leaving Ferrari at the end of 2020, with current McLaren driver Carlos Sainz joining the Scuderia as his replacement.
Asked why he jumped into a decision so early, when theoretically he could have waited for a truer picture of the 2020 pecking order, Ricciardo said Ferrari's moves had forced his hand somewhat.
"I think obviously Vettel's announcement or news with Ferrari kind of sparked everything, and then things were moving pretty quickly around Carlos and all the other stuff. I don't think there was, although it seemed like maybe there was still time, I don't actually think there was, to make movement, if that's what you were kind of going for.
"If we start racing – and this is all just obviously what I'm playing in my head - if you start racing in July, which wasn't 100%, let's say we did, which we are by the looks of it, you've then got a few races. You're not going to find out [everyone's form] in the first race, the second race – you're probably going to wait 'til August, maybe even September 'til you really know where everyone's at. And I think by then it was going to be too late to get something you were really after."
READ MORE: Will Buxton on why he's already excited about Ricciardo joining McLaren in 2021
McLaren will be the fifth team Ricciardo has raced for in F1, having debuted for Spanish minnows HRT in 2011 before moving to Toro Rosso, Red Bull and then Renault. The 30-year-old admits there was no single thing that swayed him into another move.
"I'll be honest, there wasn't like one deciding factor. Yeah it was like different to the Red Bull situation as far as I feel like Red Bull ran its course for me, I feel like I was there a long time, we tried and tried and we won races and not the championship and then it was like I just need a change.
"This one, I wouldn't say it's as clear as far as yes we didn't achieve what we wanted last year; equally I didn't expect to win last year. I don't know, it's hard to kind of let's say. By no means an easy one and time will tell…."