Ricciardo hoping 'odd side' grid slot can give him advantage in fight for fourth with Perez
Daniel Ricciardo was elated to equal his best-ever qualifying performance in Russia with P5 on the grid – and after qualifying he said he's hoping his odd numbered grid slot can help him in his battle with Sergio Perez who starts ahead of him in fourth.
Ricciardo revealed he had done his 'homework' on the Sochi track after a stellar Friday saw him finish both practice sessions in the top three, and it seems his extracurricular efforts have continued to yield dividends as he sealed the same grid slot on Saturday that he did with Red Bull in 2016 and '17 – after finishing Q2 quickest of all the drivers in the session. So was he happy with that result?
READ MORE: Hamilton survives Q2 scare to beat Verstappen to Russia pole, as Vettel crashes heavily
"Yeah, I am, obviously," he replied. "You know when you see yourself at the top you're like 'maybe today'. I knew we were not in contention for pole but I thought maybe third or fourth was close. In the end… I knew the lap in Q2 was probably as good as it [would] get. I knew going quicker was going to take something a bit extra. It was kind of just perfect and everything kind of went well, so I struggled a little bit more in Q3 and we were about a tenth or two off.
"That would have got me fourth, but third was definitely out of reach. Don't get me wrong, I'm happy, it's a track I touched upon on Thursday I'm not normally too fond of, personally. [I] haven't had too much success here, so to have been quick pretty much all weekend, it's been really, really positive," he explained.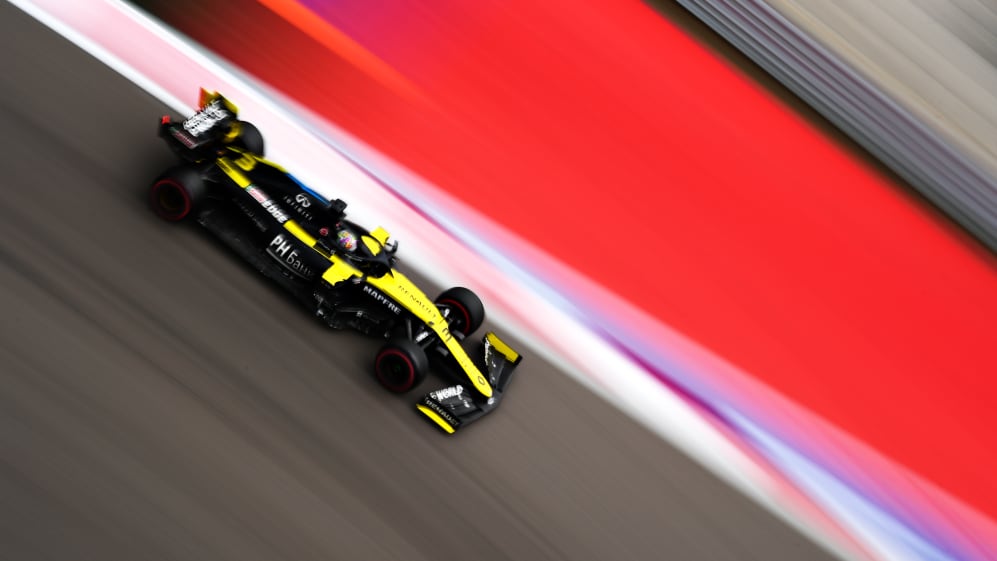 Having fought for the podium last time out at Mugello with an eventual P4 finish, Ricciardo isn't so sure that he'll be able to challenge the likes of front-row starter Max Verstappen and third-place Valtteri Bottas for the final podium spot this time.
Instead, he expects to be going toe-to-toe with Perez for P4 on Sunday – and after watching a junior category race, he's hoping his side of the grid will help him come lights out on Sunday.
"Yeah, I guess that's the fight," he said. "I think the top-three start on mediums from what I understand so it's really a fight for fourth, it's going to be close. We'll give it all we can. I watched the F2 race today and the odd side of the grid seemed a little bit better."
READ MORE: Perez shocked at Verstappen's qualifying pace in Sochi, and says P4 was 'maximum' for Racing Point
Ricciardo just needs to finish fifth to take his best result in Russia, as he's retired at Sochi three times since 2014 and taken a best finish of sixth there, with Red Bull, in 2018.