Ricciardo itching for night run in McLaren after topping both morning test sessions in Bahrain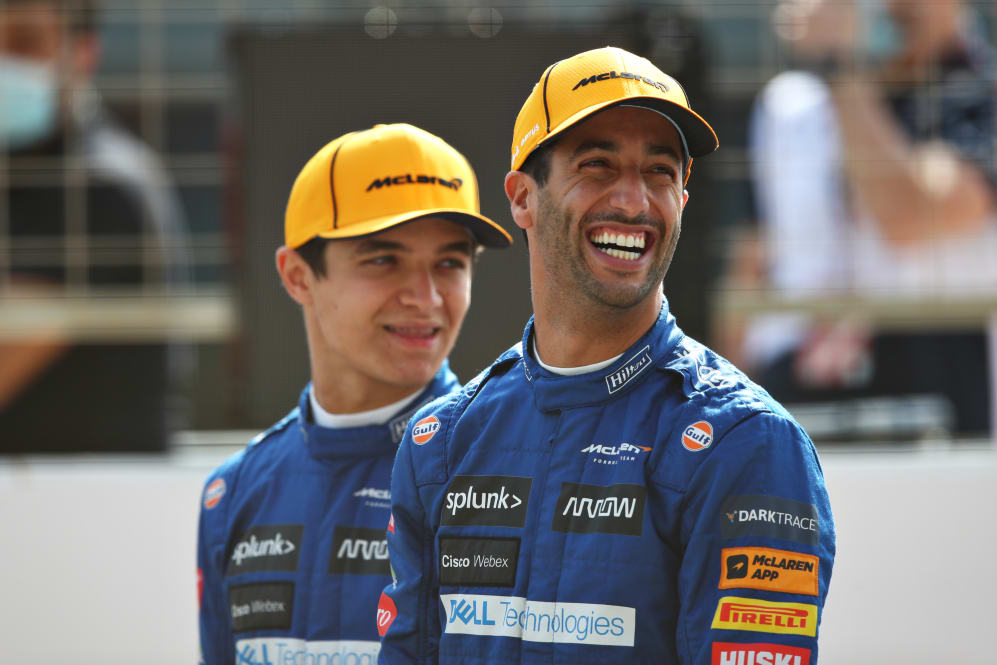 Twice Daniel Ricciardo has driven the morning session for McLaren at 2021 pre-season testing and twice he's finished at the top of the time sheets at the lunchtime break. But although he is pleased with the start to his McLaren career so far, the Australian says he iss excited for his first drive in cooler temperatures at the Bahrain International Circuit on Sunday evening, as he looks to get a proper feel for his new MCL35M.
Ricciardo came out of the blocks quickly as pre-season testing got under way on Friday, pipping Alpine's Esteban Ocon to the top of the times in the morning session – while on Saturday he then beat Ocon's team mate, F1 returnee Fernando Alonso, to make it a clean sweep of fastest times for Ricciardo in the sessions he's contested. But despite the headline times, Ricciardo said he wasn't getting "carried away" just yet.
READ MORE: Bottas goes quickest on Day 2 as Mercedes begin recovery from tricky start to testing
"So far, so good," he said at the end of day two. "Obviously everyone watching at home, they've seen me be top of both my sessions. Don't get me wrong, it's nice to see that, but I certainly don't get carried away with it in testing.
"You just never know what everyone's doing, so it's important I focus on myself. It's been running well, smoothly. First thing you want to get is reliability, and that's been strong so far, so it's allowed us to do the laps we need.
"We're certainly not hiding anything," he added of McLaren's strong performance so far. "The reality is there's only so much you can do with the cars this year. The regulations haven't really changed much, so I don't expect to see massive switches in the field. But I'd like to think that as a team, we're getting closer [to the head of the field], so hopefully that's the case. So it feels alright."
MUST-SEE: 'Extremely motivated' Alonso makes his Alpine testing debut at Bahrain
Despite his heroics on Saturday morning, Ricciardo would end the day in P8, 1.629s off second-placed team mate Lando Norris, who took the car over for the afternoon session – Norris' time showing just how much the Bahrain track ramps up in cooler conditions.
And despite his own strong start to testing, Ricciardo said he wouldn't be truly comfortable in the McLaren MCL35M until he'd run under the floodlights in more representative conditions on Sunday evening.
"I think all I'm missing now is a night session," he said. "I've had two of the morning day time sessions; the track's hot and we do come here in the evening. So tomorrow, I'm on track at night and I'll get probably a better feeling inside about how comfortable and ready I am with this car for two weeks' time [at the Bahrain Grand Prix].
"[I've been] driving during the day and it's hot and I'm not familiar with the track in those conditions," he added. "My reference for the two races we had here was night time, so I think then I'll find more the limit of the car, and therefore the limitations as well. Give me 24 hours!"
READ MORE: Vettel rues lost time on Day 2 of testing after gearbox issue restricts him to just eight laps
As Ricciardo suggests, McLaren will run Norris in the first session on the final day of pre-season testing on Sunday, followed by Ricciardo, as they look to add to their tally of 195 laps so far in testing.