Ricciardo needed summer break to reset, says McLaren boss Seidl after the Australian's Monza win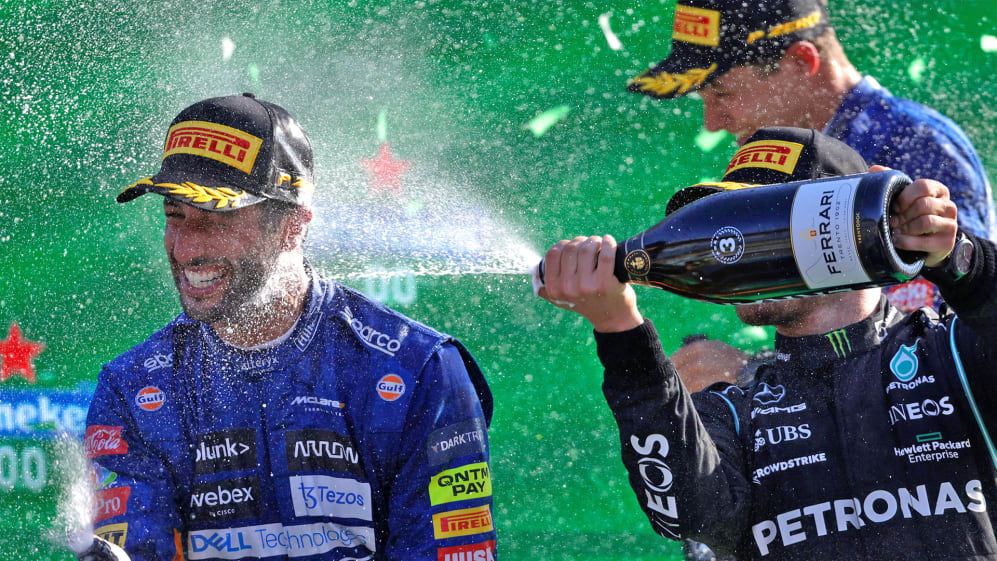 Daniel Ricciardo endured a difficult start to life at McLaren. But after his P4 at Spa, followed by his rousing victory in the Italian Grand Prix, Team Principal Andreas Seidl has declared himself "very happy" with the Australian's progress since the summer break.
As team mate Lando Norris, in his third season at McLaren, scored a full three podiums across the first half of the season, Ricciardo struggled to adapt to the MCL35M, taking just 50 points to Norris' 113 up to the Hungarian Grand Prix.
But after time off in the summer break, Ricciardo claimed fourth on the grid and in the race at Belgium, before overcoming a trying weekend for McLaren in Zandvoort with victory at Monza, his first since 2018 – and McLaren's first since 2012, as Norris finished second to complete a memorable one-two for the team.
READ MORE: Ricciardo leads stunning McLaren 1-2 after Verstappen and Hamilton collide at Monza
"We all don't know what he did in those two weeks [during the summer break]," said Seidl of Ricciardo. "Also don't really want to know!... It's just good to have a break, get some distance as well after a very intense period for him where he was putting in a lot of energy and the results didn't come.
"Maybe he exactly needed that break to step away, think, reflect, and then come back and apply everything we'd worked through in the first half of the season.
"Somehow that seems to have worked since Spa onwards," added Seidl, "and worked out now over the course of the triple header, even if it wasn't visible in Zandvoort because we struggled with the performance of the car.
"So, very happy with him, with this step now, that he's pulled off this great win, and for Lando. Great performance from both guys and we look forward to a strong second half of the season from [Daniel's] side and a strong continuation of form for Lando."
READ MORE: 'Deep down I never lost faith or belief' says Ricciardo after taking first win since 2018
The seeds of McLaren's one-two were sown by an impressive performance from the team in qualifying and the Sprint, which ultimately earned Ricciardo and Norris P2 and P3 on the grid for Sunday's race.
And Seidl countered any claims that McLaren had required the crash between Lewis Hamilton and Max Verstappen that took both drivers out of the race to ensure their victory, after Ricciardo and Norris had led Verstappen and Hamilton respectively in the early part of the race.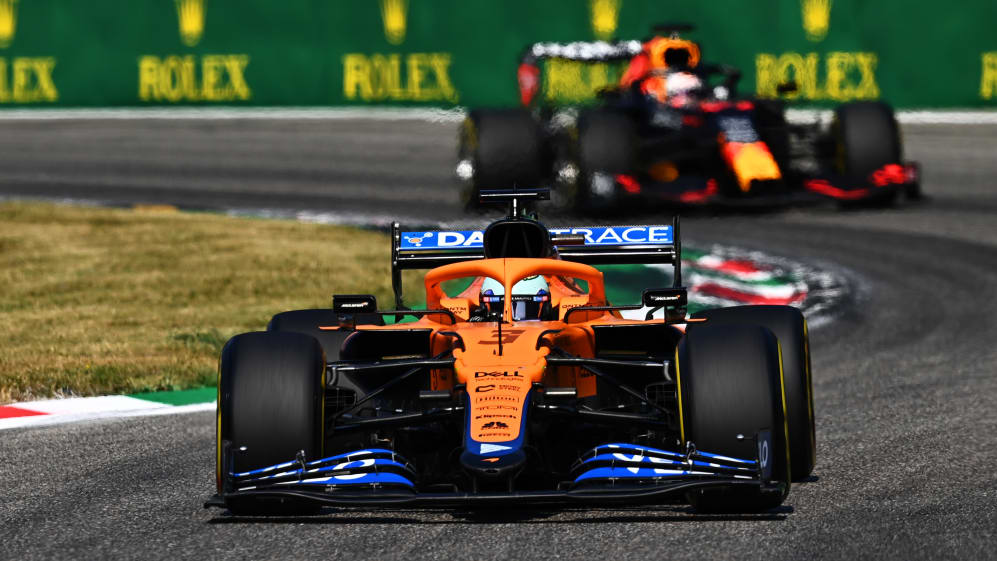 "We knew going into the race today after the performance on Friday, and also yesterday in the Sprint, that if you manage to stay ahead of the quicker cars like Lewis and Max – once we overtook Max into Turn 1 there was actually the chance to keep him behind for the race, or stay close and get in the position to overtake," said Seidl.
"That worked out in the end. It was just impressive how the team, Daniel, Lando pulled it off. We knew we had a competitive car and the chance to score something big today, and I think even without the crash between Lewis and Max, it was a very controlled race our side – we had managed the gaps between Daniel and Lando and Lando and the car behind.
READ MORE: Norris admits he 'would have loved to go for the win' at Monza but feared Hamilton/Verstappen-style crash
"So, tyre management, strategy, very happy, a great result for everyone after all their hard work," added Seidl. "But at the same time can't get carried away – we got destroyed one week ago [at Zandvoort] so we just have to keep working hard."
McLaren's 45-point haul from Monza moved them back ahead of Ferrari to P3 in the constructors', their lead over their Italian rivals now 13.5 points.