Ricciardo 'not letting ego get in the way' after failing to match Norris podium heroics at Imola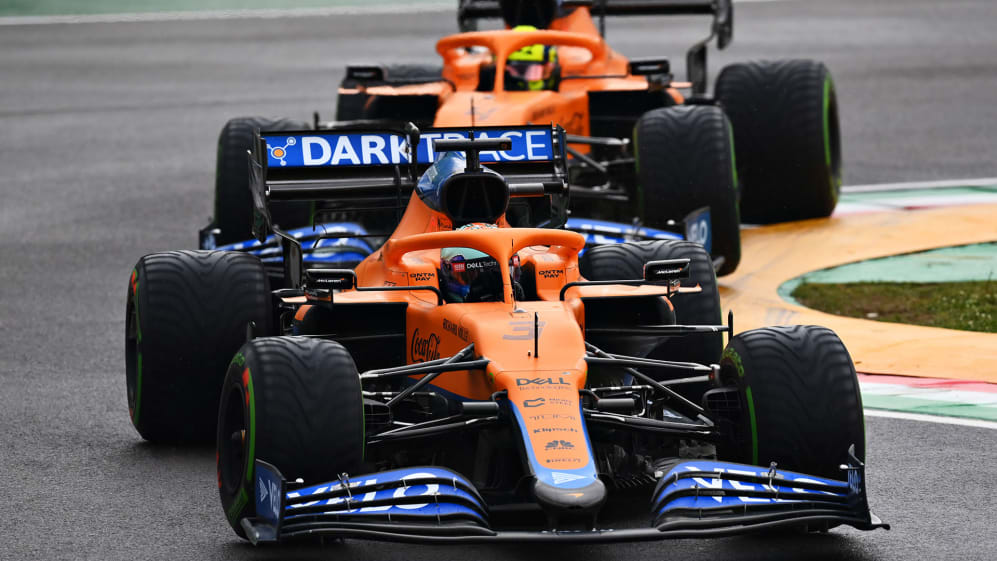 Having started the Emilia Romagna Grand Prix ahead of McLaren team mate Lando Norris, Daniel Ricciardo was forced to watch as Norris ultimately claimed a podium for finishing P3, as Ricciardo could only manage P6. But the Australian driver said he was being philosophical about his lack of pace relative to Norris at Imola, in what was only his second race for McLaren.
A deleted Q3 lap time for Norris meant that for the second race in a row, Ricciardo started sixth to Norris' seventh on the grid. But Ricciardo was forced to play the team game early doors when McLaren asked him to let Norris – recovering from a poor start that saw him connect with Lance Stroll's Aston Martin at Tamburello and drop to ninth – past on Lap 16.
READ MORE: Norris has 'made the next step as a driver' after Imola podium performance, says Seidl
From there on, the pace difference between the two drivers was marked, as Norris eventually came home P3 – having held P2 from Mercedes' Lewis Hamilton until three laps from the end – while Ricciardo finished a distant sixth, some 27 seconds adrift of his team mate.
"In the end, sixth from a points point of view is alright – but certainly my race pace wasn't anything to do cartwheels over," said Ricciardo.
"[My race pace] was certainly not particularly fast. I've just got to keep working on it. It's one of those ones where obviously I'm hard on myself and obviously I'm not skipping around… But I think by race six or race seven, I'll look back at race two and think, 'What was I worried about?'"
Ricciardo added that, far from being deflated by Norris' podium, McLaren's first rostrum of the year gave him confidence that everything would eventually come together for him at the team.
"I think it's just up to me to… it sounds kind of simple, but just to keep turning laps, and obviously the pace is there," he said.
"Lando had really strong pace all weekend and obviously put it on the podium today, so I take encouragement from that. I'm certainly not defeated by that, and I'm certainly going to accept where I'm at at the moment and just work on it. I'm not going to let pride or ego get in the way. It is race two of 23, the road is long and I'll just keep my chin up and work on it."
READ MORE: Norris celebrates 'near-perfect' weekend as he recovers from Saturday heartbreak to seal second F1 podium
F1 returnee Fernando Alonso, meanwhile, described the conditions at Imola on race day as "perfect" for getting up to speed with his new Alpine car. And Ricciardo, too, said he'd learned a lot in the dramatic race.
"The kitchen sink's been thrown already!" he said. "Certainly a race like today does test you and there were challenges, but better to kind of get all of it now. Even if it feels all at once or somewhat overwhelming, I think in a few races' time, I'll look back and be thankful and grateful for these hurdles and I guess it will fast-track my progress.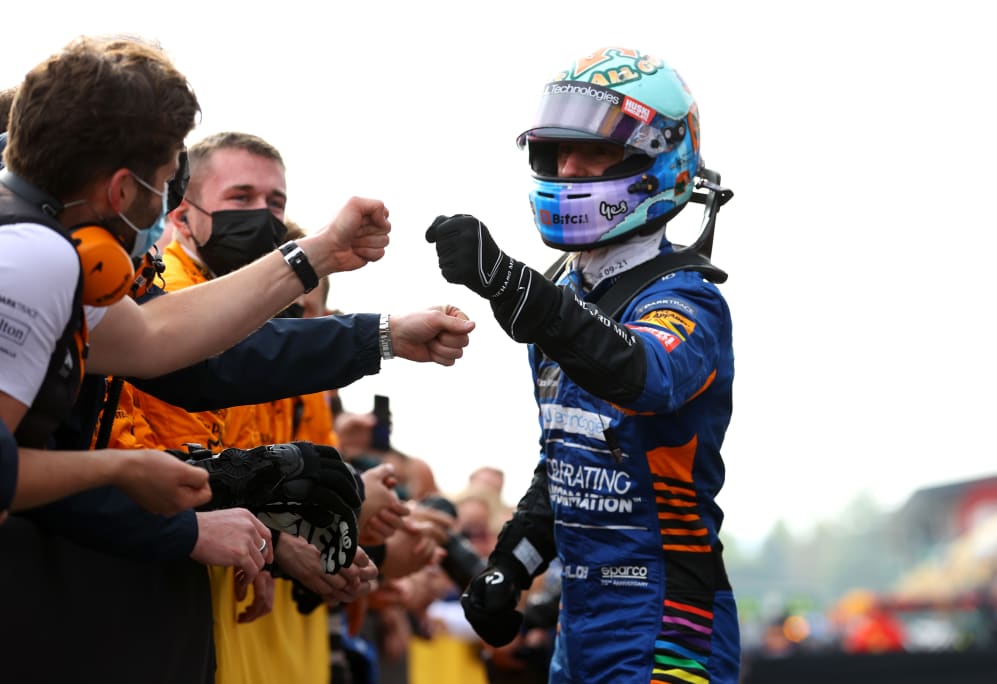 "Hopefully [I'll] be more competitive in races to come," Ricciardo added. "It's race two so I don't want to be like, 'I was expecting to be on the podium already.' Maybe by next race I'm on it. But let's say at least today my pace wasn't that spectacular, so I'll just look at it, work on it. Obviously the reference to Lando is a strong one so I'll just chip away and do better."
Even if Ricciardo is not yet performing at his desired level, the strong performance of McLaren so far means he sits P7 in the drivers' standings, tied on 14 points with the driver whose seat at McLaren he took for 2021, current Ferrari racer Carlos Sainz.