Manic Emilia Romagna GP 'perfect' for speeding up learning process on F1 return, says Alonso
Fernando Alonso took the first point of his Formula 1 comeback at the Emilia Romagna Grand Prix thanks to a penalty for his old sparring partner Kimi Raikkonen. But while the point for being classified P10 was a nice bonus, the Spaniard appeared happier with the experience he'd amassed in his Alpine A521 over the tricky 63-lap wet-dry encounter.
Both Alpines suffered poor starts in the mixed conditions at Imola, Alonso dropping from his P15 grid slot – where he'd ended up after admitting he "wasn't good enough" on Saturday – to P17 by the end of the first lap, as team mate Esteban Ocon fell from P9 to P14.
READ MORE: Alonso scores first point of F1 comeback after post-race penalty drops Raikkonen out of top 10
But Alonso recovered to cross the line P11 in a tight gaggle of cars behind Alfa Romeo's Kimi Raikkonen – whose subsequent 30-second penalty for a Safety Car restart infringement saw Alonso promoted to 10th, and the first point of his F1 return. But speaking before Raikkonen's penalty was announced, Alonso revealed that it had been a valuable Sunday for him at Imola.
"I felt much better in Lap 63 than in Lap 1 thanks to all the experience that you go through during the race," said Alonso, who also survived a spin after picking his way through the debris from George Russell and Valtteri Bottas' Lap 32 collision, as you can see in the video above.
"It was perfect for me to understand the car in these slippier conditions, and how it was transitioning from wets to inters, inters to dry, one red flag, one standing start, one rolling start. We did a lot of things today that normally take five or six races… Everything was compressed in one Sunday, so a lot of learnings, a lot of feelings with the car."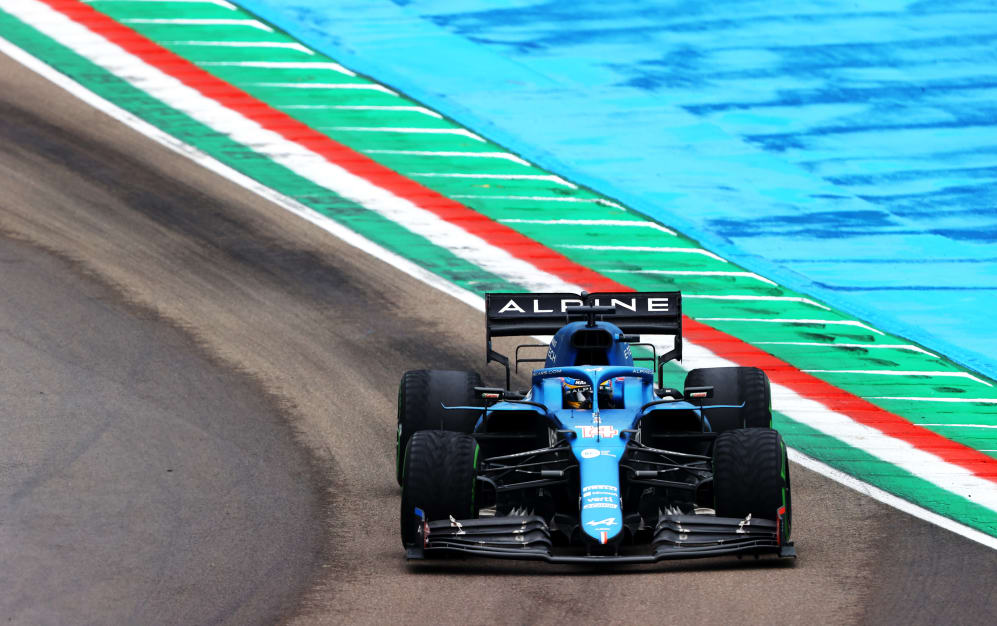 Despite Alpine coming away from Imola with their first points of the season – Alonso's one plus Ocon's two, at the expense of Raikkonen – Alonso didn't shy away from the fact that he remained on a "steep learning curve", following his two years out of the sport.
And the two-time champion was pleased that he hadn't fallen foul of the treacherous conditions at Imola as he continues to build experience, after a sandwich wrapper getting stuck in his brake ducts caused him to retire from the first race of the year in Bahrain.
READ MORE: Verstappen and Hamilton at odds over whether they made contact in crucial start of Imola race
"Every lap you do – it's quite obvious but you're feeling better and better with the car and how everything behaves," said Alonso. "So today was important to finish the race and experience the 63 laps.
"In Bahrain we could not finish, and here a DNF in the first corner, or a DNF in the first stint, could halt again our progression into the future. So as I said, we're in a steep learning curve at the moment and we're trying to get better all the time."