Ricciardo pleased with P4 in Sochi but says 'there is still some stuff missing' as he targets pace improvement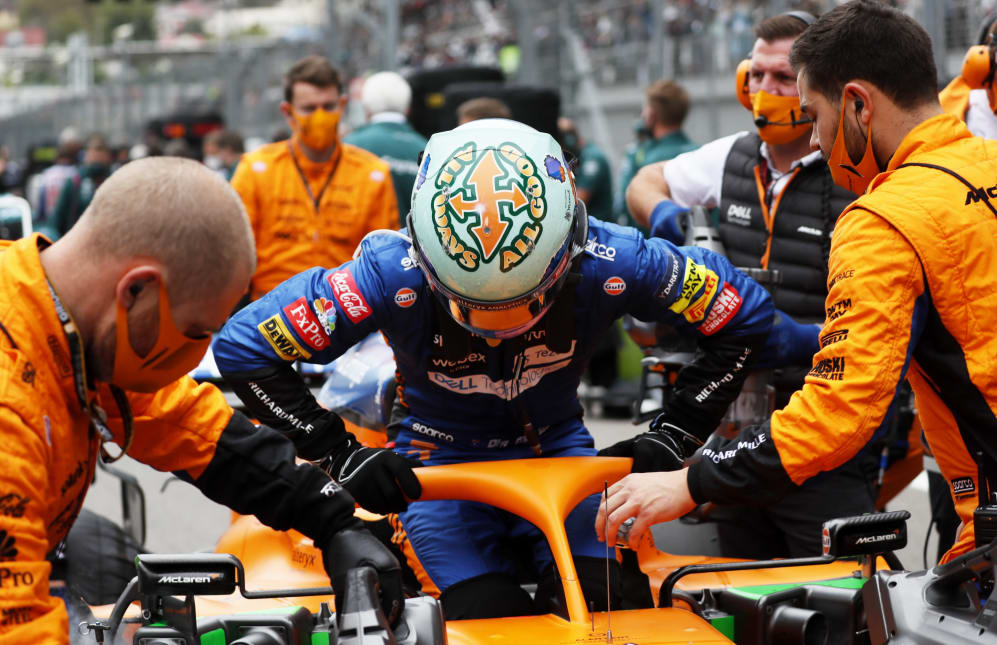 Daniel Ricciardo continued his upturn in form with a solid fourth in the Russian Grand Prix amid wet and tricky conditions late on, however the Australian wants to dig into the data to find out why he lacked pace in certain phases of the race…
Fresh off his first victory for McLaren last time out in Monza, Ricciardo arrived in Sochi with a bounce in his step. And while team mate Lando Norris had the edge through qualifying and for most of the Grand Prix, Ricciardo was still there or thereabouts – and as Norris slid out of the lead as the rain fell, the Australian managed to keep his nose pointing in the right direction to take his third top-four finish in four events.
READ MORE: 'Everything was under control' – Devastated Norris convinced win was on without late rain in Sochi
"I think crossing the line, I'm pretty happy," he said. "I started fifth, got fourth, so the points were better than what they were on lap one so it's one of my better results this year and we'll take the end result.
"When the conditions are like this, it can get bad really quickly and on the in lap at Turn 7, I was facing the barrier for a little bit, so to survive all that and come through it was good. I could see Sainz [who finished third] after we pitted and initially on the inter he pulled away, but then I got him back and maybe a couple more we could have got close.
"There are some positives, some things still to work on. I'm keen to understand what I can keep doing to improve."
Fourth moves him five points away from a century and together with Norris' rescued seventh and fastest lap, McLaren are now 17.5 ahead of Ferrari in a tense battle for third in the constructors' championship.
READ MORE: McLaren 'didn't get it together as a team' says Seidl, after Norris misses out on Sochi win
Ricciardo's strong weekend is yet more evidence that he seems to have made something of a breakthrough with a car that he initially struggled to understand on joining from Renault this season. But he concedes there's still plenty of homework to do.
"It is good points," he said. "There are still some things I want to look at with pace. There were times when I felt good, but the lap times were still not good, so I want to investigate a little bit what is up. The points today are good but with the poor pace there is still some stuff missing so we will try to figure that out."
He added: "It was not as comfortable a weekend as Monza, so a bit trickier, and we were a bit compromised with Friday, and we never got back on top of it so I will try to keep working on it."