Ricciardo says he's 'fallen in love' with F1 again as he admits Red Bull return is his 'dream'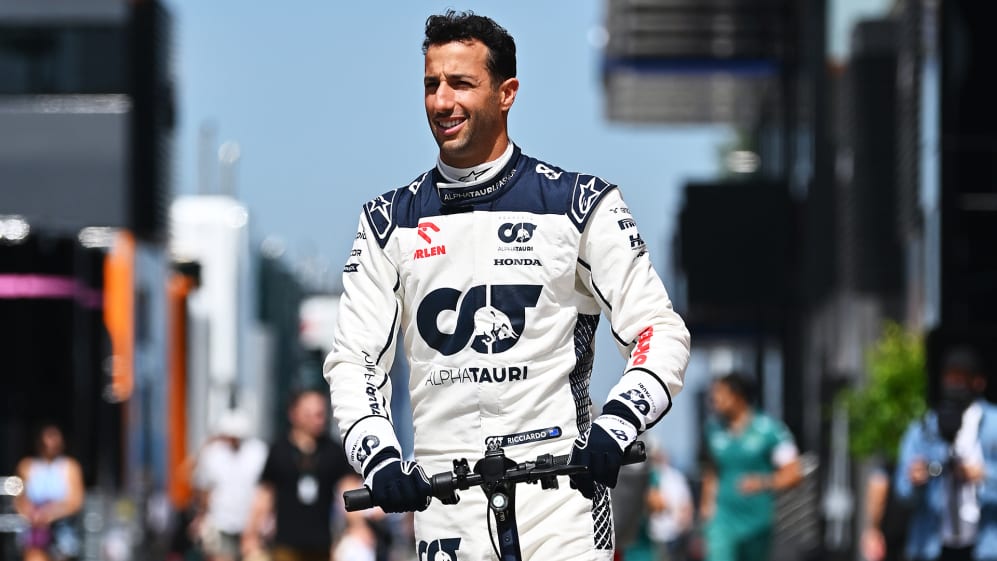 Daniel Ricciardo was back in the paddock as a full-time F1 driver on Thursday as he fielded an array of questions from the world's media over his return with AlphaTauri, expressing a rekindled love for the sport and his eagerness to go racing again.
Having parted ways with McLaren at the end of the 2022 season, Ricciardo started 2023 as a Red Bull reserve driver, carrying out simulator duties and making several paddock appearances, but he has now been drafted in to replace Nyck de Vries from this weekend's Hungarian Grand Prix.
READ MORE: Horner says Ricciardo's 'objective' is Red Bull seat in 2025 as he gets set for Hungary comeback
It comes fresh from Ricciardo's outing for Red Bull at the post-Silverstone tyre test, after which team boss Christian Horner declared that the 34-year-old Australian was "extremely competitive" and "very impressive".
Sharing more thoughts on his comeback, which comes with an AlphaTauri team sitting at the bottom of the F1 constructors' standings, Ricciardo said: "[With] everything that happened the last few years, getting back into the sport after taking some time off, I knew it would be very hard to go back in at the top.
"Of course, that was my wish, but you need to be realistic at some point and say, 'Look, if I want to get back, let's say, in a Red Bull seat, it's going to take a process and a path', and this for me is the best path at the moment.
"Also, six months ago I wasn't in a place to jump at an opportunity like this, but that's been the luxury of time now, that I've just got so much more – I've fallen in love with it again and been myself again, probably back in an environment that gives me a lot of nostalgia.
READ MORE: De Vries admits 'it hurts' as he speaks out after losing AlphaTauri F1 seat
"I spent a lot of my career here, a lot of my journey and my junior days were here, so kind of talking to [Red Bull advisor] Helmut [Marko] again more regularly, it felt like where I belong. When the opportunity came, I thought, 'Absolutely, let's try', and yeah, that's done."
With Horner commenting on the F1 Nation podcast earlier this week that Ricciardo's "objective" is to secure a return to Red Bull for the 2025 season, the eight-time Grand Prix winner offered his own thoughts on the potential to make it happen.
"As you say, let's call that the dream, so to speak, but there's no point thinking about that," he commented. "There's going to be a lot of work to do here, [and] I think in terms of expectation there is none.
"Everything I felt driving the car last week is how I want to go racing again, in the moment, enjoying it, not thinking too far ahead. I've obviously been following, I know the car's going to have some limitations.
THIS WEEK IN F1: 10 quiz questions on all the F1 news ahead of the Hungarian Grand Prix
"I'm going to do the best with what I've got. If it's something I feel I can work with, that's all I need to feel good behind the wheel again and also obviously use some of my experience to push the team.
"As far as this weekend goes, if you ask me, 'Where do you want to finish?', I couldn't tell you. I just want to know I've put everything into it and done a lap I can be proud of."