Ricciardo says Renault 'in a decent place' despite FP1 failure as he aims to leave team on a high
A suspected fuel pump issue limited Daniel Ricciardo to just three laps in Free Practice 1 for the Abu Dhabi Grand Prix. But after admitting to enjoying his unexpected afternoon off, Ricciardo got on with it in FP2, ending the session P9, but well in the mix with his fellow midfield runners – and hopeful of a strong result on his final weekend as a Renault driver.
A tight battle between the midfield teams in FP2 saw the two McLarens of Lando Norris and Carlos Sainz finish P5 and P12 respectively, but separated by just 0.178s. And with Ricciardo himself just 0.070s off Norris' time in ninth – and 0.003s off team mate Esteban Ocon's P6 time, with Ocon having gone third-fastest in FP1 – the Australian was feeling good about Renault's prospects, despite having missed most of the first session.
READ MORE: Norris relishing tight midfield battle in Abu Dhabi, even though it 'makes our lives more difficult'
"I did a half day actually – they gave me half a day off," joked Ricciardo of his FP1 problems which were fixed, without requiring a penalty, in time for FP2. "It was nice of them – it's getting a bit late in the season. No, we just had a little issue this morning which meant I didn't do any running. We had to catch up a little bit. But to be honest here when the track's hot, if you're going to miss any session, that's the one you can afford to miss.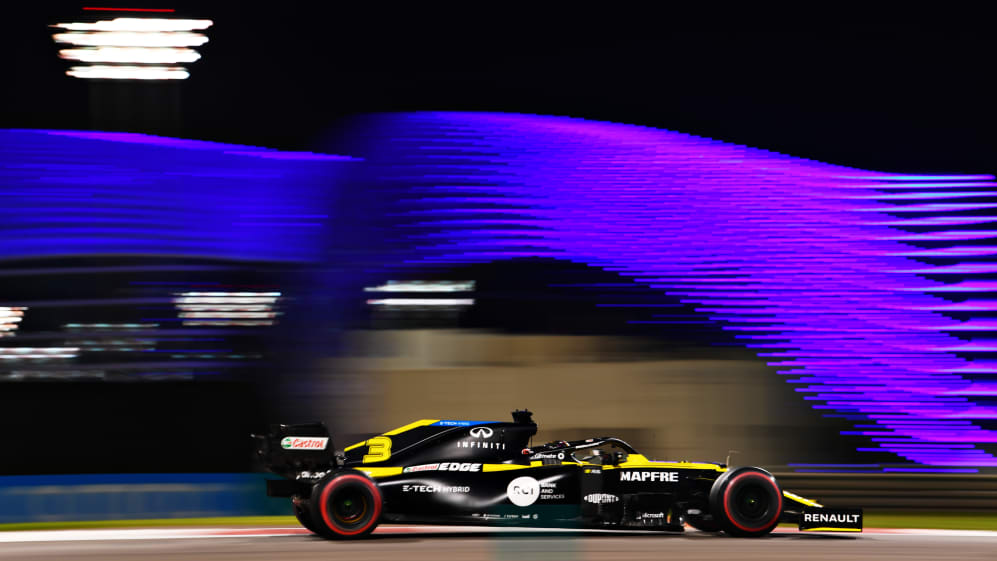 "We got on with it this evening. It was actually alright. I think a few little changes overnight but nothing crazy. We're in a decent place. There were, I think, four cars within two-thousandths of a second of each other or something. So hopefully quali's like that – obviously not for me but for the others behind me!"
There's plenty at stake for Ricciardo on his final weekend with Renault, with the team sitting 22 points off Racing Point's P3 in the constructors' – and 12 off his future McLaren team's fourth place. But that tight battle aside, Ricciardo admitted that getting into his Renault at the start of Friday had been a realisation that his time with the team he joined in 2019 was drawing to a close.
READ MORE: Ricciardo says Renault have 'grown with self-belief' as he singles out surprise favourite moment with team
"To be honest, it kind of hit me more today when I jumped in the car and I was like, 'Oh, this is [the last weekend]'," he said. "It took me back to a couple of years with Red Bull, the last weekend and all that. Right now I just want to do the best I can and give us a reason to have a few glasses of champagne or something up on the roof on Sunday night and then we'll I'm sure enjoy a little farewell."