Ricciardo left wondering why rivals didn't copy his Mexico strategy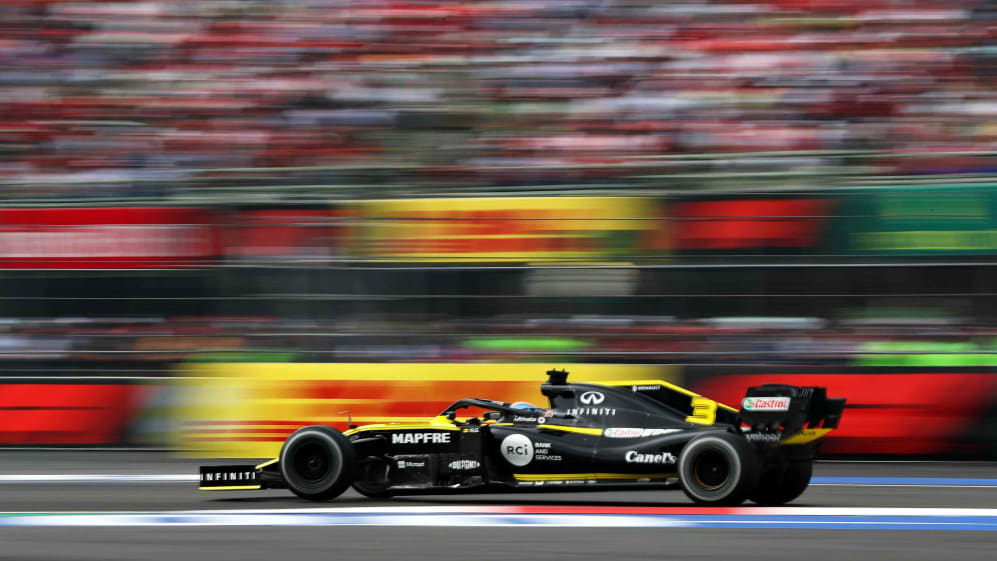 Eyebrows were raised on the grid of the Mexican Grand Prix when Daniel Ricciardo's mechanics whipped off his tyre blankets to reveal a set of hard-compound starting tyres – the Australian the only runner to begin the race on the white-walled rubber. But that choice was key to Ricciardo securing a fantastic eighth place in the race.
Despite hard tyres being supposedly inferior for starts, Ricciardo enjoyed what he'd later describe as "probably the best start I've had [this season]" off the line, before settling in for a mammoth 50-lap stint that saw him climb to sixth by the time he pitted for mediums with 21 laps left to run. His pace had been such, however, that he was able to slot back into P8, where he eventually finished the Grand Prix.
I thought more of the others would have done started on the hard, especially the cars behind me
"It was a fun one," said Ricciardo afterwards. "Well, fun… it was lonely for the most part. I knew the objective from the start was to go long and already after yesterday, I was pretty set on starting on the hard tyre. I thought more of the others would have done it, especially the cars behind me, but I think I was the only one in the end. But it was good."
Up until the race start, Riccardo's weekend in Mexico had been one of frustration, missing out on FP3 after suffering a pollution issue on one of his Renault's cooling systems, before qualifying a disappointing (and expletive-inducing) 13th – and having found out in the week leading up to the race that he'd been stripped of his sixth place in Japan, a result earned with a similar 'long first stint' strategy.
And while Ricciardo's recovery on race day put the trademark smile back on his face, there was still one lingering frustration, after he tried and failed to overtake home favourite Sergio Perez 10 laps from the end.
READ MORE: 'It's like a victory!' – Home hero Perez hails 'great day' for Racing Point after P7 finish
"I had awesome pace towards the end of that [first] stint," he said. "Then the medium, we had pace, but I thought Perez would have been easy money.
"Obviously we saw into Turn 1 it wasn't easy money at all, so I crossed the line pretty frustrated at the end, because I thought we would have had him and had a good seventh, and at the time, Max [Verstappen] wasn't too far in front. But in the end, eighth.
"Seventh would have been nicer, but let's say we kept the Mexicans happy with leaving Perez in front."
Ricciardo's four-point haul, on a rare day when rivals McLaren failed to score – and abetted by the one point scored by team mate Nico Hulkenberg, who was classified 10th following a 10-second penalty given to Toro Rosso's Daniil Kvyat for colliding with the German – saw Renault close the gap to McLaren for fourth place in the constructors' standings to 38 points, although their chances of overcoming that deficit with just three races left to run in 2019 look remote.