Feature
Ross Brawn gives an update on the 2020 F1 calendar, racing at new tracks and using different layouts on old ones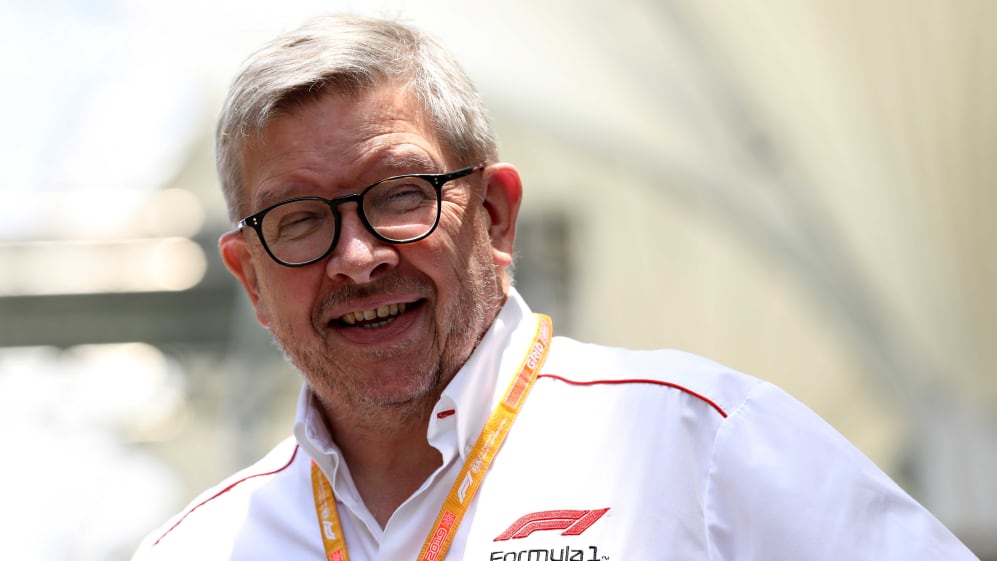 The plan for the opening eight races of the Formula 1 2020 calendar, kicking off in Austria on 3-5 July, is now public – but what happens after that is less clear. Here F1 motorsports boss Ross Brawn gives us the latest on what's been going on behind the scenes…
After a lengthy shutdown, F1 team factories are once again firing on all cylinders as they accelerate their preparations for the new season opener.
With a host of new protocols set to be introduced from the Red Bull Ring onwards in response to the coronavirus pandemic, some teams are scheduling private tests to get back up to speed and shake off the rustiness. Mercedes completed theirs on Thursday, Racing Point and Ferrari are planning their own in the coming weeks.
READ MORE: F1 boss Chase Carey on the 2020 calendar, new regulations and commercial agreements
F1 bosses, meanwhile, have been in constant communication with race promoters as they bid to shore up the second half of the season, a tricky process given countries around the world are at different stages of dealing with the coronavirus, with the situation changing on a daily basis. But here's where we are at.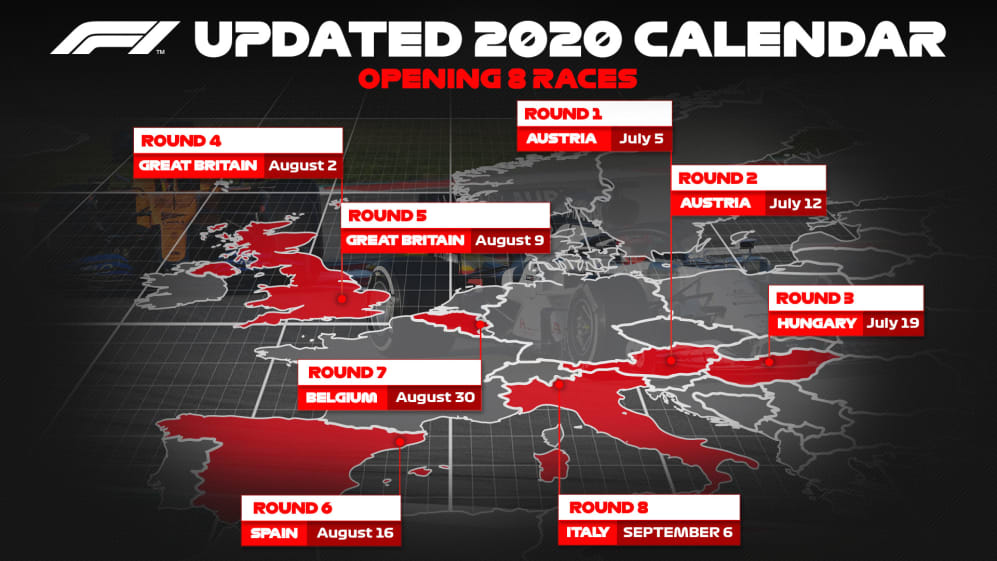 Pieces are starting to fall into place
After the opening eight race European swing, Brawn says there is the potential to add more races in Europe – given some Grands Prix in the flyaway leg could drop out – with Bahrain and Abu Dhabi pretty well set to complete the campaign.
"Things are moving fast, but we still have time," says Brawn. "We have lots of different options and we're very confident we're going to have a great second half of the season, but there is no point making the statement yet as there are still some moving parts we need to put together.
READ MORE: F1's racing restart – How will events differ and 14 other key questions answered
"There is a contingency to have an extended European season with another one or two races if needed. I think Bahrain and Abu Dhabi will be the backstop of the season from what we can see at the moment. That gives us 10. We'll find at least five or six good races in the middle.
"We recognise that venues where they have to build a track, such as Baku or Singapore, need more notice than permanent tracks. Every aspect has been considered, and I think we can have a very good second half of the season. There will be some races which don't happen, might be some races we put in, but there's lots going on."
UPDATE: F1 confirm 2020 Azerbaijan, Singapore and Japanese Grands Prix have been cancelled
There have been question marks over whether an eight-race calendar would constitute a World Championship. Brawn believes it will, based on the FIA's explanation, however he does not think it will be relevant because F1 is "planning for a lot more than" eight races.
New European venues are possible
A host of European venues are being evaluated as potential hosts of races after the initial eight-race run, including the likes of Ferrari-owned Mugello, Imola, Portimao in Portugal, and Hockenheim, among others.
"There are a number of good European tracks where we could add another one or two races on to make sure we have a comprehensive season," says Brawn. "We're not going to declare it yet, as it's still a work in progress."
With talks still continuing, it remains unclear when the remainder of the calendar will be made public, but the plan is to do so before the season gets under way in Austria.
"What we really want to avoid is announcing and changing it," says Brawn. "We also need to announce it in enough time so people can make plans. We hope some races in the second half of the season will have spectators, so we need time for ticket sales and promotion to take place."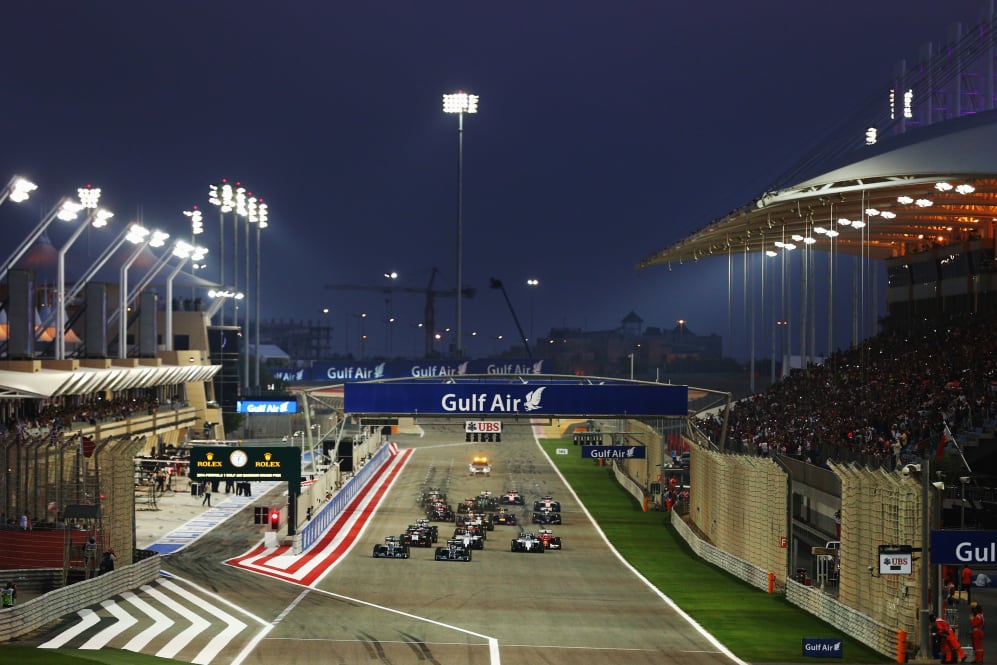 Two layouts could be used if Bahrain hosts two races
Should Bahrain host a double header, rather than just one race, ahead of the season finale in Abu Dhabi, Brawn said there is the potential for two different circuit layouts to be used.
The Middle Eastern track has the option of multiple layouts, with its longer 'endurance track' configuration used in 2010, although such a move would bring with it challenges.
"One of the nice attractions of Bahrain is it has many configurations, so we could go to Bahrain and race on two different tracks there," says Brawn. "There's a nice sort of almost oval track that would be quite exciting, and all the layouts have a Grade 1 licence with the FIA, so that is an option in the pocket.
"Using two configurations involves quite a lot of work for the riggers – for example the timing needs setting up for two tracks so you need plenty of notice. That's something we have to take into account."
Reverse grid qualifying races still on the table for 2021
Plans to adjust the qualifying format with a reverse grid sprint race to define the starting order for Sunday's race at venues which will hold two races this season were put to bed after Mercedes were against it, preventing unanimous agreement.
However, there is still the potential for them to be introduced in the future. "Reverse grid races are still on the table for next year," says Brawn, who added that any changes to formats this year will be "quite subtle".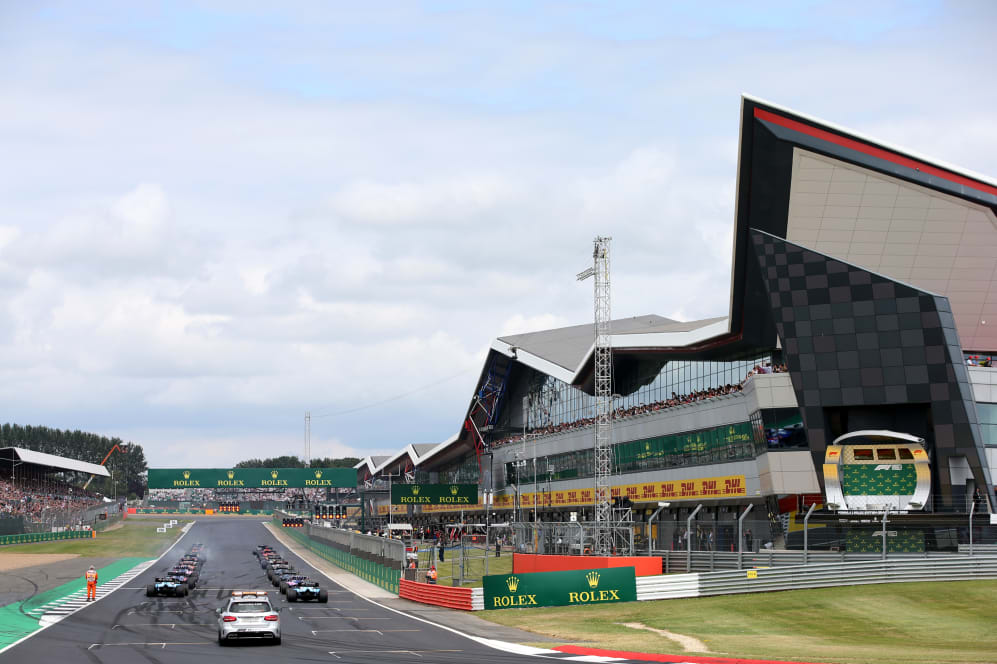 Dropped points system for 2020 ruled out
This year's calendar will inevitably end up being shorter than the planned 22-race schedule, courtesy of the coronavirus pandemic. With that in mind, the idea of allowing drivers and teams to drop points from a certain number of races – as has been the case in some previous F1 campaigns – if a driver couldn't compete because of the virus, was considered but ultimately opted against.
"We did talk at one stage of feasibility of perhaps dropping one or two results in the current circumstances," says Brawn. "The problem with that is the teams could 'game it'. They could work out how they could take advantage of an opportunity and you might find they get to a race where they aren't likely to score point because they are having problems, so they decide not to finish.
READ MORE: 5 steps F1 is taking to ensure racing is as safe as possible when the 2020 season starts
"That would look bad for Formula 1. There's all sorts of gamesmanship that would go on if there was an opportunity to drop a couple of results, so we concluded, particularly as it will be a shortened calendar, it was better to leave all results in place."
Despite the shortened campaign, Brawn still believes it will count as a worthy title. "It will be a pretty exciting championship with a reduced number, so I think it will be a valid championship," he says. "The best guy will win. We'll go to a great range of tracks and it will be as valid a championship as any other."