Feature
F1 boss Chase Carey on the 2020 calendar, new regulations and commercial agreements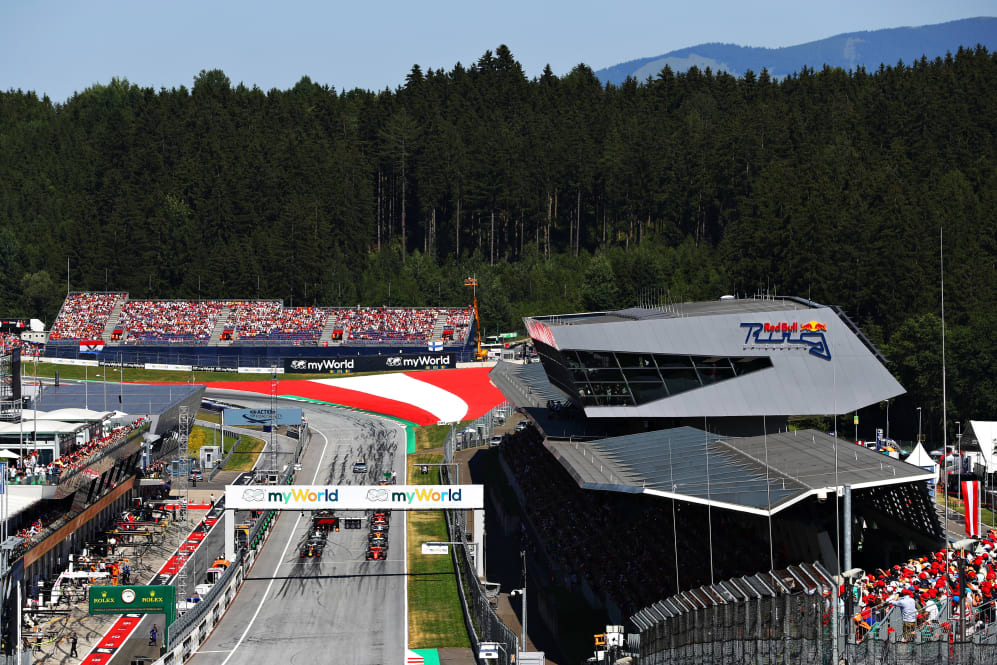 Collaboration key to securing F1's future
The restrictions on global travel have meant traditional face-to-face meetings between F1, the FIA and the 10 Team Principals have moved online, using video conference applications like Zoom.
They have met regularly and talks have been constructive, paving the way for a series of measures to ensure F1's sustainability, including agreeing a revised budget cap of $145m and the introduction of regulations such as the aerodynamic testing sliding scale based on performance.
"It has been busy," admits Carey. "I feel good about the headway we have made but there is still a work in progress. For the last couple of years, we have been quite clear that we have had broad-based goals, to make the competition better, improve the action and make a healthier business for everyone in it.
"What the COVID [pandemic] created was a sense of urgency. Crisis in many ways require a sense of urgency. The issues that arose with this timeframe gave us the impetus, it gave us the momentum to tackle things which would have probably been tackled in the ordinary course over a longer timeframe.
"It really shows the spirit of the sport, and the fact that it is a big family. Families squabble and families compete, that is certainly not unique to any family. In many ways you want that competition to exist, it's the backbone of the sport but I think when things get tough, and clearly things are tough right now, they rose to the occasion."
READ MORE: 5 steps F1 is taking to ensure racing is as safe as possible when the 2020 season starts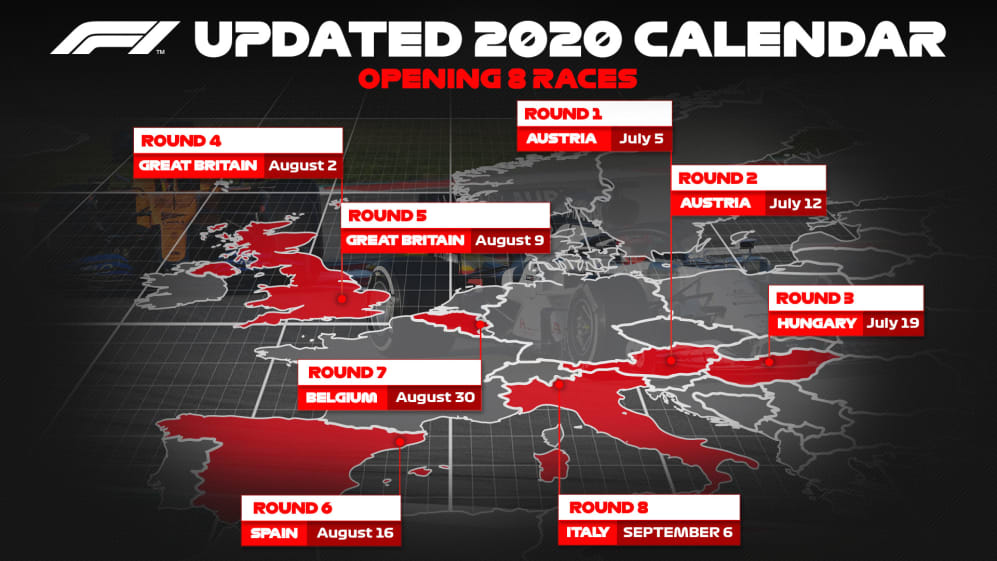 15 to 18 races the target for 2020
The opening eight races of the calendar will take place in Europe, across six circuits. The target throughout has been to achieve 15 to 18 races. How confident is Carey of achieving that goal?
"We feel good about it," he says. "We're in uncharted waters. We certainly continue to have a lack of visibility beyond a fairly short timeframe. We're engaged with all our promoters and we're in active discussion with all of them, all of them are struggling to have the same visibility.
"We're not going to give a deadline right now. With the fluidity of the situation, a deadline would create pressures which may not be right and realistic for the situation so we're thinking of goals. Our goal would be before the end of June to if not complete the rest of the calendar, is to have a handle on it. We know what we would like to try and do.
"We have other options if some things don't come together. We do expect there are races which are on the calendar which will probably still not occur. I think we certainly have options.
"We want to make sure we do it right but in these times, safety is still priority one, and we want to make sure we do it in a way that we've understood as much as possible what is required, what are the issues we have to deal with and not rush to any decisions before we can make them in the right way."
Carey adds their plans for a restart are supported by the teams and drivers, adding it's clear "everybody wants to get back racing" but "in a safe way" and "with a confidence we have the right procedures in place to be able to do it in the right way".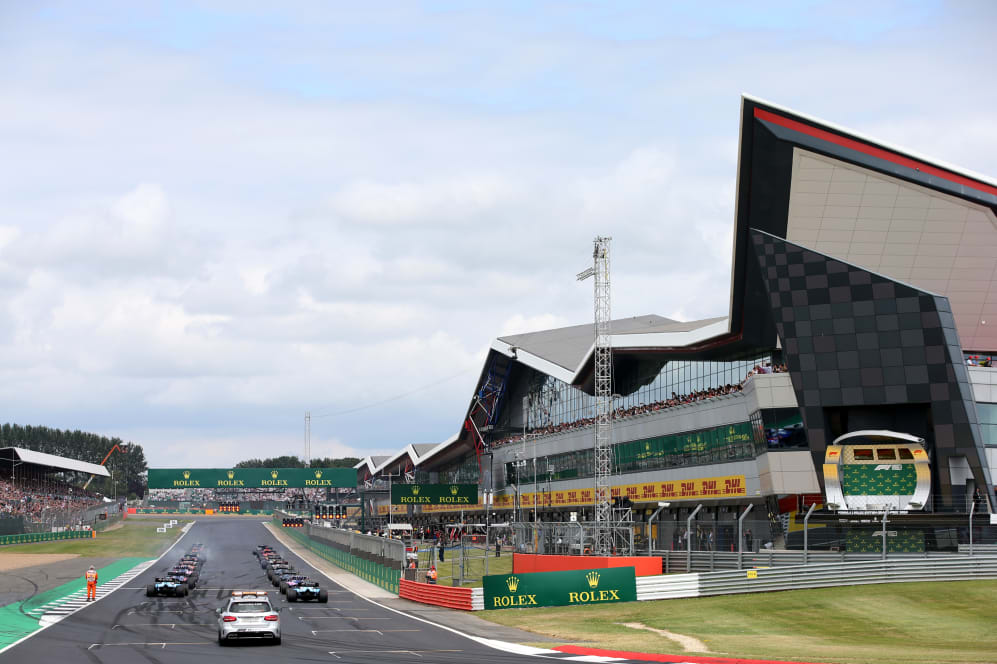 Safety at heart of plan to return
Authorities in all six countries that will host races in the opening part of the calendar are supportive of Formula 1's plans to return to racing.
As you can imagine, there has been plenty of work behind the scenes at governing body the FIA and Formula 1 to come up with rigorous plans and processes to ensure everybody who returns to the track will be safe.
"Certainly the FIA deserves an enormous amount of credit in this process," says Carey. "In many ways they've led in this process in terms of health and safety issues. We have engaged with a range of outside experts. And there is a rigorous set of guidelines, probably at this point it's 80-90 pages, which will include everything from how do you travel there, what are the processes for being in hotels there to what are the processes that exist at the track, for meals, going to the restroom, downtime between tracks and testing processes.
We will test before you go there, then there will be testing every two days
"We will test before you go there, then there will be testing every two days. There are processes if we find an infection. We recognise there is the possibility so we're prepared to appropriately deal with it, if we find a positive infection. We're working on putting in place tracking capabilities, we have two different tracking options.
"In many ways, it will be like living in a bubble from when you start travelling on charter planes. There will be controlled transportation to hotels, transportation back and forth to the track from hotels. And probably within it, sub bubbles of people who operate different functions and it is set up to manage the processes, make sure we have the right protective equipment and social distancing.
"Clearly we recognise our sport is one which at times, we can't have two metres between every individual on a team. When a car pulls into a pit and has to change four tyres, there won't be two metres between every individual. We need to make sure we have procedures to manage all those risks as soon as possible."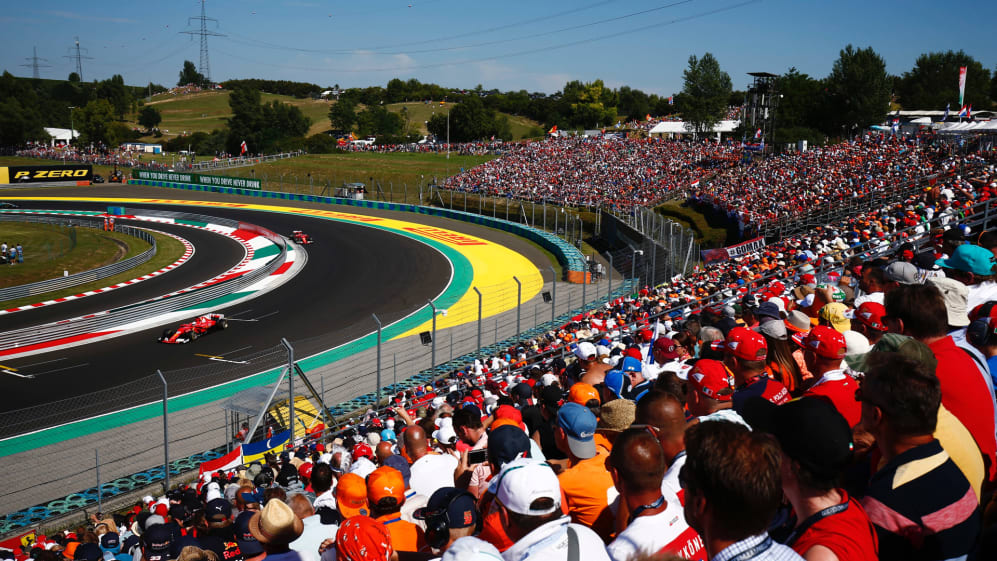 Another positive test won't prevent a race from going ahead
In Australia, McLaren withdrew their team after one of their employees tested positive for coronavirus. The race weekend was subsequently cancelled. Carey says F1 is much better prepared to deal with a repeat scenario.
"An individual having been found with a positive infection will not lead to a cancellation of a race," says Carey. "We encourage teams to have procedures in place so if an individual has to be put in quarantine, we have the ability to quarantine them at a hotel and to replace that individual.
"Some things we'd have to talk through and work through. The array of 'what ifs' are too wide to play out every one of them, but a team not being able to race wouldn't cancel the race. I don't think I could sit here and lay out the consequences. But we will have a procedure in place that finding infection will not lead to a cancellation. If a driver has an infection, [teams have] reserve drivers available.
"We wouldn't be going forward if we were not highly confident we have necessary procedures and expertise and capabilities to provide a safe environment and manage whatever issues arrive."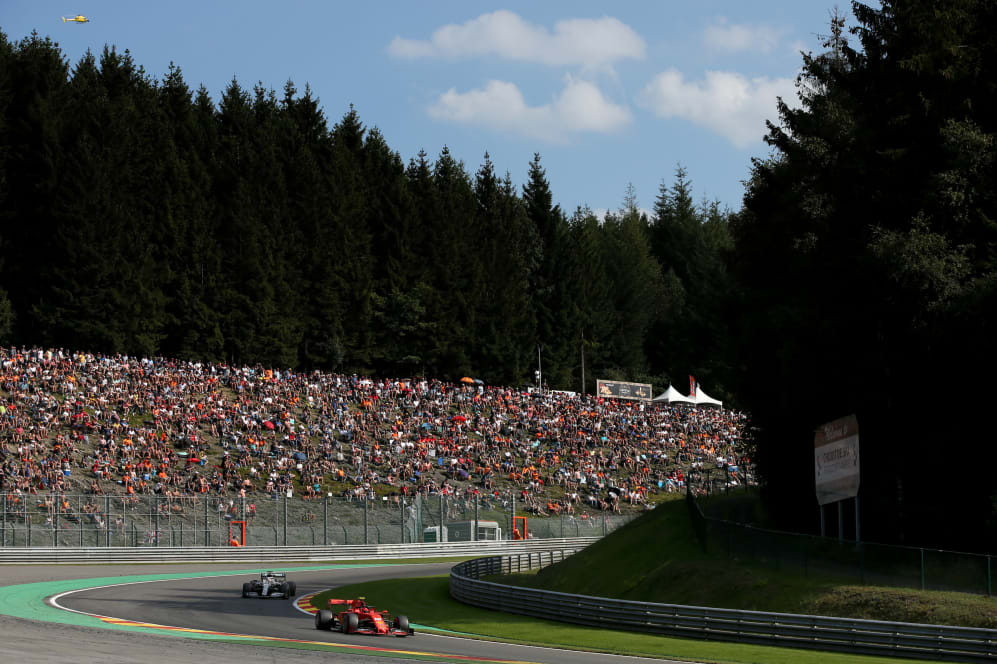 Now is the right time to return to racing
Global sport is starting to return, the German Football League having already restarted, as has America's Nascar stock car series. Formula 1 is one of the more challenging sports to run, particularly in terms of logistics given the sheer number of people involved, which is why the stakeholders have taken their time to create considered plans and processes before activating a return.
"It seems to me you have a large desire from a large proportion of the world that wants to get back to life as we knew it and want to do it safely and the right way," says Carey. "We're certainly not alone, other sports are beginning to compete, other societies are beginning to open.
"Much of the world is moving forward and I think it is important to realise that the shutdown does have both health, societal and economic consequences which are real long term. We need to intelligently manage the risks of this disease and do everything possible to eliminate it and provide safety for people but not do it in a way that we don't recognise that there are real consequences to the shutdown and I think there is a real desire, if you can do it in the right way to start to move forward."
Carey says Formula 1 is keen to have fans at events but they can only do that once it is safe to do so.
"We'd like to have fans at the events," he says. "But we're not going to have fans at our first events so it's certainly not going back to life as we know it. I think it is about taking careful thoughtful steps, with appropriate protection and procedures around it to begin to move forward in the world we know."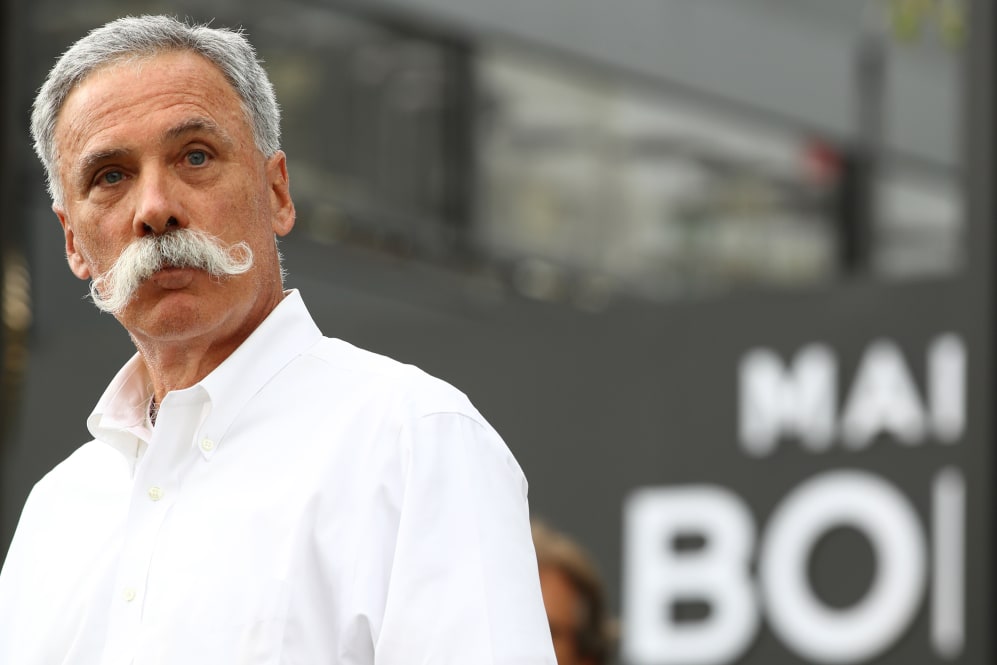 F1 open to exploring format changes
As the season is already under way, any changes to regulations for this campaign – such as race weekend format – require unanimous approval from all the teams. Discussions have been on-going about such changes for years, with an increased focus in recent weeks given the unique opportunity holding successive races at the same circuit offers rulemakers.
"We've had one [idea] that's been publicised about a reverse grid [race on Saturday to determine the grid for Sunday] that not all teams were comfortable with," says Carey. "Making changes in this short timeframe requires unanimity of support. We're changing almost real time inside the season, but we'll continue to look at ideas.
"We want to make sure they're not gimmicks. It's a great sport with great history, great heroes, great stars, incredibly talented drivers and other individuals so we want to respect everything to a degree but we want to make sure that doesn't mean we wouldn't look at ways to make some changes.
"To some degree, this season being unique gives a little bit more opportunity to try something that I don't think we would do unless we thought it was a real possibility to add something to the race. I think we always want to be challenging ourselves and [looking at whether] there other things we can do to make the sport better."
Concorde Agreement talks have moved down the order
Before the coronavirus pandemic gripped the world, progress was being made with regards the agreements between the teams and Formula 1, the commercial rights holder, as the current arrangement expires at the end of the year.
Carey admits discussions were put on the "backburner" given the virus crisis, but adds: "We were way down the road, probably in the final stage of putting it forth from our perspective, finalising it right before the coronavirus sort of exploded on us. We felt there were priorities that we should deal with before that.
"The challenges of addressing the calendar, addressing the issues in the year and putting in place the regulatory changes, the financial, sporting, and technical strength of the sport long term became priorities. In the short term we'll probably return to that [speaking about the commercial agreements].
"If we, make some headway on the calendar and the financial issues we have to manage through, because everybody will have financial pain through this year. - then in very short order get to finalising the Concorde Agreement."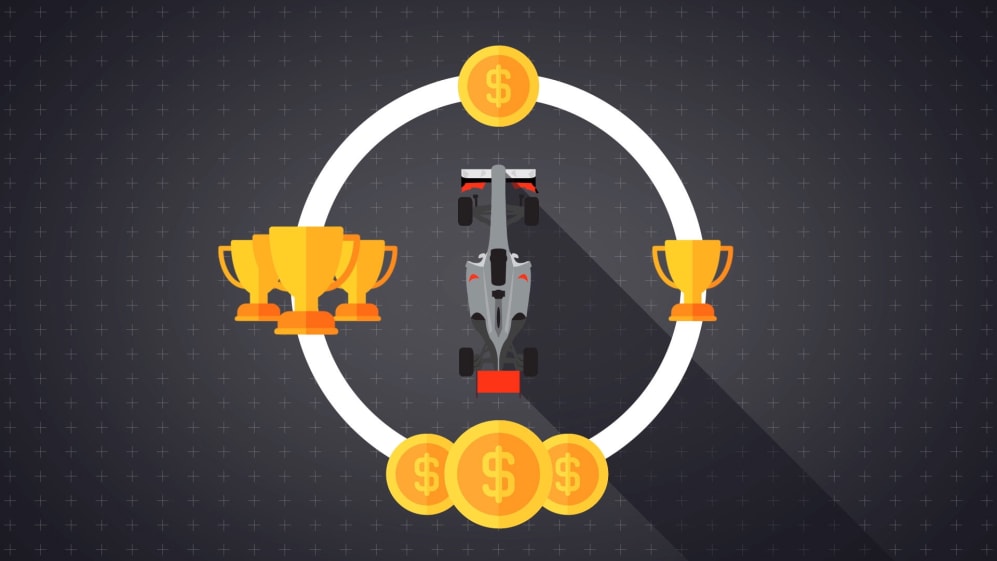 Cost cap part of plan to close the field
Initially, the cost cap was slated at $175m per team from 2021, but this was reduced to $145m following agreement of all the teams. That will slide down to $140m in 2022 and $135m the year after. In doing so, it will significantly reduce the gap in spending between outfits.
READ MORE: The 2021 F1 cost cap explained – what has changed, and why?
"It's critically important for the sport to really have competitiveness and the action on the track that we want," says Carey. "It's not accidental that the three teams that have essentially won every podium in the last five years are the three teams that have spent significantly more than anybody else.
"We want to make sure F1 continues to be the pinnacle of motorsport. Teams are I think spending 10 times what teams in any other motorsport competition spends so it's not a lack of resources. We'd like to make it more about how well you spend your money, not how much you spend and we actually think while we certainly understand there are challenges of getting that cost cap for some of these teams, that it will make it a healthier business in the long term and it's critically important for the sport to have a healthy future.
"I don't think you can have a sport that long term can have three teams out of 10 that are really competing for a championship. It's not going to be a completely level playing field but it will be more of a playing field where the underdog has a chance to win."