'I should have handled the situation better' – Russell posts public apology to Bottas after Imola collision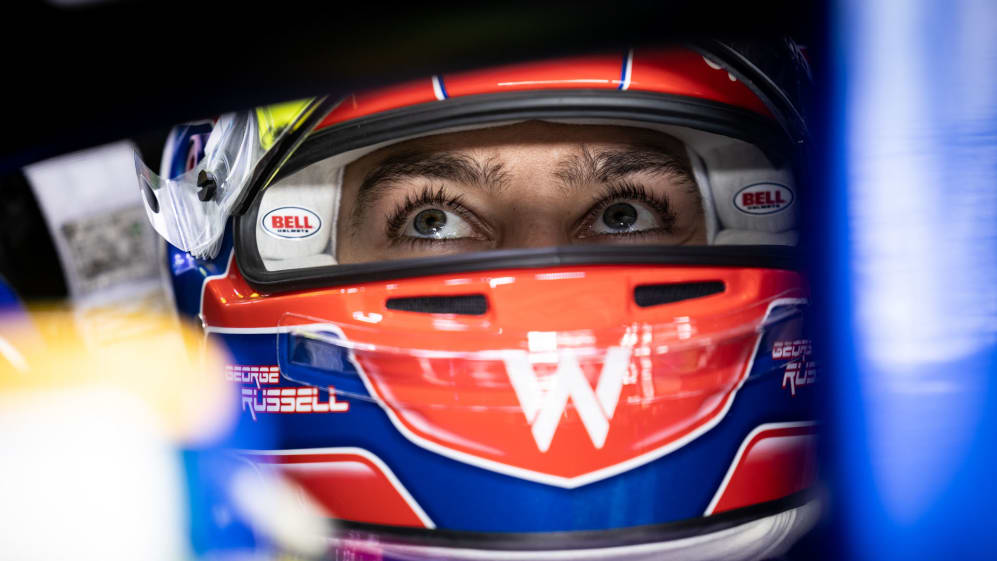 George Russell has said he plans to speak with Valtteri Bottas this week to "clear the air" after the two collided at high speed and in dramatic fashion in Sunday's Emilia Romagna Grand Prix – with Russell later taking to social media to apologise to the Finn, as he admitted that his emotions in the aftermath had "got the better" of him.
Mid-way through the Imola race, Russell was looking good for scoring his first points for Williams when he launched an audacious pass on his former one-time Mercedes team mate Bottas on the run down to the Turn 2 chicane.
With his DRS wide open and in tricky conditions, Russell lost control, spearing into the side of Bottas at high speed, sending both off into the barriers.
READ MORE: Wolff says Russell has 'lots to learn' as he admits costly crash with Bottas will hurt Mercedes upgrade plans
Russell's immediate response was one of fury, first on team radio and then in remonstrating with Bottas, who was still sat in his cockpit. Speaking immediately afterwards, the Williams driver accused Bottas of breaking a "gentleman's agreement", while the Mercedes racer said the Briton's move made no sense.
The stewards decided not to take any action, having spoken to both drivers and their respective team representatives after the Grand Prix.
READ MORE: Russell accuses Bottas of breaking 'gentleman's agreement' over crash, as Finn says Briton's move made no sense
And speaking later on Sunday, Russell said he would speak to Bottas before the upcoming Grand Prix in Portugal.
"Valtteri and I will talk afterwards and will clear the air," said Russell. "In the heat of the moment there is a lot of emotions, but I've got no intentions to hold any grudges or have any bad relationship with any driver on the grid.
"It's in my intention to clear the air with him, I'm sure we'll have a phone call with him this week to put it behind us and move on. We're all racers, we're all battling for position, and in the moment it is incredibly disappointing, sore, for all of us, and your heart stops for a moment when you crash at over 200mph. You just don't know what's going to happen.
"My anger towards him at the time was more that I thought he put us both in harm's way and it was an incredibly scary incident at that speed. Fortunately we both walked away with it without battle scars but obviously it could have been very different."
WATCH: Race Highlights - ALl the action from a thrilling wet-dry Emilia Romagna Grand Prix at Imola
Yesterday wasn't my proudest day... I apologise to Valtteri, to my team and to anyone who felt let down by my actions
However, Russell would later take to social media to post a public apology to Bottas, as he told his followers that he "expected more" from himself after his angry reaction.
"Yesterday wasn't my proudest day," Russell wrote in a post. "I knew it would be one of our best opportunities to score points this season and, when those points matter as much as they do to us right now, sometimes you take risks. It didn't pay off and I have to take responsibility for that.
READ MORE: Ross Brawn on the Russell-Bottas crash, Hamilton vs Verstappen and who impressed him most at Imola
"Having had time to reflect on what happened afterwards, I know I should have handled the whole situation better. Emotions can run high in the heat of the moment and yesterday mine got the better of me. I apologise to Valtteri, to my team and to anyone who felt let down by my actions.
"That's not who I am and I expect more from myself, as I know others expect more from me. I've learned some tough lessons this weekend and will come out of this a better driver and a better person for the experience. Now it's full focus for Portugal and a chance to show what I'm really about. Thanks for all the messages, both positive and negative. They will all help me to grow."
Oops! Error retrieving Twitter post