Russell says converting P3 grid slot to Russian GP podium was 'not realistic' after claiming P10 in Sochi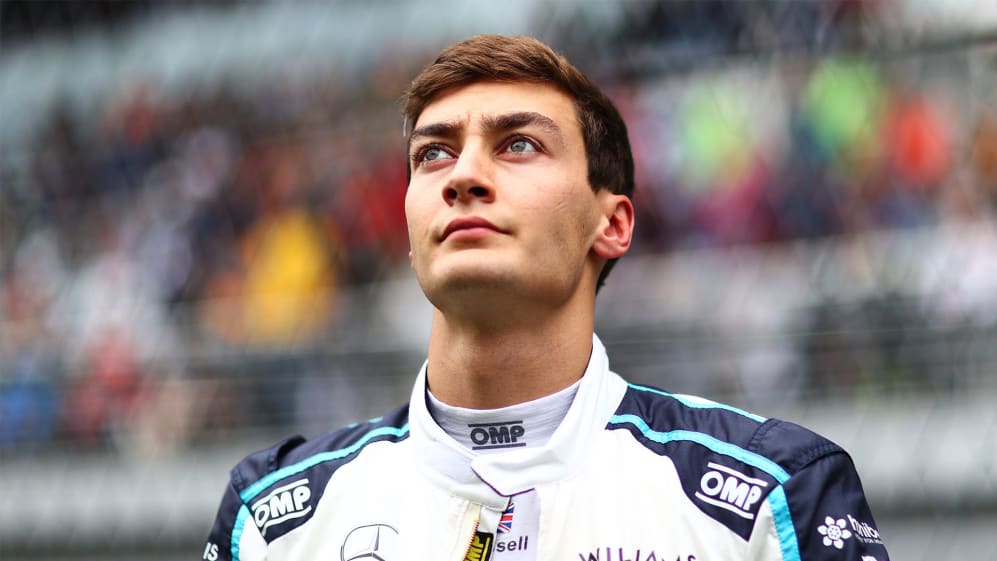 Williams' George Russell was part of a trio of drivers – along with McLaren's Lando Norris and Ferrari's Carlos Sainz – to make up a shock top three in qualifying for the Russian Grand Prix. But after slipping from his P3 grid slot to P10 at the chequered flag, Russell conceded that any hopes he might have had of taking a second career podium this weekend had probably been fanciful.
Despite starting the Sochi race with faster cars behind him, Russell was able to hold onto his P3 starting position in the early stages, as he brilliantly kept the likes of Daniel Ricciardo and Lewis Hamilton behind him.
READ MORE: Hamilton takes 100th F1 victory after late rain shower denies long-time leader Norris at Sochi
And although Russell then dropped to 15th after his first pit stop, with rain falling on the Sochi Autodrom in the latter stages of the race, the Williams driver was able to climb back up to P10 on used intermediates at the flag, for his fourth points finish in five races.
"I thought we had a really strong race today," said Russell. "I don't think we could have expected much more to be honest. We know the pace of the car; if we'd pitted early, if we'd pitted late, everybody else would have found a way around us.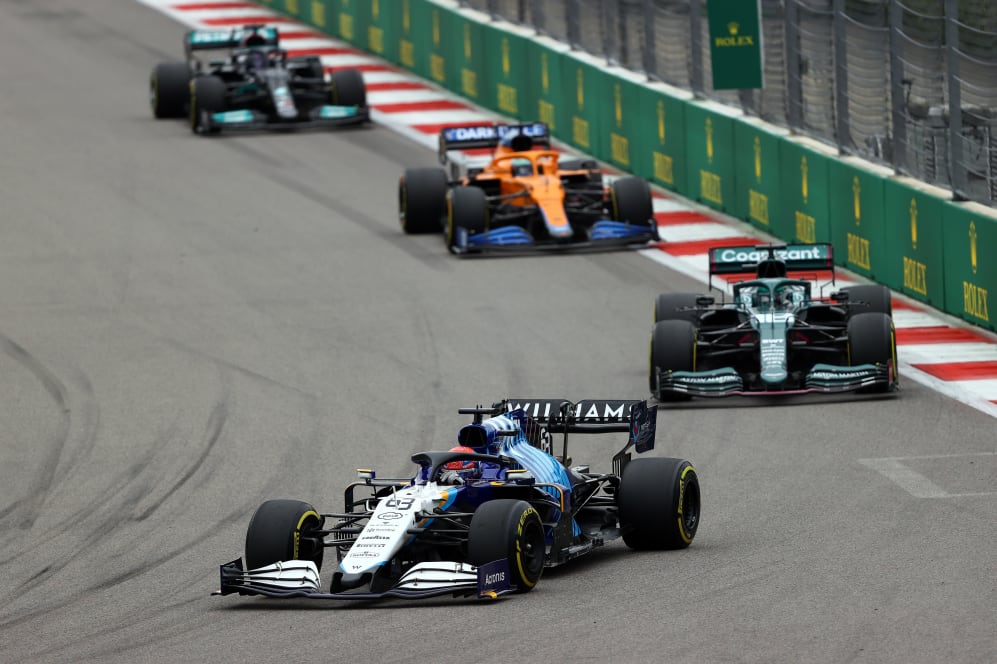 "The likes of Mercedes are two seconds a lap faster than us, and everyone else probably a second of a lap faster," added Russell. "So to keep them behind was really tricky. The final few laps in the wet were really not good, we really struggled. But I think it was [because] we had used intermediate tyres.
READ MORE: 'Everything was under control' – Devastated Norris convinced win was on without late rain in Sochi
"We went through all of our sets of inters throughout qualifying yesterday, so they were already like a slick before putting them on. So just had no grip out there and lost two positions. So P8 was the maximum out there today, but we'll take P10."
Russell may not have capitalised on his P3 starting position to take the second podium of his career – having converted his P2 grid slot at the Belgian Grand Prix into that position at the race finish.
But the Briton was nonetheless taking the positives from yet another starring weekend with his Williams team.
"The performance on the slicks was really good," said Russell. "All round, from the team and from within the car, I felt really happy and confident so I don't think the race could have gone much better.
READ MORE: 100-time GP winner Hamilton insists Norris has 'many wins ahead' after McLaren man is denied maiden victory in Russia
"We obviously dreamt of having an amazing result, but that was not realistic. And today, we finished where we probably deserved to finish."
Despite Russell's point for 10th place, rivals for P8 Alfa Romeo were able to move to within 16 points of Williams in the constructors' standings, courtesy of Kimi Raikkonen's four points for P8.