Russell says Mercedes would have fought for win without VSC after second place finish at Dutch GP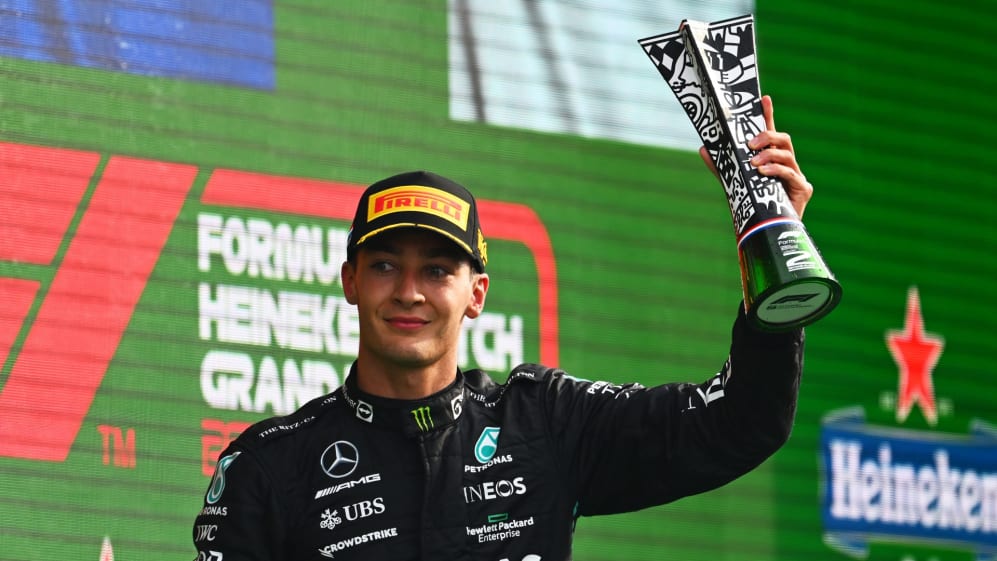 George Russell believes Mercedes would have won the Dutch Grand Prix had it not been for the late Virtual Safety Car, as the Briton praised the performance of the team, while also explaining what led to his late decision to swap to the soft tyres.
Russell started the race in sixth on the medium tyre and made his way up to second in the first stint, as he and team mate Hamilton looked to make the one-stop strategy work. Both drivers then pitted for the hard tyre, and were making their way through the field before boxing again under the Virtual Safety Car – caused by Yuki Tsunoda stopping on track – for the mediums.
And after a Safety Car – brought out by Valtteri Bottas breaking down on the main straight – Russell was running in second behind Hamilton as Verstappen pitted for the soft tyre. But Russell then opted to also pit for the soft, giving him a tyre advantage that allowed him to overtake Hamilton for second. But the Mercedes driver believed the first Virtual Safety Car had cost the team a potential victory.
READ MORE: Verstappen wins dramatic Dutch GP as Russell and Leclerc complete podium after late Safety Car
"I really think we could have," Russell said, when asked if Mercedes could have won without the VSC. "We lost a lot of time at the beginning and ultimately, we lost a lot of race time after a bad qualifying. Had we been within touching distance of Max after stint one, I see no reason why we wouldn't have fought for victory. It's really, really promising, what we're showing as a team, and it's exciting for the rest of the season.
"To be honest, we knew we had really good pace and we thought there was a genuine chance we could fight for victory for Lewis. He did a really great race and as a team we deserved a better result and unfortunately, that's just how it goes sometimes. And it's very easy retrospectively, but really proud and pleased with the pace that we showed."
Russell was heard on the radio urging his team to pit for the soft tyre under the Safety Car, despite gaining track position on Verstappen, who had already pitted for the same compound. And the Briton explained why he felt it was the right decision at that time.
READ MORE: Sainz calls his Dutch GP a 'mess' after pit stop trouble and penalty drop him to P8
"I felt very strongly about pitting for the soft; I don't know if you heard the radio or not but I was adamant that was the correct call. Potentially I thought the team was probably going to make that call anyway, as it makes sense to split the cars in a situation like that.
"Obviously Lewis being the lead car, it's a bit more tricky, but I'm surprised we didn't pit initially but we came through the pit lane; ultimately it was a free pit stop, so yeah, very glad we made that decision."
When asked whether it would have changed the result if he had stayed out and protected Hamilton's lead from Verstappen, Russell said: "It's so easy in hindsight but I think what would've happened if we both stayed out is that Max would still have easily won the race and we would've both finished behind Charles as well.
FACTS AND STATS: A career first for Verstappen with four wins on the bounce
"As a team, finishing second and fourth is not quite the result we probably deserved today; we should probably have both been standing on that podium, but it's so difficult in the heat of the moment."